Mazda CX-9 Azami 2016 2.5T AWD: Vehicle Tech Review
Mazda's CX-9 Azami 2016 2.5T AWD is not only a sight to behold, but it comes packed to the brim with impressive technology. Let's take a close look.

Published
22 minute read time
Time for an Upgrade
Out with the old and in with the new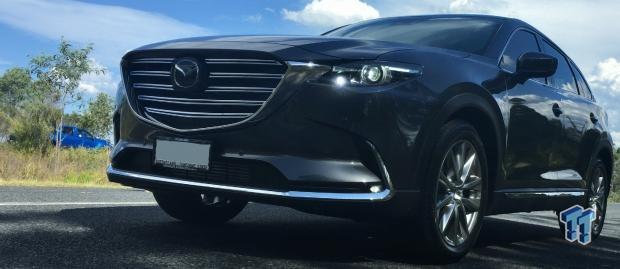 So, just three days ago, I picked up my brand new CX-9 Azami 2016 2.5T AWD from the local Mazda dealership in my state of Queensland in Australia. I could finish review right here by saying I absolutely love it. But, we aren't here for a few words, I'm here to deliver you a technology review of one of Mazda's newest vehicles to leave the shipping docks of Japan.
So, before we start, a little about me. I've been heavily focused and invested in technology for around 20 years now, ever since I started TweakTown. I love all things computers and technology, in an obsessive kind of way. That's one reason the new 2016 CX-9 impresses me so much; it is packed to the brim with amazing tech. Not long after picking up the car, I thought about the potential of bringing car reviews to TweakTown. I'll be straight and tell you, I don't know exactly how is this idea will pan out, but we'll give it a go - and that's why we're here now.
But, you've come to the wrong place if you are expecting a full-fledged car review - that's not what I'm offering here, and it's not what we're trying to provide either. There are loads of brilliant car review websites you can visit who offer comprehensive writeups, but we're just going to focus on the technology side of vehicles. I also understand that technology nowadays makes up a big part of what the overall car is, so inherently there will be some crossover, but it won't be on purpose. I'm not experienced enough to provide accurate numbers on things like riding handling, 0-60/100 times, or fuel consumption - at least we haven't explored those avenues yet.

I'll happily admit that I'm no car expert. I love them, can drive them with average to upper-level skill (I'd say), but I'm not the type of guy you'll find tinkering with engines or such in the garage on the weekend. What interests me and what I have a sound knowledge of is technology. Some brief car ownership details for me I think should be listed out as I believe past driving experiences shape your opinion of current driving experiences. My first car was a Holden (GM) Commodore VT V6, the second was a Honda CR-V AWD, the third was a 2014 Mazda CX-9 Grand Touring AWD, and of course, finally, we have the new 2016 CX-9, which is why we're here today.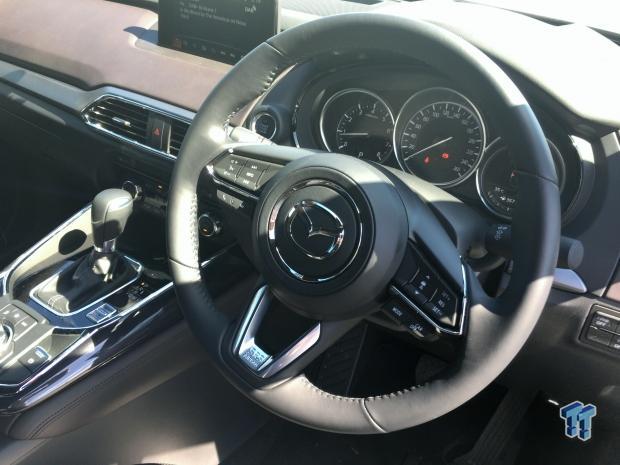 The new 2016 CX-9 is, without a doubt, out with the old and in with the new. Even as a new owner, I can tell you straight up that the 2014 CX-9 was 'informational,' and new 2016 CX-9 is 'functional.' By that, I mean that the old CX-9 was great at presenting alerts and information to the driver, but it didn't act on any of it - it was up to the driver to respond accordingly. I liked the old CX-9 a lot, but I didn't love it. That's not to say it was a bad car, to the contrary, it was great, but it had one major flaw, being its excessive fuel consumption, and lack of some features which I firm believe should have been there, namely: push button start and heads-up display.
But the new CX-9 doesn't just remedy my concerns with the old model; it smashes them way out of the water. The new CX-9 is not an upgrade, no, it is an entirely new car built completely fresh from the ground up to impress - and it does, massively. Read on as I cover the technology in the new 2016 CX-9. It's my first time, so wish me luck, and I hope you enjoy it.
Please Note: km/h to mph throughout the review are only conversions, non-Australian models may differ.
Engine/Fuel Consumption and LDW/LAS
SKYACTIV-G 2.5T AWD Petrol Engine and Fuel Consumption
I could have started anywhere, but we'll start off with maybe the biggest star of the show - the brand-new engine. The 2016 CX-9 across all models features the new SKYACTIV-G 2.5T, a 2488cc four-cylinder masterpiece that has a maximum rated output of 170 kW at 5000 RPM and an impressive maximum rated 420 Nm of torque at just 2000 RPM.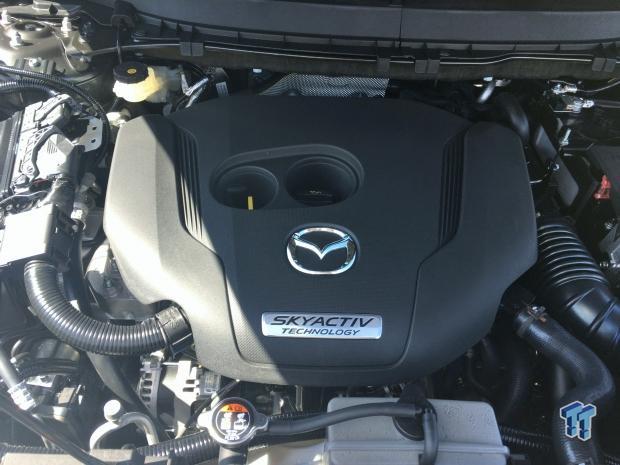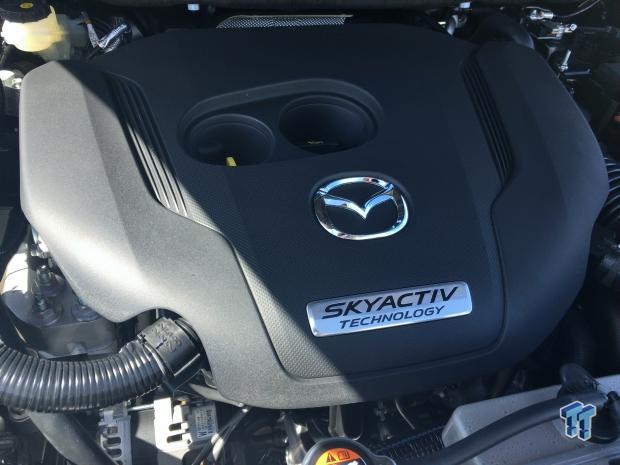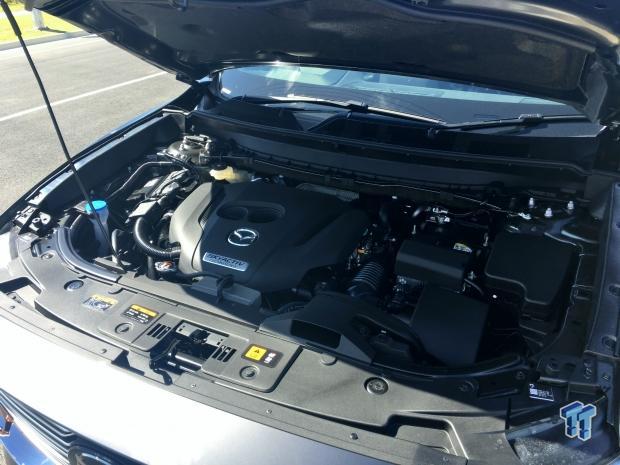 Before you yawn in boredom of the thought of a four-cylinder engine, hold up a second. It packs in a direct injection turbo which features dynamic pressure adjustments to help overcome traditional issues such as turbo lag, at most given speeds. The CX-9 is no race car, but it is definitely no slouch either. I haven't pushed my new baby to the extremes just yet, but I've pushed it somewhat with the all-new sports mode enabled, which, like in most cars, holds the gears a bit longer for optimal performance. There is an ever-so-slight delay in the turbo kicking in - we're talking roughly 0.2 to 0.3 seconds - and then you feel the zoom-zoom. As expected, traction is a total non-issue with the brilliant all-wheel drive system and other safety features working for you in great ways.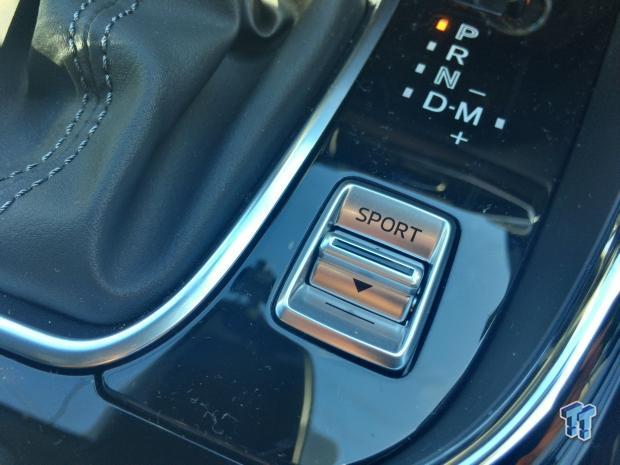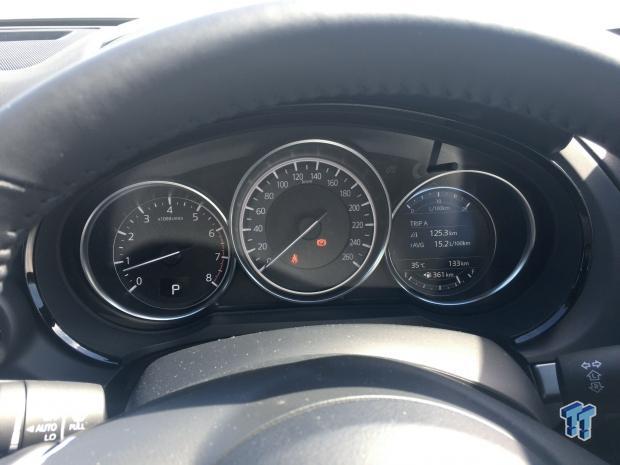 There's a bit of time to reach 20km/h (12mph), but then 25km/h (16mph) to 70km/h (44mph) is quick. The six-speed automatic gearbox glides through effortlessly and pretty much unnoticeably. There is a bit of acceleration slowdown from around 75km/h (47mph) to 85km/h (53mph) or so, and then it kicks up again hitting 110km/h (68mph) with good pace. Keep in mind; this is on a car that hasn't passed 400km (250 miles) yet, so that might improve in time. One of the other nice things, too? It's no V8, but I was fairly jubilant to be presented with some relatively meaty tone from the exhaust while putting the car through its paces. It's a family car at the end of the day, but fathers (like me) will get a smile on their face when mothers reject the sports car as an option.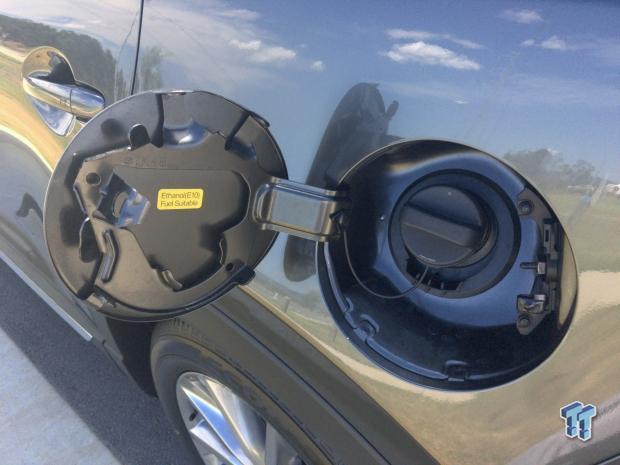 One of the things that bothered me with the 2014 CX-9 was its fuel consumption. I'm happy to report that the new CX-9 is around 33% more fuel efficient (Mazda rated 8.8L/100km or 23 miles per gallon average and 91RON or higher/E10 suitable) than the old model. Technologies like i-ELOOP and i-stop help that figure, and I will address them in detail later. The speedo according to my tests is mostly consistently 3km/h (1.86mph) below your actual speed, and this was at varying speeds (60km/h or 37mph, 80km/h or 50mph, 90km/h or 56mph and 100km/h or 62mph) - I was able to verify this as I had a NavMan dash camera setup that gets your actual speed via GPS. My old CX-9 had a varying speed differential, so it was great to note the consistency this time around.
LDW and LAS: "Put Your Hands On The Steering Wheel!"
Besides the massive smile on my face driving home from my Mazda dealership, I was also laughing to myself a good part of the trip. I've read pretty much all there is to read on the new CX-9, and as soon as I hit the highway, I put some of the amazing technology to work. The first tech in the i-ACTIVSENSE safety list we're going to discuss is the Lane Keep-assist System (LAS) and Lane Departure Warning (LDW). The latter alerts you when you are about to or have crossed into another lane, by way of an audible alert and a yellow/orange lane indicator on the HUD on the crossed lane.
LAS and some of the others make the new CX-9 somewhat autonomous; sure, it's no Tesla, but it doesn't cost anywhere near as much. And when I say autonomous, this car won't drive itself, but it has the brains to take action and assist you.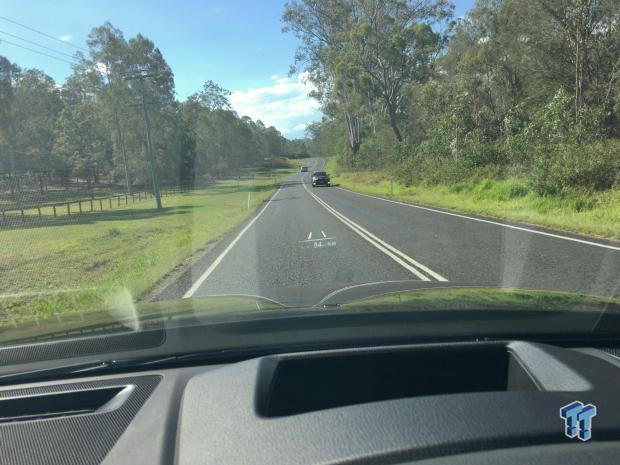 LAS uses the car's various cameras and sensors to know when you are about to and/or cross into another lane or across a marked line off the road. On one long left bend, I purposely let the car veer off course to the left, LAS kicked in straight away with vibration to the wheel (pretty much the same feeling you get when you cross rumble strips painted on road markings) and steered me over to the right. But for a bit of fun, I let the car continue to drive too far to the right, where the car started to enter the wrong side of the road. It was at that point that just after the car corrected itself back into my lane, a message appeared on the HUD: "Put Your Hands On The Steering Wheel!". Naturally, that message was greeted by a hearty laugh from me. A laugh that was inspired by being amazed and impressed.
And I couldn't be sure about this as I haven't seen it clearly stated anywhere, but I'm willing to say that LAS not only makes steering corrections for you, but it resists you steering off course, before you've even done it. I didn't notice it at first, but after more driving, the steering wheel becomes much firmer and resists you from steering too close to the middle of the road and too far to the other side. This is more apparent when there are oncoming cars, or you are driving on a bend or curvy road. I find it amazing that this car is apparently reading the road in front of you, in a more advanced way than I thought possible.
My mother asked an interesting question which I think needs to be included - she asked, "what if you need to steer a certain direction, will the car stop you?." The answer is "kind of". At first, it will guide you back, but you always have control and say over what the car does. The steering corrections are gentle; you can take control of the steering direction at any time by continuing to steer in your desired direction; LAS obviously detects you want to be there (well, hopefully, be there).
Safety Features
The Mazda i-ACTIVSENSE safety features are almost endless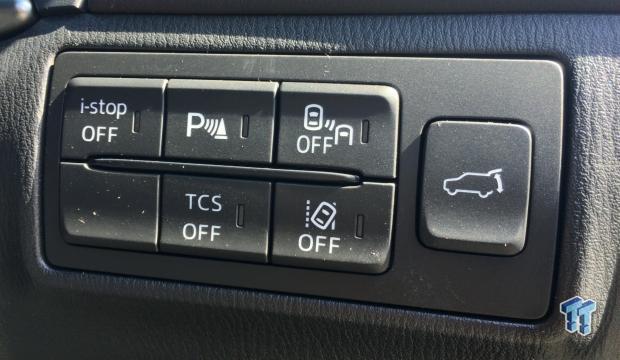 LAS so far is the most impressive safety feature for me, which is why I discussed it first. But that's only part of the safety magic that goes into the new CX-9. Below, I'll address all of the safety features one by one.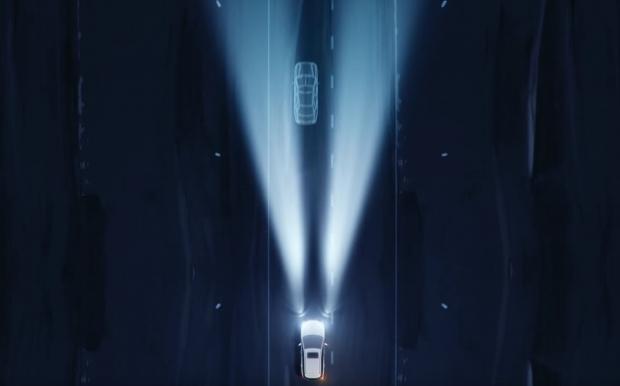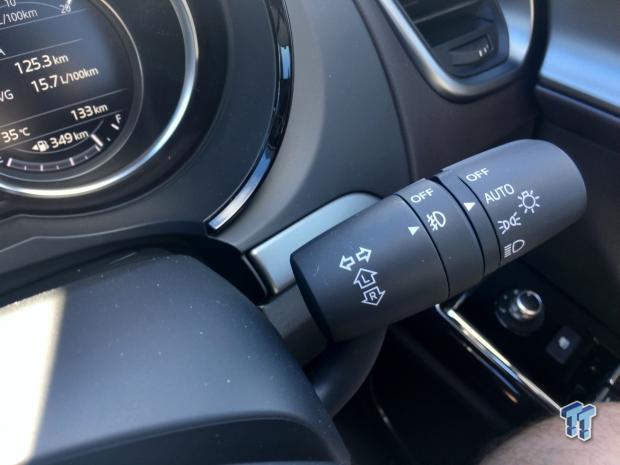 Adaptive LED Headlamps (ALH): ALH is an awesome feature which means you don't have to switch between high beam and regular lights at night. A camera on the windshield detects oncoming cars plus cars in front of you and automatically shuts off certain LEDs as to not blind or annoy other drivers. In short, it keeps as much of the road and surroundings as bright as possible.
Blind Spot Monitoring (BSM): BSM isn't new to the new CX-9, but it's probably still new to many drivers. BSM uses sensors to alert you when there is another vehicle in your blind spot, with an audio and visual alert (on the side mirror where the vehicle is) that it is not safe to move. Not only that, but BSM also detects vehicles at a distance behind you that are traveling at high speed. Personally, BSM is a nice feature, but I still find myself head checking in busy areas just to be on the safe side.
Driver Attention Alert (DAA): For those that take trips away from home, DAA is there to help you. Cameras and sensors monitor your driving at 65km/h (40mph) and over, and suggest rest breaks if the car determines you may be fatigued. I haven't personally been able to test this feature yet.
Braking, Traction, and Stability: All the features you'd expect to be present are there. You have ABS, EBD, and TCS. Mazda ups the ante in the braking department with Emergency Stop Signal (ESS) which is a system that identifies emergency braking and flashes the vehicle's lights rapidly to draw their attention that you are stopping suddenly. Emergency Brake Assist (EBA) monitors the force and speed at which the brake pedal is pushed and adds more pressure to the brakes in anticipation of emergency stopping. The car will also automatically stop/slow down during various driving environments, and I'll cover that in its own section shortly (because it deserves its own section)
The 2016 CX-9 features Traction Control System (TCS) as you would expect from all modern cars, but it also adds in Trailer Stability Assist (TSA), which is a system designed to detect trailer or caravan swaying; while unable to test, the car is said to be able to make corrections itself to reduce or stop the swaying.
Being an SUV, it's a nice thing that Roll Stability Control (RSC) is included. Similar in a way to how TSA works, the car can detect that it may roll, and make various steering and braking or acceleration movements to reduce the chance of the car rolling or to stop the car from rolling over.
Smart City Brake Support (Forward and Reverse): How would you like a car that brakes for you? You got it. Thanks to Mazda's SCBS technology, when you are moving forward at speeds of 4km/h to 30km/h (2.5mph to 19mph), the car monitors any vehicles in front, and if the car thinks you are going to hit it, the brakes are automatically primed for you, and if you don't brake, SCBS will stop for you. The same applies in reverse when at speeds of 2km/h to 8 km/h (1.25mph to 5mph), saving you from pulling out of your park and hitting another car.
Additionally, the new 2016 CX-9 features Smart Brake Support (SBS). It's the same story here. When traveling at speeds between 15km/h to 145km/h (9mph to 90mph), if the car thinks you are going to rear-end a vehicle in front of you, it will prime the brakes and await your response. If you do not respond, the car will brake for you. I haven't tried any of the above braking technology myself, and don't particularly want to, but it is very nice to know it's there.
Rear Cross Traffic Alert (RCTA): RCTA is another awesome feature which I firmly believe all cars should include. Not new to the 2016 CX-9, RCTA is a brilliant feature for making reversing a total breeze. The scene: you're in a busy carpark, you just got your shopping, and you just want to go home and relax. In my old CX-9 and this CX-9, I have total confidence in RCTA, to the point that I feel confident enough to not even check for cars that may be passing behind me. Just put the car in reverse, start to pull out a little bit (of course first checking your immediate surroundings and rear camera for smaller objects such as people), and if there is a vehicle that prevents you from reversing safely, you'll hear an audible sound as well as flashing lights. No sound or flashing lights? You're good to go - it is as simple as that.
Radar Cruise Control (MRCC): I think it's safe to say most of us would have been on at least one long drive in their lifetime. MRCC is incredible. This system once again uses the car's cameras and sensors when in cruise control to automatically adjust speeds in relation to the vehicle in front of you. After going into cruise control, you can set the distance you want to keep from the car in front from close to far (there are four distance options). If you are getting too close to the car in front of you based on your selected distance setting, the car slows down, and likewise, if the car in front of you speeds up, your car also speeds up, of course up to your chosen cruise control speed.
And while I'm on cruise control speed, I was happy to see that you can set the exact speed you want. For example, if you engage cruise control at 97km/h (60mph), just tap up once, and it will set the speed to 100km/h (62mph). For speeds below 60km/h (37mph), you can set in 1km/h (0.6mph) increments, yet another nice touch.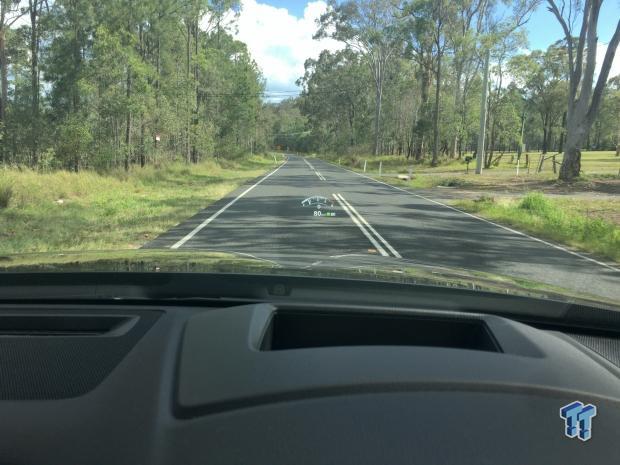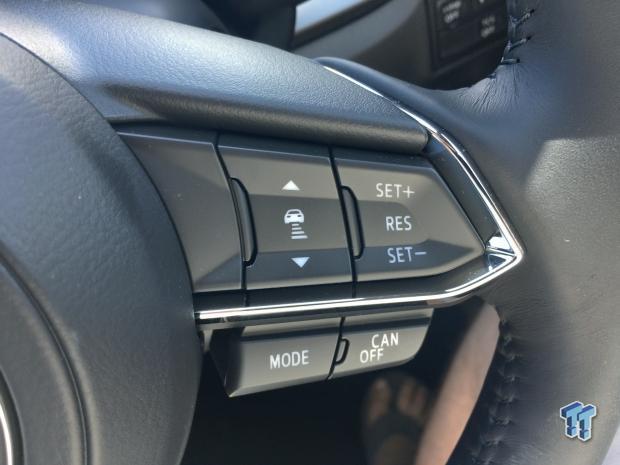 MRCC is a little more advanced than it sounds, though. A couple of times with MRCC enabled, the car slowed down from 100km/h (62mph) to around 65km/h (40mph) when other cars were getting off the road I was on. Another time I gave faith to MRCC and let it completely control the slow down and speed up process - of course with my foot on the ready at the brake pedal. The car in front and I were both driving at a consistent 90km/h (56mph) and the car in front slowed down to around 40km/h (25mph) and shortly after got back up to speed.
Sure enough, the CX-9 handled it just fine - at first there was a fair amount of brake force applied to slow down to around 60km/h (37mph), and then more subtle braking to get down to around 45km/h (28mph), and then the gas was hit to get back up to 90km/h (56mph) at what I would say was a suitable pace. Meanwhile, I still had my hands-on the wheel, but both my feet were comfortable, without movement, all while happening to my amazement and enjoyment.
Hill Launch Assist (HLA): HLA is new to the 2016 CX-9, and while not a new feature among many other cars, it's certainly a welcome addition. When on a hill, the car holds the brakes until there is enough forward movement force to take off, without the car moving backward.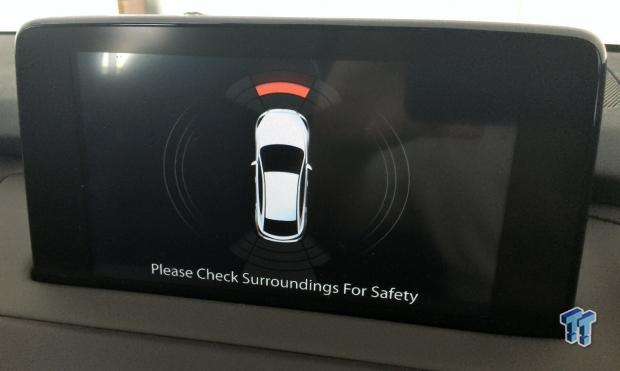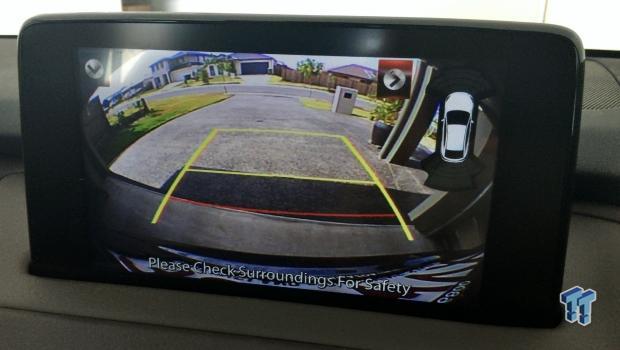 Parking Sensors and Reverse Camera: Standard pretty much across all new cars these days are rear parking sensors, but the CX-9 Azami (and GT) also gets front parking sensors. While I question the need for them, they are there and may come in handy in tricky spots.
What interested me more were the side sensors. At the end of a recent drive, I drove close to the right side of our driveway to allow another car to leave our garage easily. On that right side is a large palm pot plant - I was alerted to it being there by way of the right side of the car displaying a red bar, indicating to me to be careful. And this wasn't right at the front of the car; it was around 40cm (16 inches) or so back towards the driver on the right side of the car.
As you can see in the shot above, the rear parking camera generates a very good view of what's behind you on the brilliant 8-inch MZD Connect display.
More Goodies
Active Driving Display - keep your eyes on the road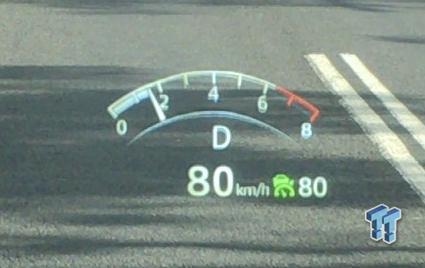 One of the many cool technology features I was looking forward to most about the 2016 CX-9 was the Active Driving Display or heads-up display (HUD). It's exactly that; it keeps your head (eyes) up on the road where it/they should be. But Mazda's HUD does a lot more than just display your speed. It displays the tachometer, cruise control mode and speed, upcoming navigation maneuvers, lane departures, and other warnings and alerts.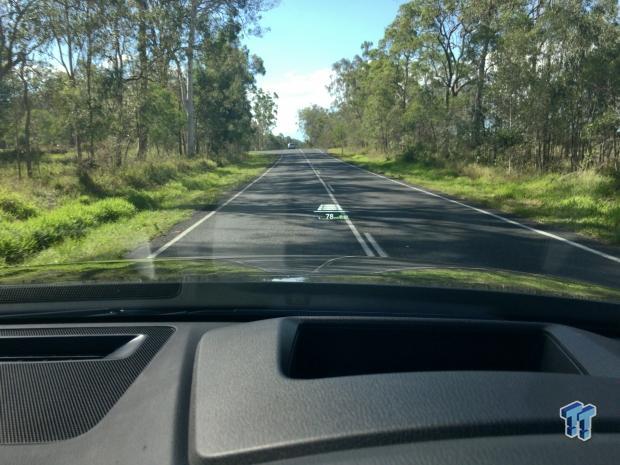 In the MZD Connect settings, you can also adjust its height in relation to your eyes, and adjust the brightness and rotation. You can also set to stop navigation from being shown on the HUD.
Push Button Start and Electronic Handbrake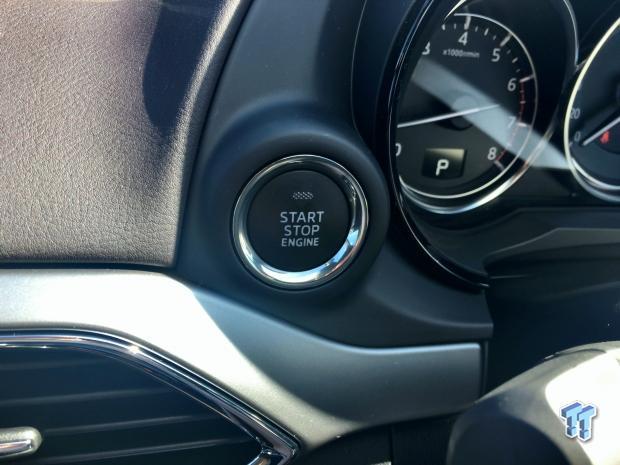 It wasn't there in the 2014 CX-9, and that disappointed me. It had keyless entry, but it was turn-key entry, and it was placed in a strange position. The 2016 CX-9 has push button start, as it should, and is placed in a great position, just left of the steering wheel. It works like most other cars - without your foot on the brake, one push powers up the car and a second push powers up more instruments like audio and AC. With your foot on the brake, one push starts the engine.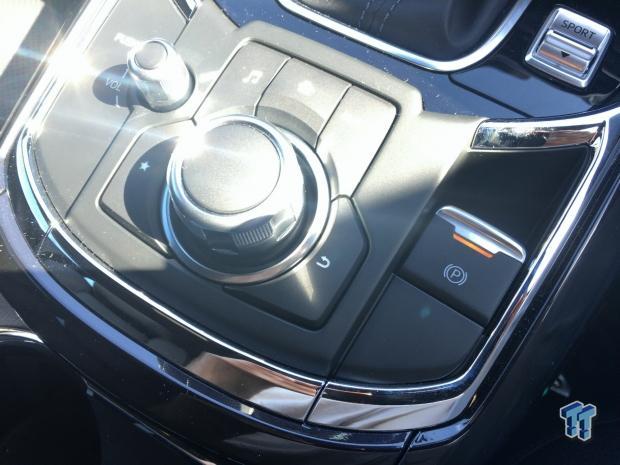 Also, new to the 2016 CX-9 is the electronic handbrake / emergency brake. The old CX-9 used a foot "handbrake" / emergency brake, but the new CX-9 has a simple push down / push up electronic version that does the job quite nicely. To be frank, I haven't quite figured out yet if I'm supposed to be pushing up or down. I think part of that reason is due to the fact I recently discovered that it needs a little bit of strength to engage or disengage it, rather than just a little tap up or down, as I was doing at first.
Getting into and Locking the car
Another pet hate I had about the 2014 CX-9 was the number of times you had to push buttons on the key to get into it. With kids and wife onboard, I had to push the unlock button three times, every time. The first unlock being for the driver seat, the second for the front passenger, and the third for the back seats - what a PITA. Now, thankfully, one button opens everything, including the boot/trunk.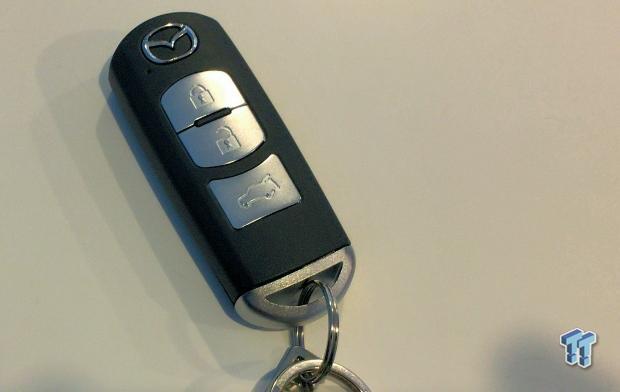 If pushing buttons on the remote are below you, no worries, just walk up to the car and push the unlock button on either the driver or front passenger doors, and she'll unlock for you. Don't like locking your car or is it something you forget to do? No worries there either. After enabling the option in the car settings, you can enable automatic walk-away locking. After moving on about two meters (six or seven foot) away from the car, a short beep sounds, followed by a longer beep which tells you the car has been locked.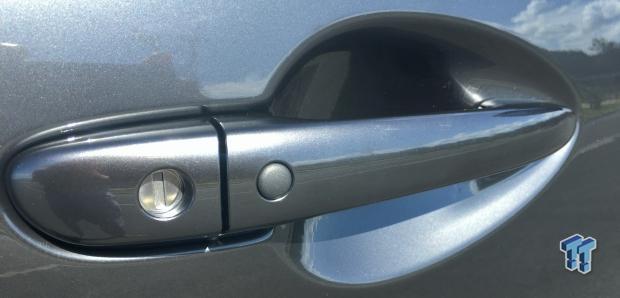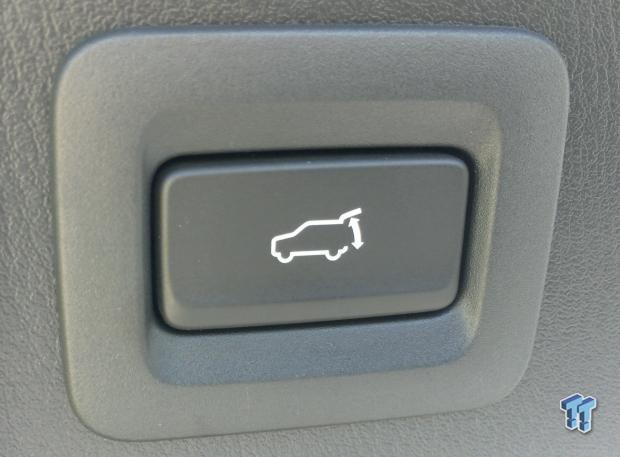 And on the boot/trunk, there's no need to do the lifting or closing. With a push of a button on the key, it will open and close for you. My old CX-9 included this feature and it's pretty much identical on the new CX-9; it's a great feature for when you have your hands full of shopping bags - just make sure you put your key in your hands with the bags before walking out of the store. This is where I'd like to see Mazda investigate a kick open system like some other cars feature - that would be icing on the cake if they can add that in new models.
i-stop and i-ELOOP & Dashboard
Mazda looking out for mother nature the best it can (i-stop and i-ELOOP)
Besides the 33% less fuel consumption compared to the 2014 model, the new CX-9 has two pretty nifty features: i-stop and i-ELOOP. I-stop is not unique to the new CX-9 but is still a new technology - when your car comes to a stop (think red light), the engine shuts off, but keeps power to the car for audio, air conditionings and so on. I-stop will only work if the engine is hot enough and enough power can be provided to keep things inside operational that are turned on.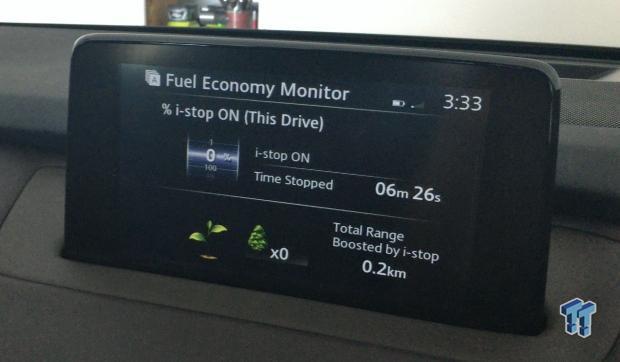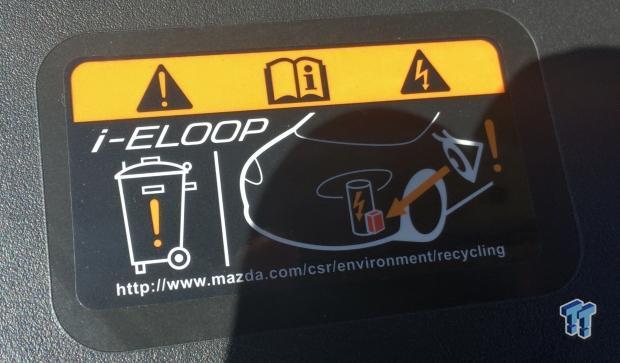 I found after short five minute or so drives, i-stop did not activate, but anything longer, it kicks in. I found it also depends on how hard you are running the AC - I had the AC pumping at its coldest setting and on one drive I was 10 minutes in and i-stop did not activate.
Something to note and this isn't really a concern, but more of something to point out. When i-stop does activate, the engine really does stop - after you release your foot from the brake pedal, the engine kicks back in at around 1200 RPM, but there is a little bit of a delay (I'd say half a second) before that happens, so don't try slamming on the gas pedal instantly as soon as the lights go green. I'm sure that would be okay to do (Mazda says the engine instantly kicks back in on acceleration), but it's not something I was willing to do to my brand-new car.
i-ELOOP is another intelligent technology added to the new CX-9 which captures energy created from braking force and stores it in a capacitor that then sends power to various parts of the car including the battery, air conditioning system, and more. After being turned on in the car settings, you can get a great visual summary on the MZD Connect display screen upon turning off the car on how much extra range was added to the trip - yep, another nice addition to add to the growing list.
The Dashboard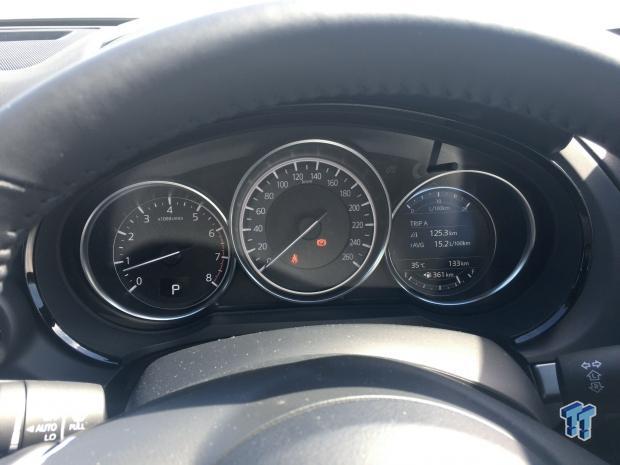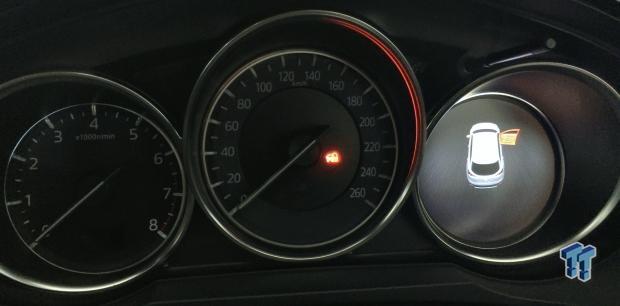 The dash is as stylish and sophisticated as the rest of the car. It provides all of the usual goodies you've come to expect, but the far right panel is actually a screen, versus being a traditional dial. When you start the car and shut it down, a nice fading CX-9 logo is displayed. When the car is parked, you get a shot of the car and can very easily see which door is open, as you can see in the photo above.
During normal driving, you get a L/100km (miles per gallon) real-time readout to show how much fuel you are using, as well as average fuel consumption, outside temperature, as well as distance till empty in two visual formats.
Sound System
Enough sound for an outdoor party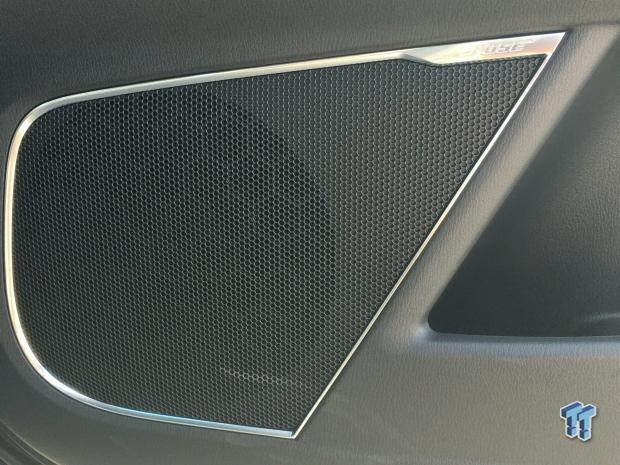 The new CX-9 includes no less than 12 Bose speakers (including subwoofer) to produce 294 watts of sound with features such as Bose CenterPoint (for surround sound positioning) and Bose AudioPilot (to reduce unwanted noise, such as that from the road). I noted zero distortion all the way up to full volume (and it is super loud - open up the doors, and you'll be able to host a sizable party). However, at around 75% volume and higher, there was a noticeable degrade in sound quality, with music starting to sound tinny and not as full. Overall, I rate the sound quality as medium-high, but not great.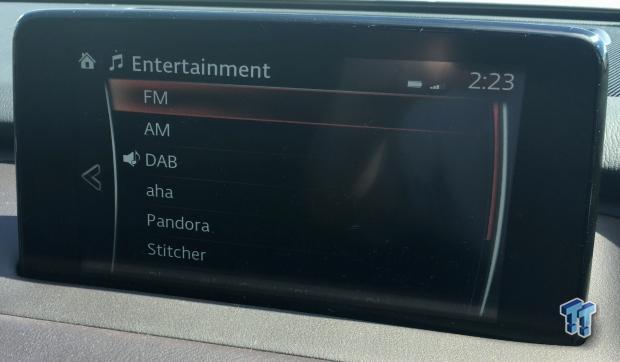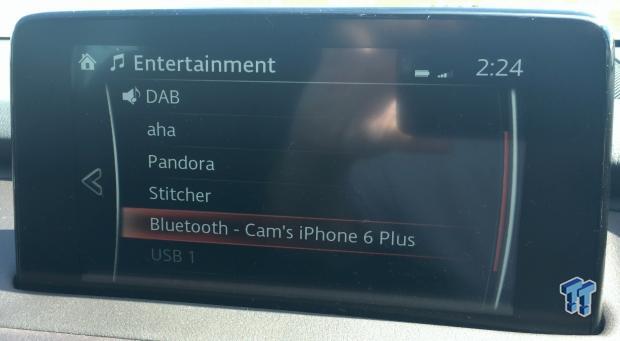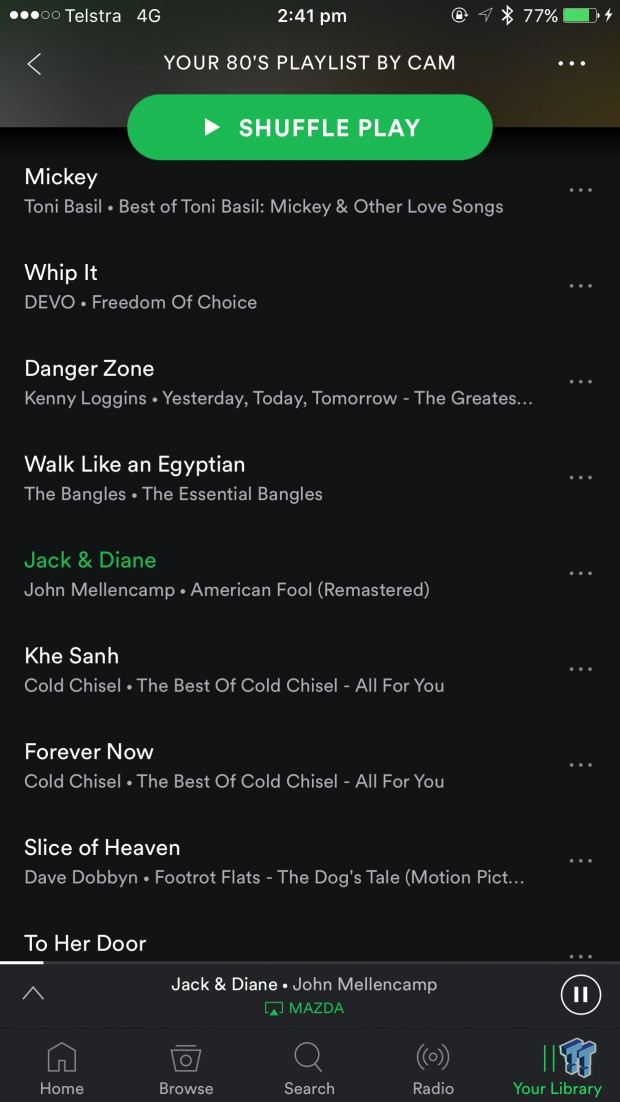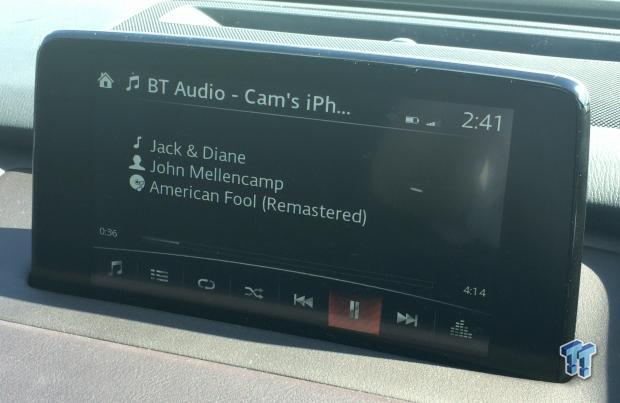 You get the usual AM/FM radio tuner, but new this time around is digital radio (DAB+). There was a noticeable sound quality difference between FM radio and digital. I also like that the current song name / radio program and DJ are also listed on the display. Besides digital radio, you also get Bluetooth support which allows for online streaming of services like Spotify (tested and works very well). MZD Connect, which I will go over in detail next, also has some entertainment apps pre-installed, including Pandora, Stitcher, and Aha.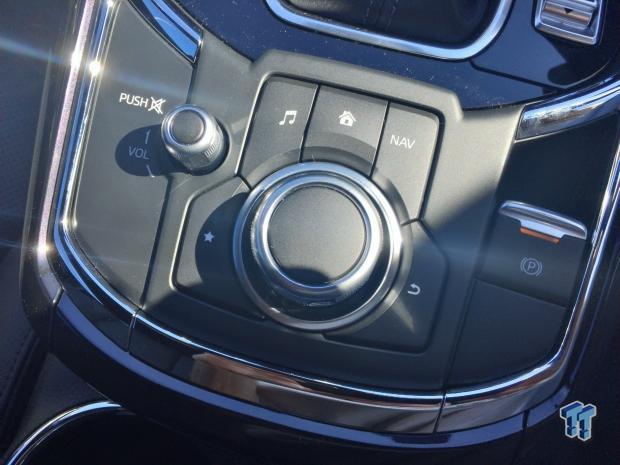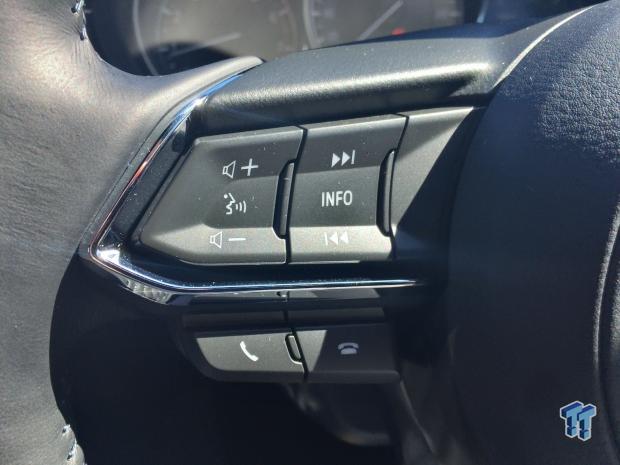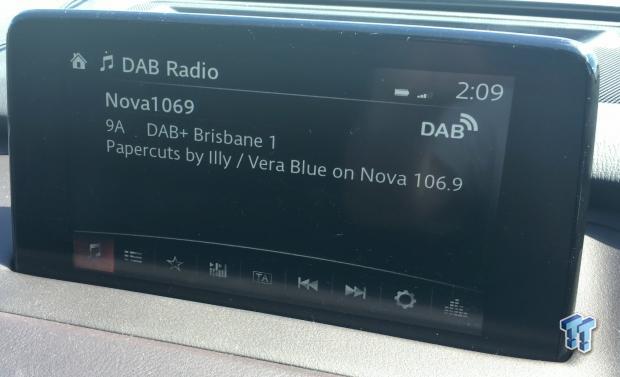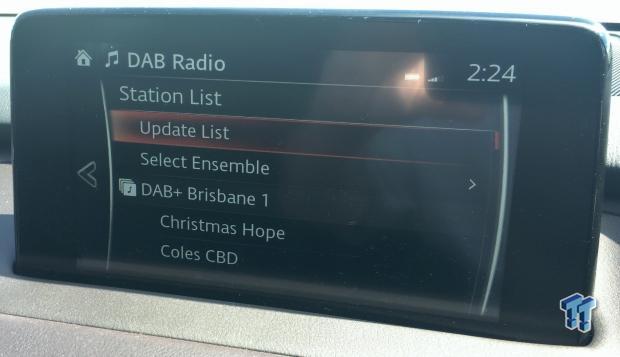 Volume can be controlled from the steering wheel or via a new entertainment hub below the gearstick which includes a rotating knob to turn the volume up or down or press down to mute. It's very easy to place your hand on while keeping your eyes on the road and breeze to use.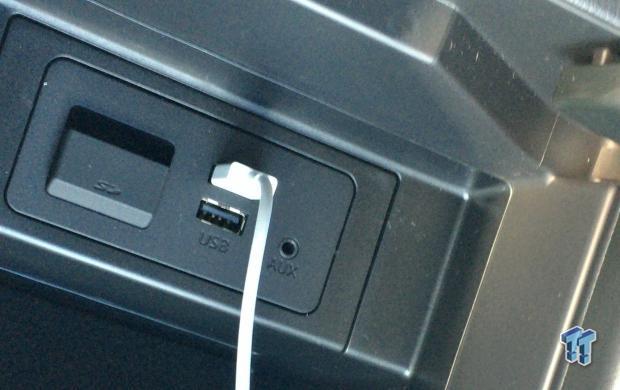 You will likely be pleased to hear that the new CX-9 also has no less than four USB ports. Two are situated in the front console, and the other two at the back of the rear center pull down. These USB ports are also audio input capable. If you need it, there is also an AUX 3.5mm audio input jack inside the center front console, near the two USB ports and SD card slot for updating the navigation maps.
Navigation and MZD Connect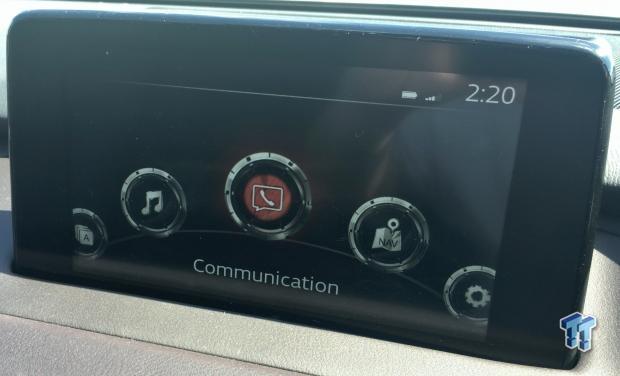 Other reviews have marked down the new CX-9 for not including Apple CarPlay or Android Auto. I haven't used either, but I've studied both car products from Apple and Google to know enough about them. While it certainly wouldn't have hurt to include either, I'm also of the opinion it doesn't hurt the entertainment experience of the new CX-9 all that much. The entertainment system inside the CX-9, MZD Connect, does a well-rounded job of providing what most drivers want. And if you do add in Apple CarPlay or Android Audio, there is the inherent issue of trying to decide which one. How to do you please everyone? You're going to have some happy people, and some unhappy people, depending on which ecosystem they are tied into.
However, I'll say, if Mazda does want to continue the path of its own system, I would like to see it put effort into creating a developer community that can create and sell apps for MZD Connect, just like we see with iOS and Android, albeit to a lesser extent. Mazda may even need to invest further in its software team to create a greater range of apps, maybe even also create an app store of sorts. Because, while I'm satisfied enough by MZD Connect, others will want the choice to install their own apps just because that's the thing you do nowadays, and because they want that choice to expand what MZD Connect can do for them. And that's fair enough.
As far as MZD Connect itself goes, it's a good system. It's easy to use and navigate, and intuitive enough for most people to use. You can tap on the screen to get to where you want to go, or use the knob, back, or favorite buttons on the center entertainment hub to navigate.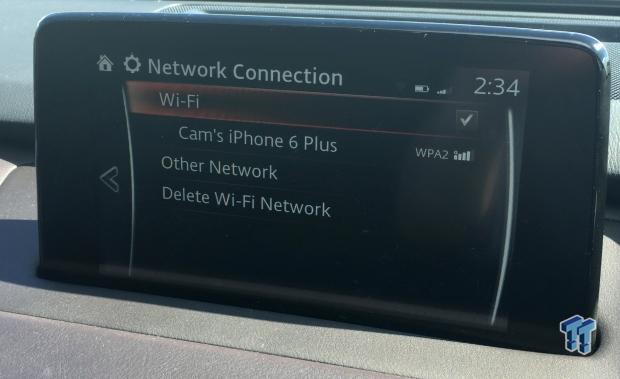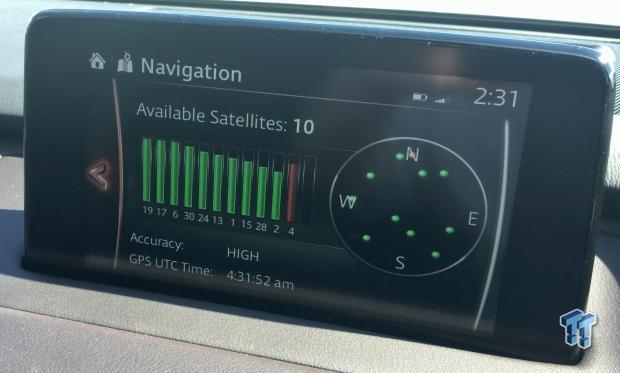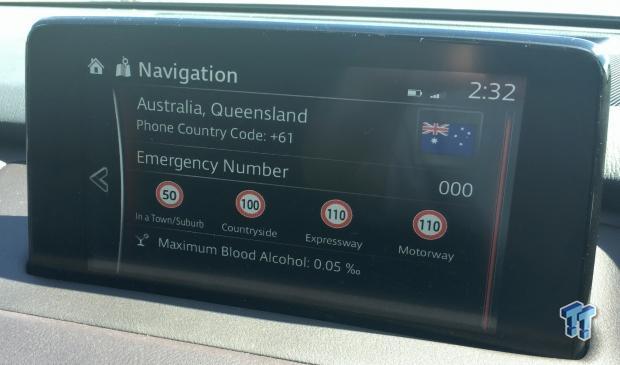 The navigation system works well enough and as to be expected. When the car is connected to your mobile device's hotspot over Wi-Fi, you can also turn on online traffic and live weather. A car that can connect to wireless? Yep, another tick. It works quite well, and as to whether you would use the weather feature, at least it's there if you want. You get the destination's current weather (condition, temperature, and wind speed/direction), as well as a seven-day weather report, if you dive deeper in.
Another interesting thing of note, you can get your exact coordinates as well as altitude, the number of GPS satellites available to you and their strength, set time by GPS, a safety information page for your current area which includes the phone country code, emergency phone number, speed limits for various areas, and maximum blood alcohol limit.
Below are some photos of almost all the screens of MZD Connect: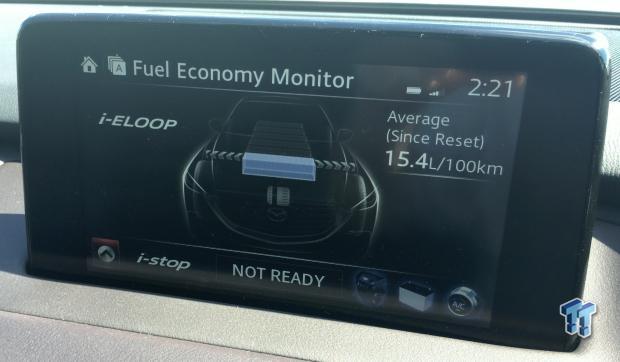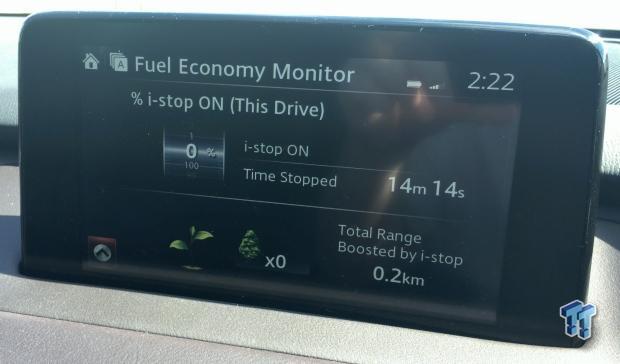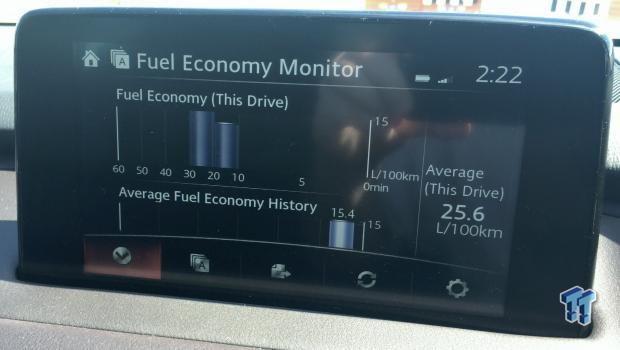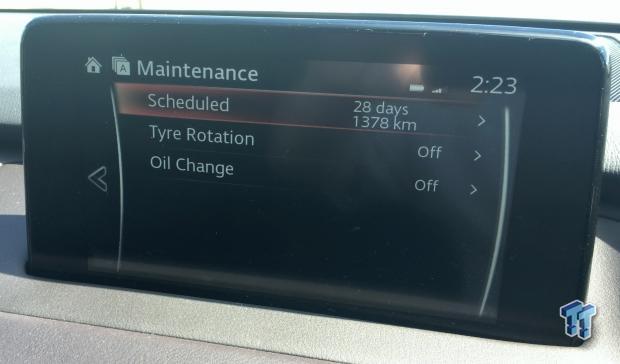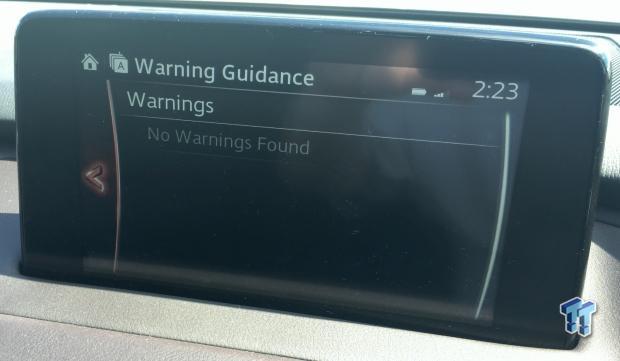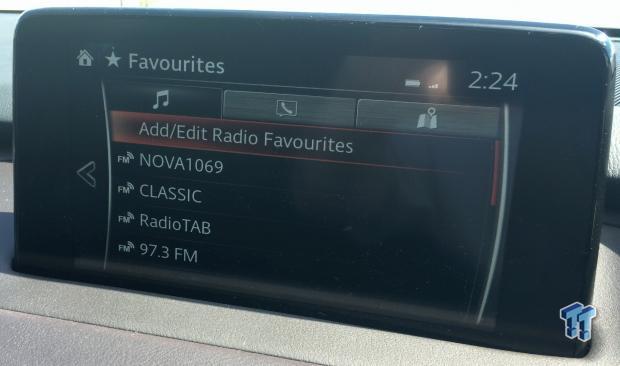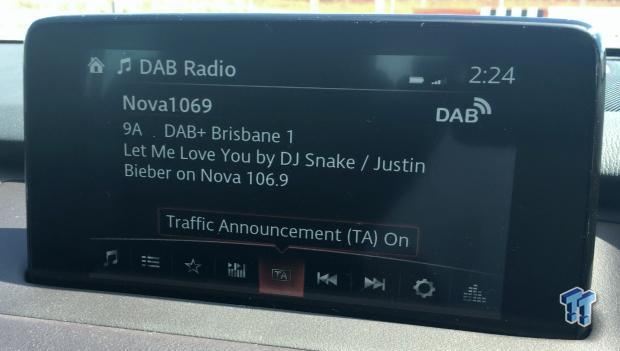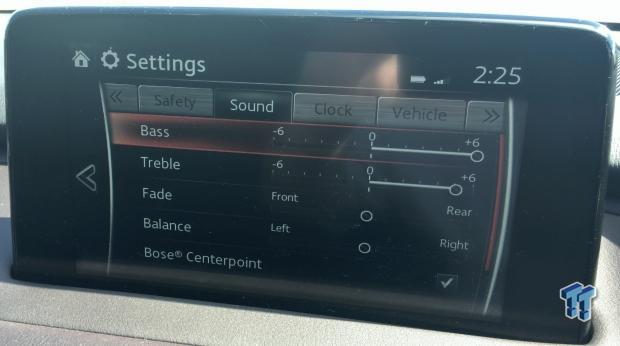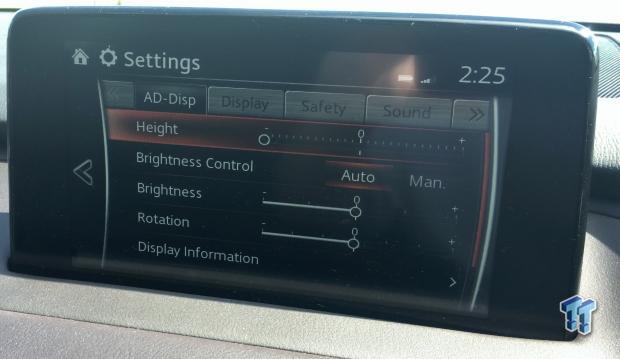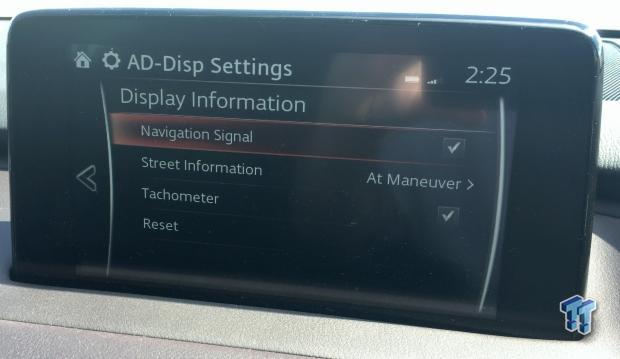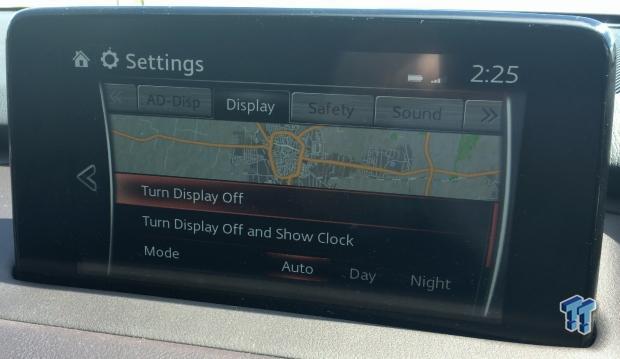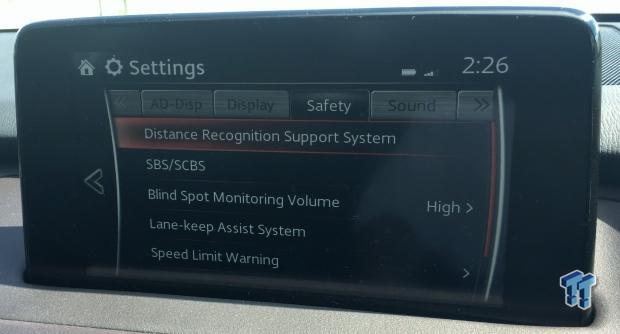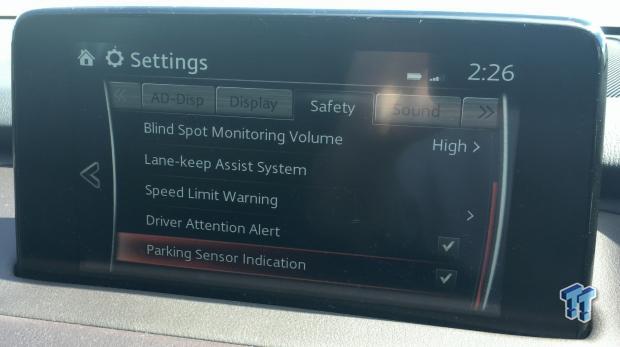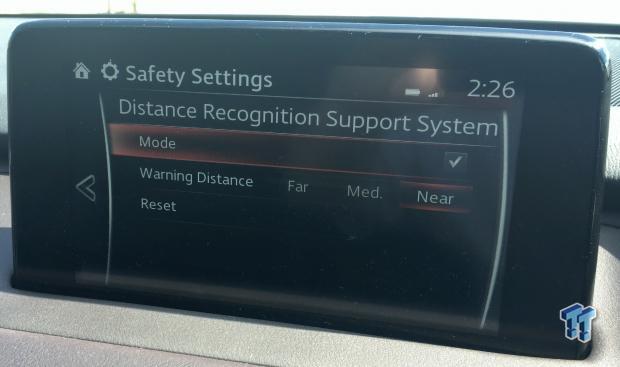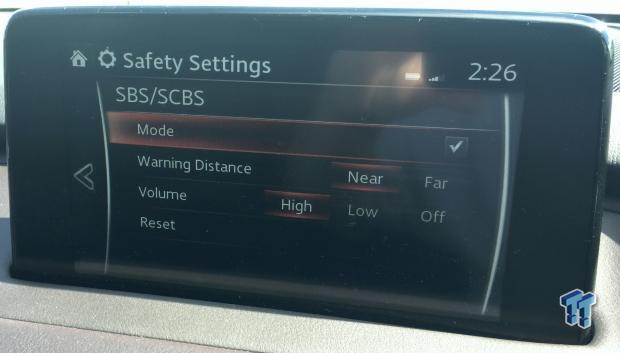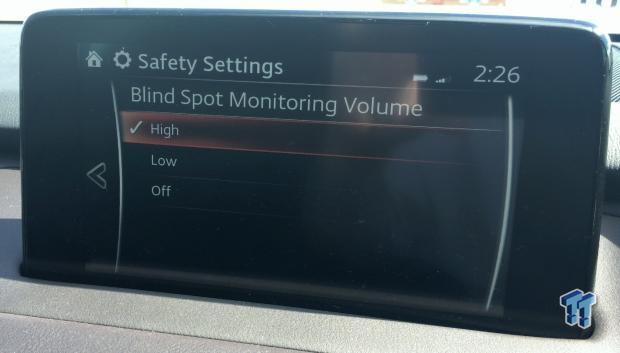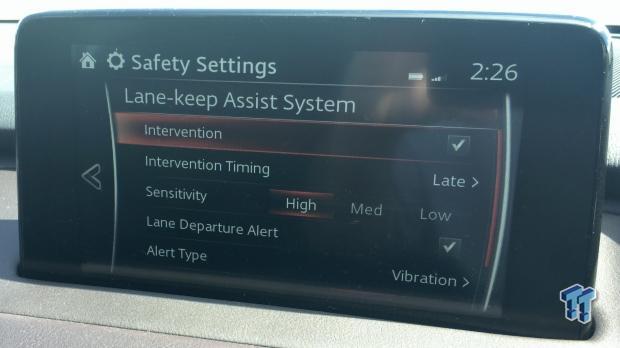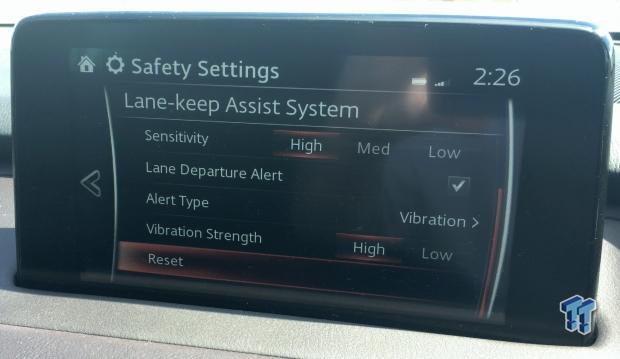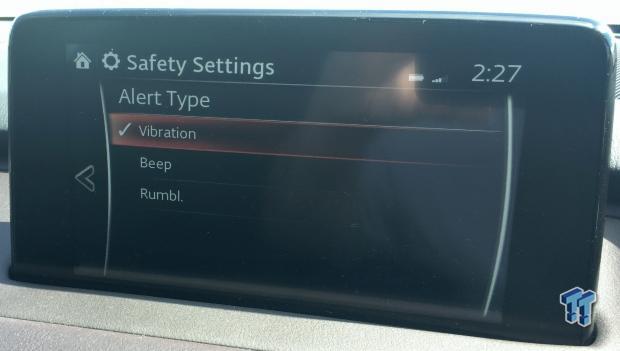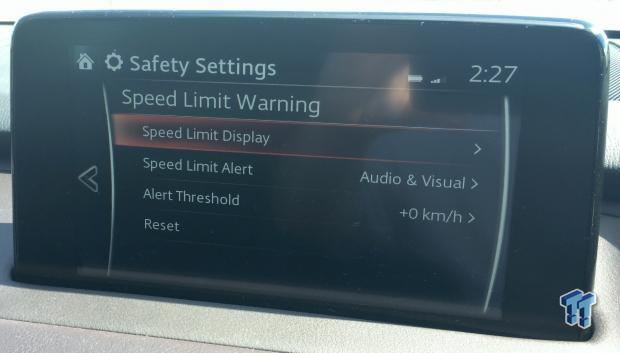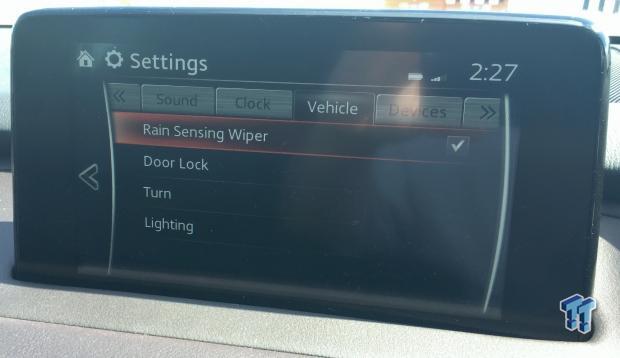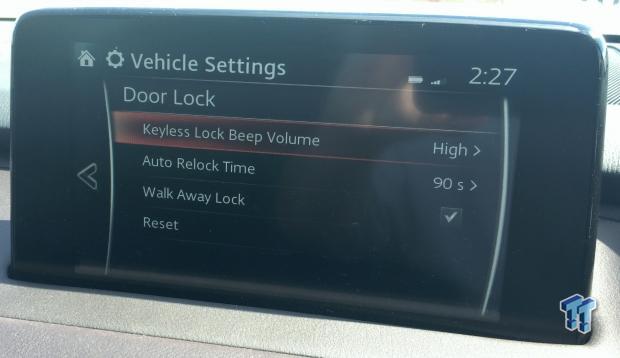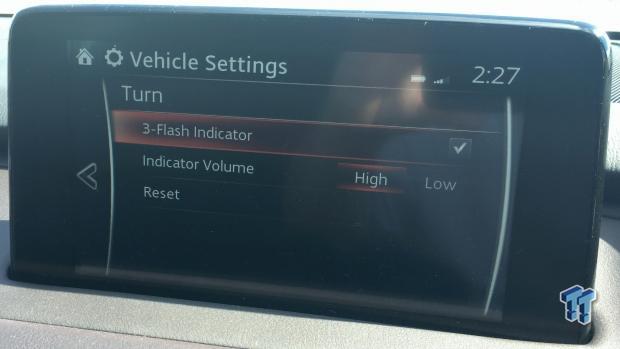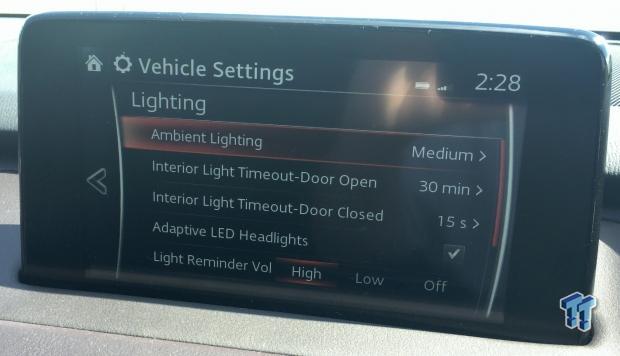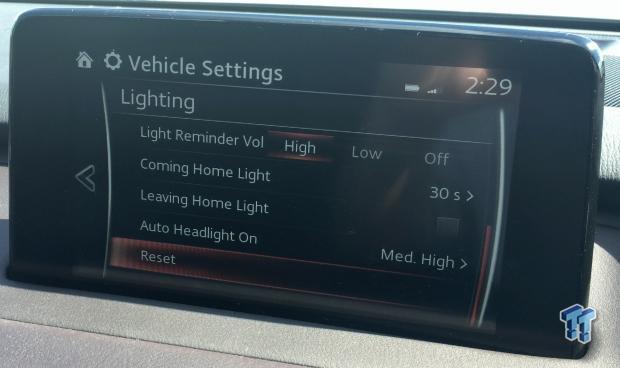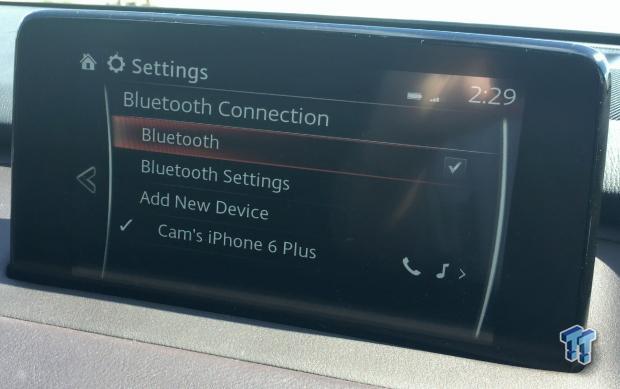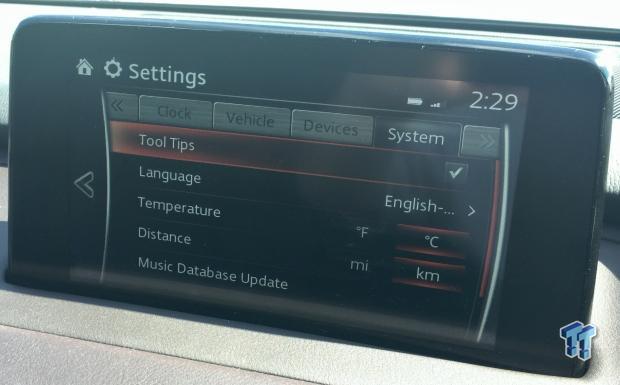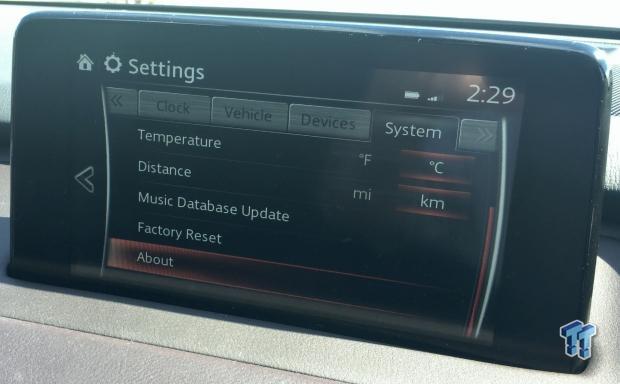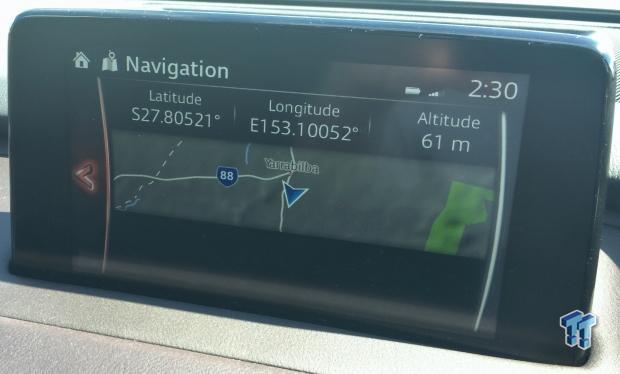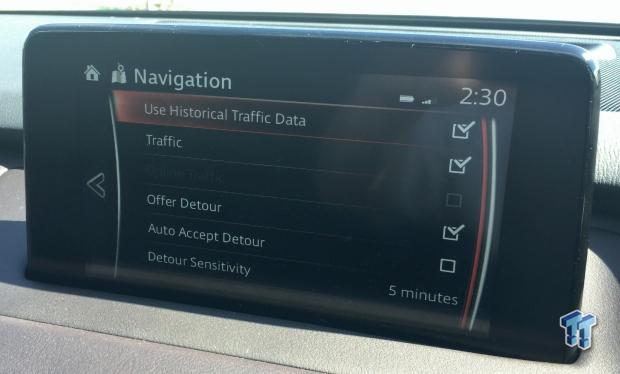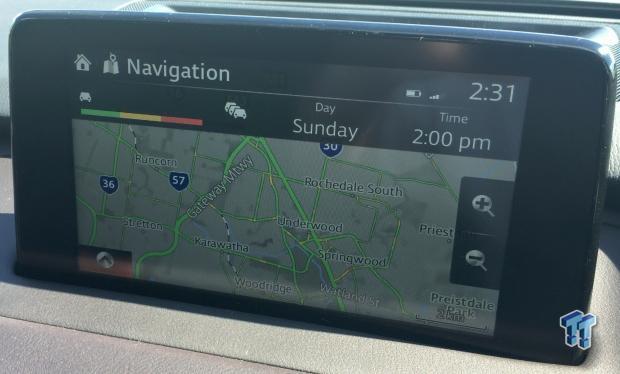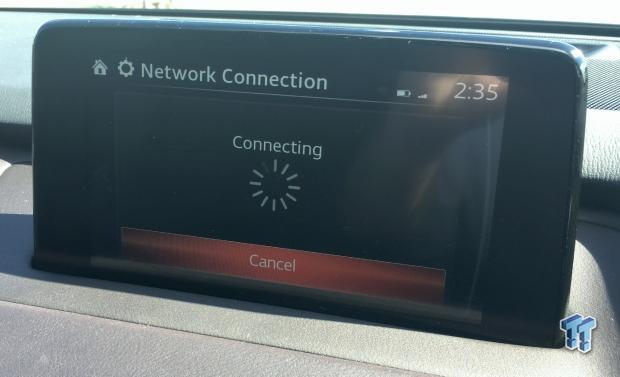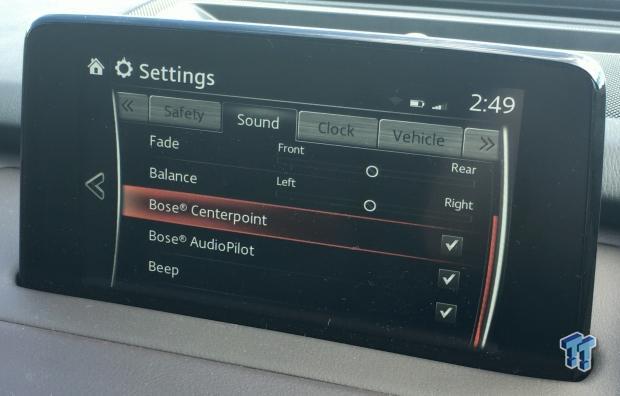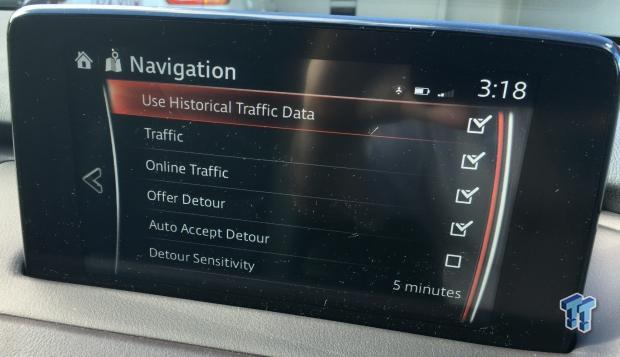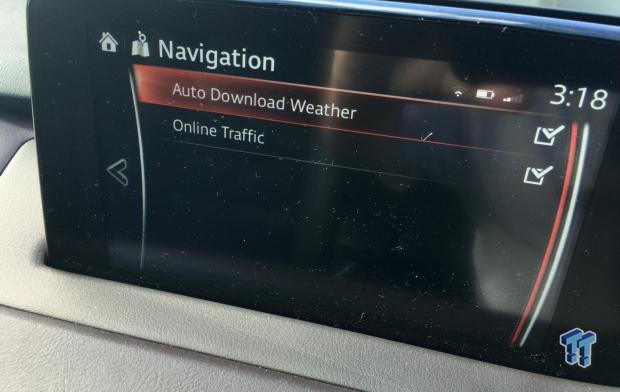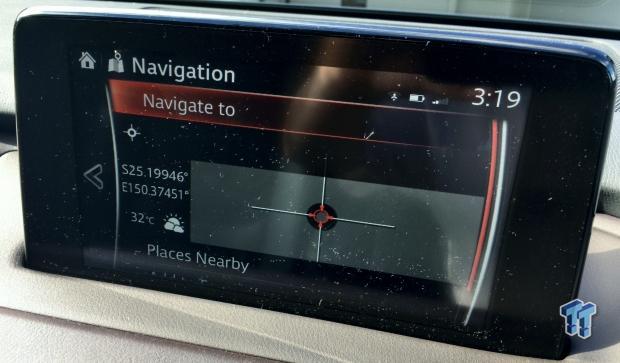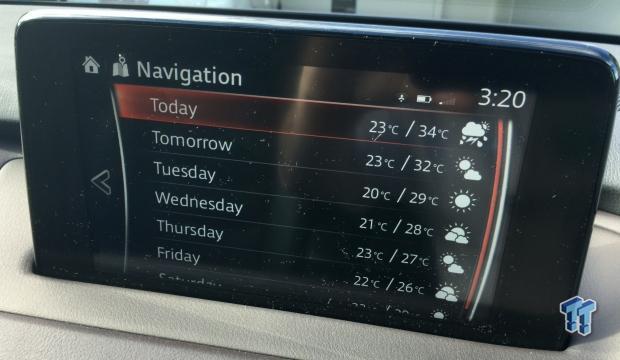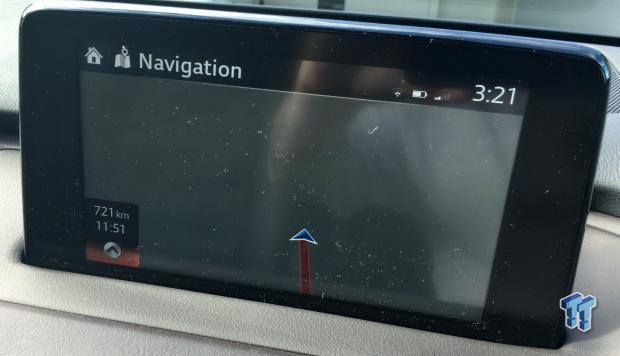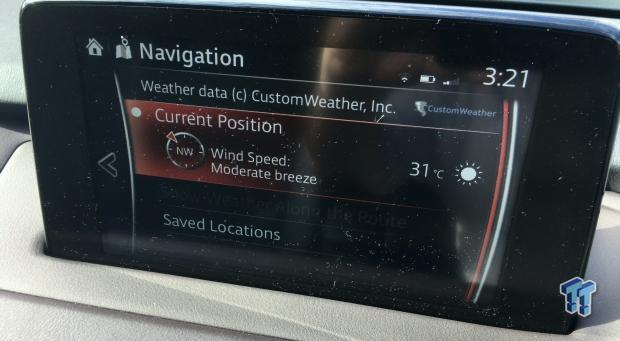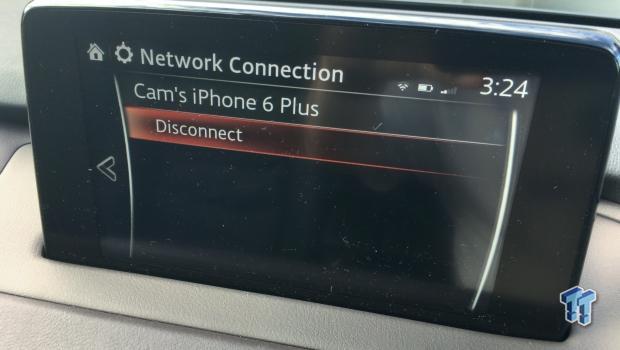 Style, Dislikes, and Final Thoughts
Styling - KODO rocking it
As far as I'm concerned, Mazda is totally on point when it comes to the design. KODO, Mazda's design philosophy, shows its true colors, in an amazing way. The sophisticated yet tough front, and elegant and stylish rear end may take you some time (seconds?) to get used to and a liking to, but when it gets you, it gets you good - as least, it was that way for me.
I've included some photos below to showcase some of the design aspects of the new CX-9 Azami: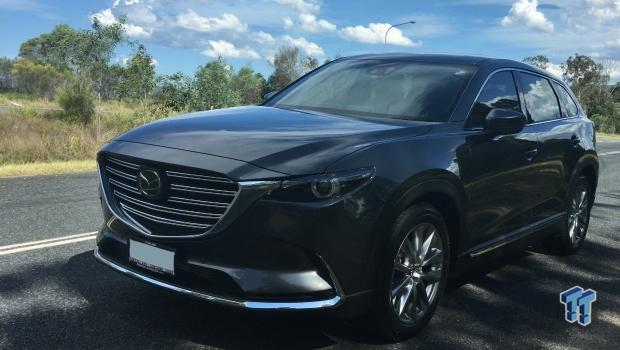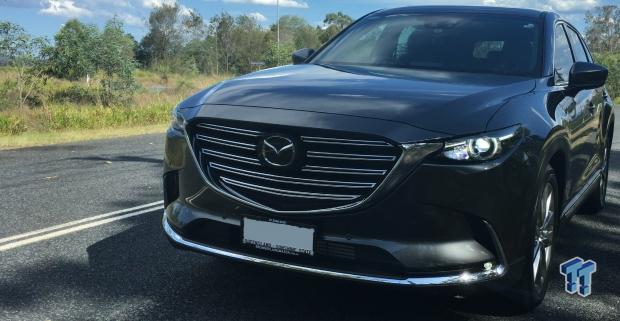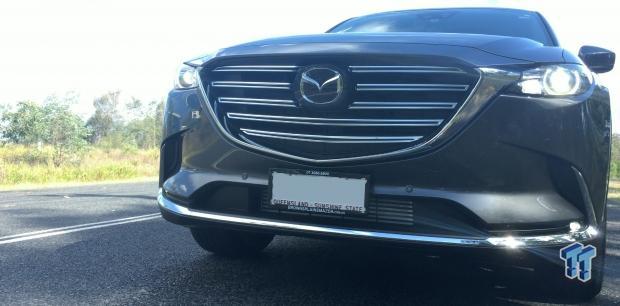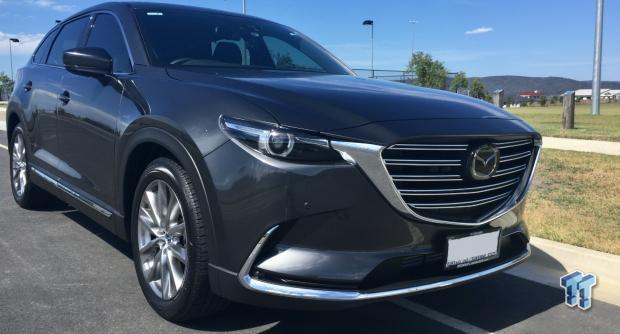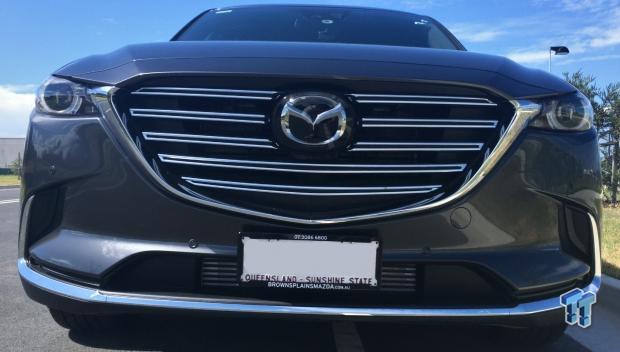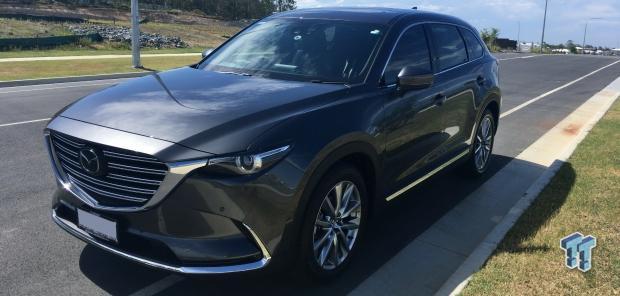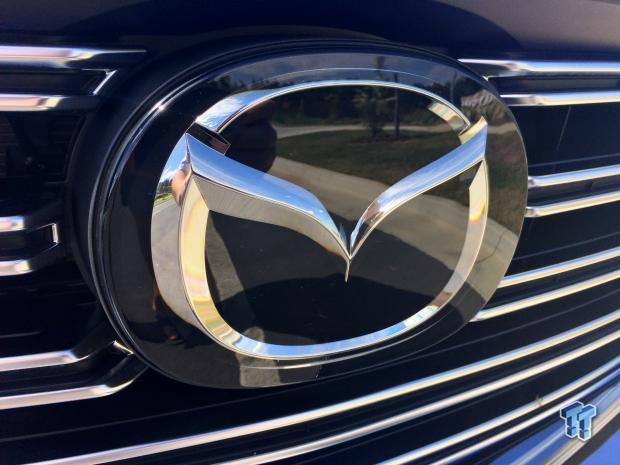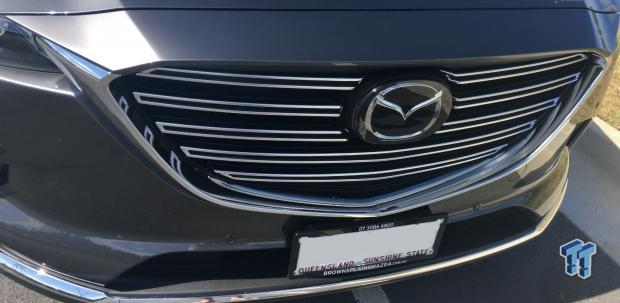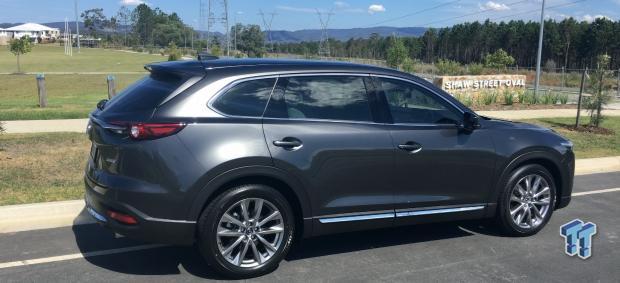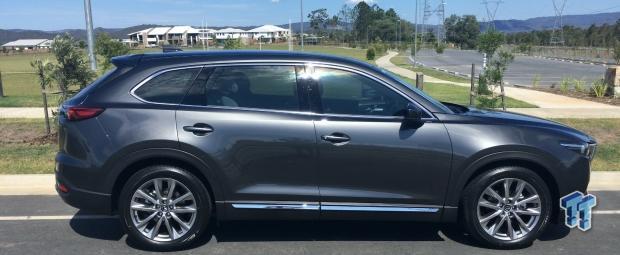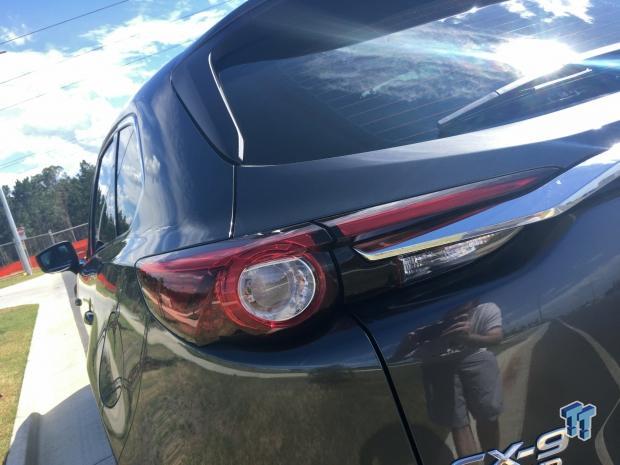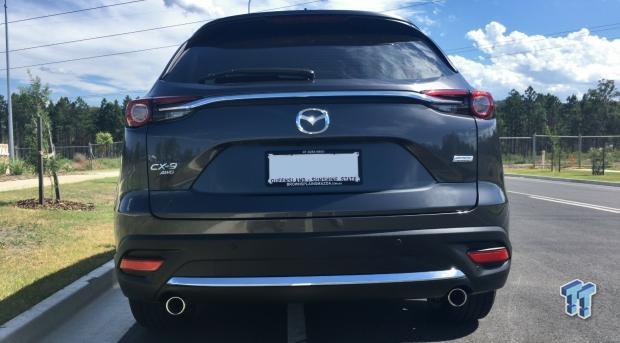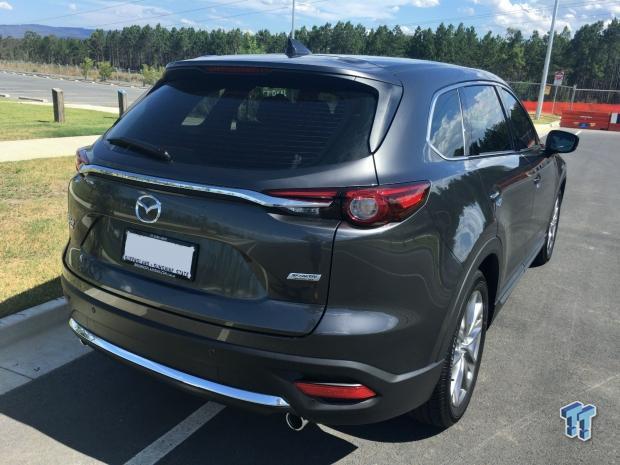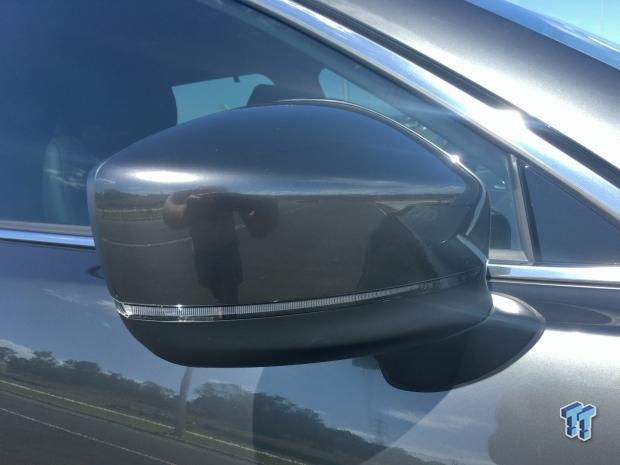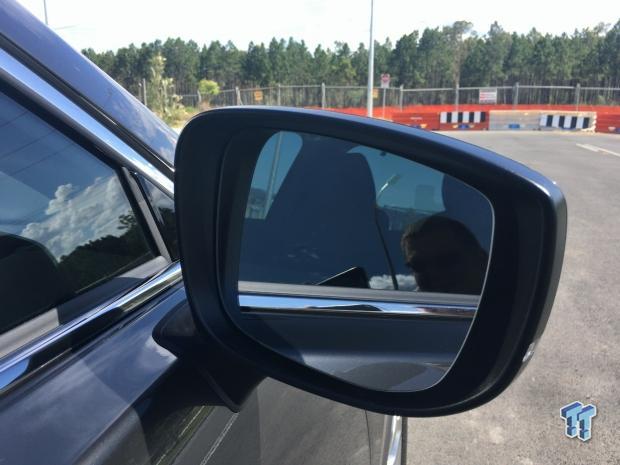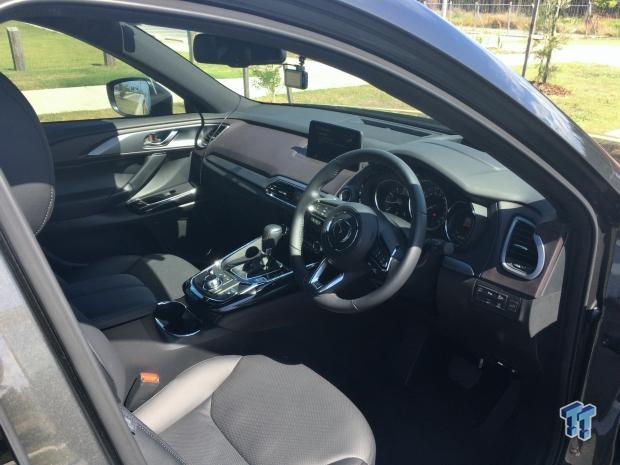 What I don't like about the car
Remembering I bought this car, and it wasn't supplied by Mazda for this review, it shouldn't come as a surprise that there's not much I don't like about the new CX-9. It addressed all the issues I had with the 2014 model and added so much more.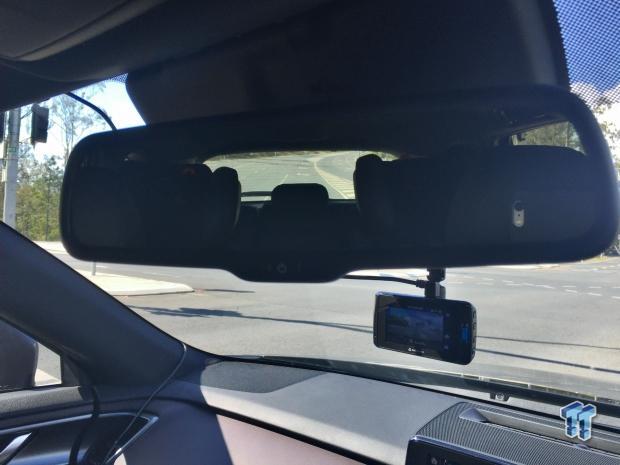 After I've owned the car longer, things may pop up, but I had to try and dig for things I don't like about it. One thing that is a bit of a concern is the view through the rear-view mirror to the back of the car. With two child seats in the back, your view at the back is minimal. It's enough to see, but I would have preferred a fuller view. Now, you might say, with all the technology in the car, who needs that view, but it's still something to consider.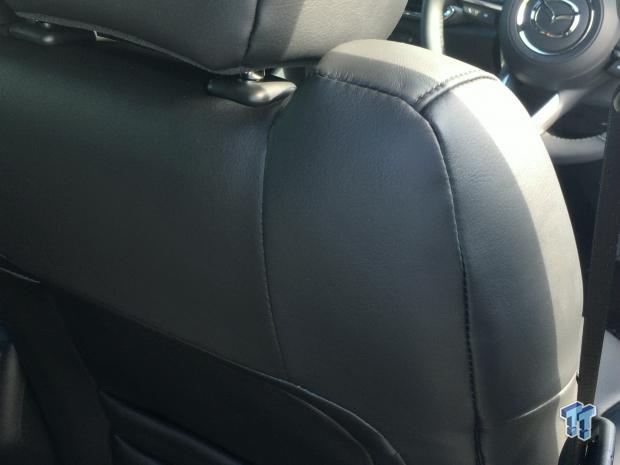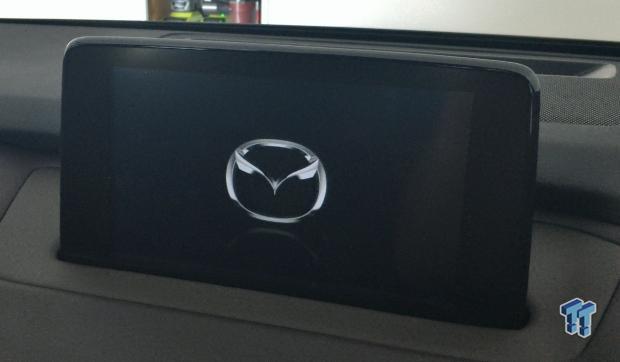 Pointed out to me in another review, it made mention of the stitching on the seats. I can confirm too in my 2016 CX-9 that the stitching is not as tightly stitched as it could be. The review I read made this out to be a pretty big deal; I put it down as being minor.
My wife and I both mentioned to each other that we would have liked for the MZD Connect to recess itself when turning off the car. But yeah, at this stage, I'm just trying to list out any issues - and as you've seen, they aren't big issues, and definitely not deal breakers.
Final Thoughts
For a normal TweakTown review, we end things with a rating for each applicable section, but being new to this game, I've decided against that. I don't think I'm qualified enough to make a solid enough call on leaving ratings for the 2016 CX-9 or other cars at this early stage of taking on car tech reviews.
However, I can say that I'm very happy with my purchase of the 2016 Mazda CX-9 Azami AWD. It's a beasty-looking vehicle with plenty enough performance for me. It's chocked full of awesome technology. About the only thing it is missing is the ability for it to park itself or drive itself.
On that latter comment, I'm sure that is something Mazda is working on very closely. Obviously, I don't know exactly what they are doing behind closed doors roads, but as far as I'm concerned, and from what I've experienced with this car, they couldn't be too far away from creating a driverless car. This car is part way there in what it can do, and that excites me greatly.
I also have to wonder, what is Mazda going to do in the new model? I addressed a few issues with the car, but it's already brilliant as far as I'm concerned.
PRICING: You can find products similar to this one for sale below.

United States: Find other tech and computer products like this over at Amazon.com

United Kingdom: Find other tech and computer products like this over at Amazon.co.uk

Australia: Find other tech and computer products like this over at Amazon.com.au

Canada: Find other tech and computer products like this over at Amazon.ca

Deutschland: Finde andere Technik- und Computerprodukte wie dieses auf Amazon.de
We openly invite the companies who provide us with review samples / who are mentioned or discussed to express their opinion. If any company representative wishes to respond, we will publish the response here. Please contact us if you wish to respond.