AMD confirms its first MCM-based GPU is now shipping, beats NVIDIA
AMD has confrimed that it's next-gen Instinct MI200 'Aldebaran' accelerator is shipping, the world's first MCM-based GPU.

Published Wed, Jul 28 2021 11:40 PM CDT
|
Updated Fri, Aug 27 2021 4:38 PM CDT
AMD is simply performing at its very best right now, battling both Intel and NVIDIA at the same time in multiple markets -- CPUs and GPUs -- and doing a fan-freaking-tastic job at it.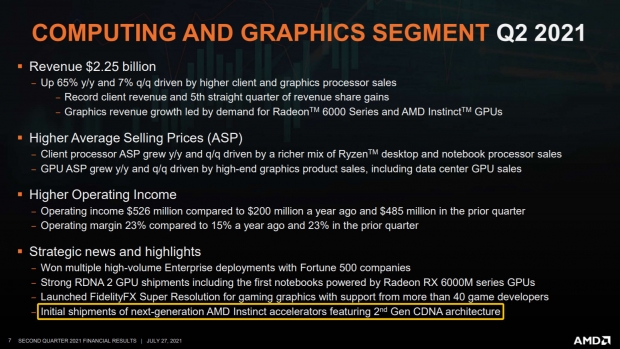 The company has announced that its next-gen AMD Instinct MI200 "Aldebaran" accelerator is now shipping, its first -- and the world's first -- MCM (multi-chip module) GPU. During its recent Q2 2021 earnings presentation, AMD said that "Initial shipments of next-generation AMD Instinct accelerators featuring 2nd Gen CDNA architecture".
In layman's terms, they were referring to the next-gen Instinct MI200 which is the successor to the MI100 accelerator, which is based on the Arcturus GPU. AMD has beaten Intel to the game -- with its MCM-based Xe-HP and NVIDIA with its upcoming Hopper-based H100 accelerator. AMD, like McCain's, have done it again.

We don't know how the next-gen Aldebaran GPU works inside just yet, but we do know it'll rock 128GB of super-fast HBM2e memory with two GPU compute dies. Each of the compute dies will have up to 128 Compute Units (CUs) where if we calculate that each unit had 128 cores, we should have up to a whopping 16384 cores.
Wowzers.
Aldebaran is the first MCM-based GPU design from AMD, but it won't be the last... we should see the first consumer-focused MCM-based GPU design when AMD launches its next-gen RDNA 3 graphics architecture next year. You can read more about that below.
More AMD next-gen GPU news
AMD will be making multiple Navi 3X GPUs going forward, with Navi 31, Navi 32, and Navi 33 all teased. As for performance, we should expect the flagship RDNA 3 GPU in monolithic form -- which should take form with a Navi 33-based GPU -- to be somewhere in the 100%+ increase over the Radeon RX 6900 XT range.
AMD Navi 31: Multi-Compute Die (MCD) tape out in Q4 2021
AMD Navi 32: Multi-Compute Die (MCD) tape out in Q4 2021
AMD Navi 33: Monolithic GPU (like normal) tape out in Q1 2022
We should expect AMD's next-gen RDNA 3 architecture, the flagship Navi 31 GPU (along with the Navi 32, and Navi 33 designs) sometime in Q2 2022.
Related Tags