Of course Epic will chase exclusives, it's all the store has
Epic's exclusivity race won't die down soon--it's really the main selling point of the Epic Store.
Published Apr 4, 2019 4:31 PM CDT
|
Updated Tue, Nov 3 2020 11:49 AM CST
3 minutes & 40 seconds read time
Outside of being the only place to buy specific games on PC, Epic hasn't made a compelling argument for its storefront. Until it can fortify a very flimsy marketplace we should expect this buying spree to continue.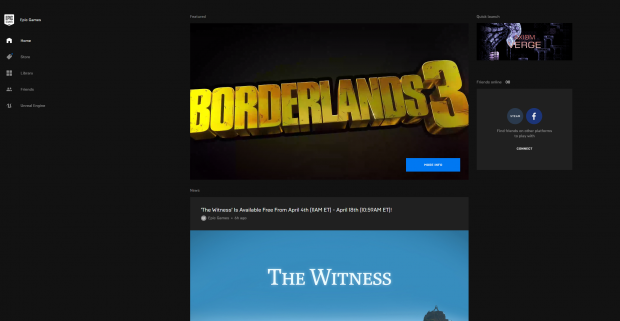 Epic's exclusivity deals won't stop any time soon. The company will continue to poach games from Steam as devs jump over to the Epic Store's attractive 88% revenue split. Tim Sweeney already confirmed as much, but he really didn't have to say anything. One visit to the Epic Store says everything you need to know. Here's what Sweeney said in a recent Tweet:
"We've had a lot of discussions about [exclusivity deals] since GDC. Epic is open to continuing to sign funding/exclusivity deals with willing developers and publishers regardless of their previous plans or announcements around Steam," Epic Games' founder said.
The store is currently a ramshackle, barebones digital outlet that's missing a lot of features.
Sure, Epic is working on morphing the store into something that closely resembles Steam, but as it stands now there's really only one reason to buy from the store: timed exclusives like Metro Exodus, The Division 2, Control, The Outer Worlds, and now Borderlands 3. Plus the free games don't hurt, either.
It's weird that Epic is signing these deals when the storefront needs so, so much work.
The products aren't adequately described, advertised, or attractively showcased (this Borderlands 3 listing is particularly awful). If you didn't already know what you wanted to buy, you'd probably avoid the store and go to Steam instead. It's a place where you run in to grab what you need and run back out, not a place where you browse. And that's very, very bad for any store.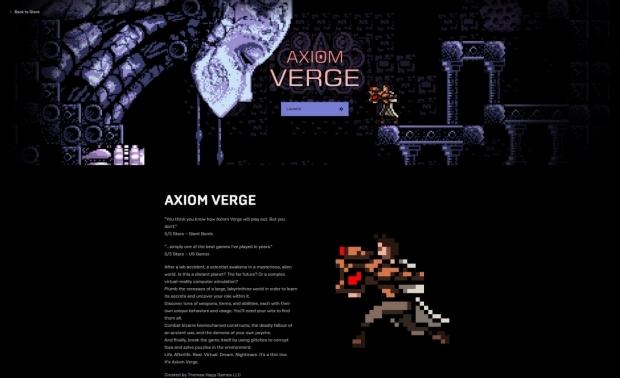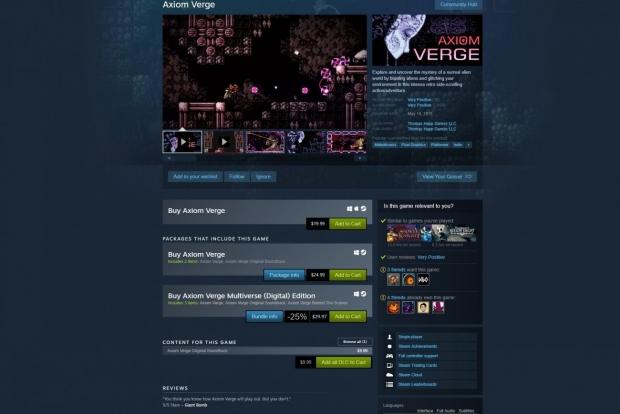 Axiom Verge's listing on the Epic Store (left) and Steam (right) are very, very different. One looks like a Geocities fan blog, the other an actual storefront.
Read Also: Epic won't let 'crappy games' on its store
The crux of the matter is that publishers and devs are taking a chance on the store before gamers are, at least en masse. But publishers wouldn't do this willy nilly. They probably know something we don't like official sales figures and data to back up Epic's deals. Or maybe Epic is just tossing more cash their way and promising more revenues over time for every sale.
We don't know exact sales numbers from the Epic Store, and it's possible the popular opinion of disdain doesn't reflect the store's overall numbers. It could be doing quite well despite being embroiled in a fiery PR storm.
Epic released some MAU figures that seem pretty good, but there's some things they didn't reveal, like how many of those 85 million gamers signed up just to get the free monthly games, or signed up just to play Fortnite. The Epic Games Store is technically the Epic Games Launcher, and requires players to launch it to play Fortnite.
Ultimately we shouldn't expect these deals to go anywhere. Epic needs to give players a reason to buy from its store during this critical weak period. And right now all it really has is exclusives.
Also there's the business element that fuels everything. Publishers want to maximize profits, and Epic will continue waving around its huge pocketbook to secure big games. But it just seems like such a backward strategy. Epic needs to focus on making its store a better place to buy, play, and interact with games before it tries to uphold some of the biggest AAA titles in the industry.
Related Tags