During today's Unreal GDC 2019 livestream, Epic Games revealed a host of new exclusives coming to the Epic Store that won't be available on Steam for a year. Games like Obsidian's upcoming FPS RPG The Outer Worlds, which was on Steam's storefront for months after its reveal, are now marked for the Epic Store instead of Steam. The Outer Worlds will launch on the Windows 10 storefront, though, and being published by Take-Two's new Private Division label.
Remedy's ambitious new sci-horror shooter IP Control is another big one crossing over (it too has been on Steam for a long while). We know Remedy is making another game outside of Control, and this too could be on the Epic Store. This move kind of feels like a bait-and-switch: most of these games have been pre-orderable on Steam and will instead jump to a competing platform (like Metro: Exodus).
Quantic Dreams traded one exclusivity deal for another. PC ports of its upcoming once PlayStation-exclusive games Heavy Rain, Beyond Two Souls, and Detroit: Become Human are all Epic Store exclusives.
Ancestors: Humankind Odyssey, another game published by Private Division, is also earmarked for the Epic Store. This makes sense given Take-Two's focus on maximizing cashflows and the Epic Store's revenue split is quite favorable (it lets developers and publishers keep 88% of all game sales earnings).
We could expect all singleplayer-driven games from Private Division to come to the Epic Store since games like The Outer Worlds don't have live services or microtransactions. It's important to remember that outside of indie studios, publishers decide these moves--505 Games decided for Remedy, and Private Division (Take-Two) decided for Obsidian.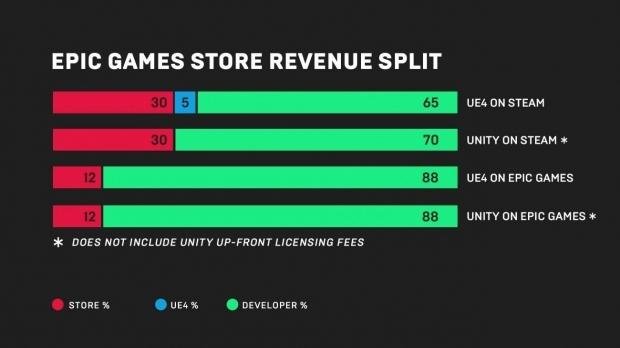 Behold the real reason publishers and devs bring their games to the Epic Store: money. The store reaches Fortnite's massive 200 million strong userbase and lets games-makers keep more of each sale.
Read Also: Epic Store is slowly morphing into Steam
Epic also confirmed that more Ubisoft games would come to the platform as timed-exclusives, but we already knew this would happen. Epic signed a big year-long contract with Ubisoft which sees its biggest marquee AAA titles jumping to the Epic Store along with cross-platform uPlay integration.
This sweep-up comes after Epic boss Tim Sweeney said exclusives are "pro-competitive" compared to the walled garden Microsoft tried to create with its Universal Windows Platform. The PC gaming userbase near unanimously disagrees with Epic's exclusivity buy ups.
The company announced the following PC games would come to the Epic Store instead of Steam:
Control (Remedy Entertainment, 505 Games)

The Outer Worlds (Obsidian, Private Division)

Ancestors: Humankind Odyssey (Panache Digital, Private Division)

Afterparty (Night School Studios)

The Cycle (Yager)

The Sinking City (Frogwares, Bigben)

Spellbreak (Proletariat, Inc.)

Journey to the Savage Planet (Typhoon Studios, 505 Games)

Solar Ash (Heart Machine, Annapurna Interactive)

Dauntless (Phoenix Labs)

Industries of Titan (Brace Yourself Games)

Kine (Chump Squad)

Phoenix Point (Snapshot Games)