E3 2016 - Battlefield 1 footage in itself makes for incredibly entertaining World War 1 chaos, but 64-player carnage in glorious 3840 x 2160 60FPS is almost overkill. Key word: almost.
At this year's E3, EA livestreamed Battlefield 1's first-ever 64-player multiplayer session to give players a better idea of how truly dynamic and fluid the game's wide-scale combat really is. Now YouTuber jackfrags has uploaded 22 minutes of earth-shattering 4K 60FPS footage for our perusal, showing off biplane assaults, boots-on-the-ground skirmishes, booming tank destruction, and the amazing sky-burning havoc that ensues when a mighty zeppelin is annihilated. TweakTown's own Jason Evangelho tried Battlefield 1's multiplayer at E3, so be sure to check out his impressions here.
The entire experience is so alive and enthralling, and I highly recommend you watch the footage listening to headphones--you'll hear everything, from the tremulous tank-fire to the booming grenades and the shredding of assault rifle fire as players spray and pray like mad. The warzone itself feels alive with death, with ruins of buildings still aflame even though the dynamic rain drizzles down above.
The video pretty much shows every perspective you'd want to see in Battlefield 1; we get multiple classes and weapons, as well as in-vehicle views of the zeppelins, biplanes, and tanks. One of the best parts about the game is its sheer flexibility in terms of where you can go. If you're on a zeppelin, for instance, you can climb atop the blimp and jump off and land safely thanks to your parachute.
Honestly I'm really blown away by this footage, and I can't wait to try out Battlefield 1's havoc-inducing WW1 warfare when it drops on October 21, 2016 on PC, PS4, and Xbox One. Check below for a huge list of everything we know about the game so far.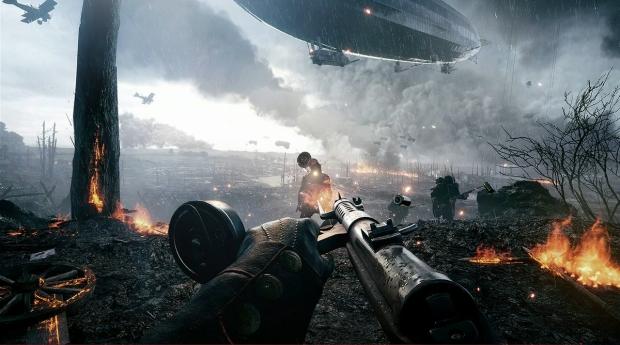 Everything we know about Battlefield 1 so far: