We are only weeks away from AMD's big next-gen Radeon RX 7000 series "RDNA 3" graphics cards reveal on November 3, but ahead of that there's Radeon Monster Profile.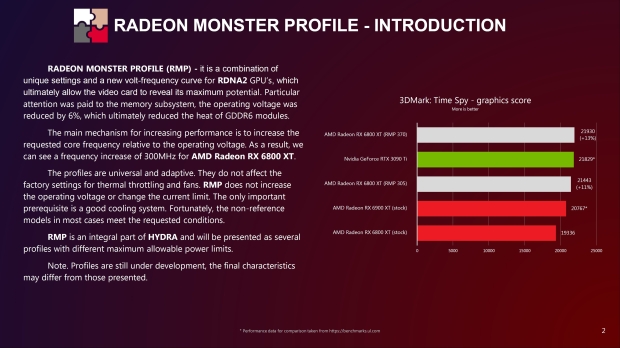 Radeon Monster Profile (RMP) is made by developer Yuri "1usmus" Bubliy, who is the creator of Hydra, and last teased Hydra 1.2 and its new OC tool that would auto-tune your RDNA 2 GPU, as well as including Ryzen 7000 series "Zen 4" CPU support.
But the new Radeon Monster Profile is something exciting: it combines the unique settings and a new volt-frequency curve for AMD's current-gen RDNA 2 GPUs, which will let the graphics card you own "reveal its maximum potential". Yuri explains that he paid particular attention to the memory subsystem, where the operating voltage was reduced by 6% which reduced the heat of the GDDR6 memory modules.
Continue reading: 'Radeon Monster Profile' tool for RDNA 2: RX 6800 XT beats RTX 3090 Ti (full post)