I don't think of computers at all when I hear the BenQ name. I think more of the displays and projectors that I have seen from the company. BenQ along with everyone else and their dog is set to toss an Android tablet onto the market early in 2011 with its offering called the R100. A few pics of the device have surfaced and it looks to be pretty cool.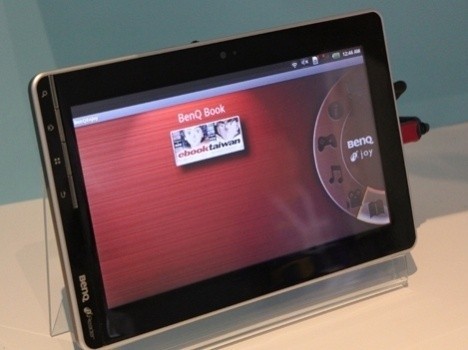 The R100 has a 10.1-inch screen that offers 1024 x 600 resolution and it runs the Android OS. The processor is an ARM unit made by Samsung running at 833MHz. The tablet naturally hopes to compete directly with the iPad, which will be a big task. Android tablets are expected to grab a lot of the tablet market over the next few years though.
Other features of the R100 include 8GB of internal storage, an SD card slot for expansion, mini-USB and HDMI ports, and a 3.5mm headphone jack. The device also has Bluetooth and WiFi. The dimensions of the tablet are 15mm thick and it measures 119mm x 244mm and weighs 720g. Pricing for the device is unknown and exactly what version of Android will be used isn't mentioned.
Continue reading: BenQ R100 tablet PC to launch in early 2011 (full post)