Seagate to Acquire LSI Flash Business from Avago
Seagate to Acquire LSI Flash Business from Avago.
Published Thu, May 29 2014 1:33 PM CDT
|
Updated Tue, Nov 3 2020 12:16 PM CST
Seagate was an early investor in SandForce. At one time, we expected to read about Seagate acquiring the company that brought SSDs to the mainstream market but LSI stepped in before that could happen. As part of LSI, SandForce contributed to two product divisions, Accelerated Solutions Division and Flash Components Division. Seagate will acquire both for $450 million in cash.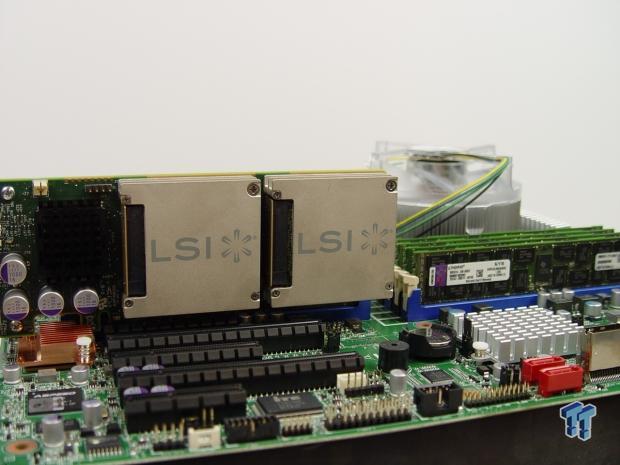 The acquisition strengthens Seagate's position in the SSD market. Seagate also has a strategic agreement in place with Samsung for advanced NAND flash supply. Current Seagate 600 SSDs use Micron NAND flash and Seagate 1200 SSDs use Samsung flash so the company has the flash side covered.
The acquisition comes at a good time for everyone involved. The SandForce team has the most anticipated NAND flash controller coming to market later this year, SF370. The SF3700 is the first controller to run both SATA and PCIe on the same silicon and early first hand testing at LSI's AIS event last year proved SandForce's claims of over 1800 MB/s sequential reads.
Seagate has already displayed SF3700 in M.2 form factor at Flash Memory Summit last year. This means Seagate has already been working on new products based on SandForce's latest silicon.
As mentioned, there are two divisions coming to Seagate. The Accelerated Solutions Division is responsible for products like LSI's Nytro products that merge LSI RAID hardware with SandForce hardware.
CUPERTINO, Calif. & SAN JOSE, Calif. & SINGAPORE--(BUSINESS WIRE)-- Seagate Technology plc (NASDAQ: STX), a world leader in storage solutions, and Avago Technologies Limited (NASDAQ: AVGO), a leading semiconductor device supplier to the enterprise storage, wired, wireless and industrial end markets, today announced that they have entered into a definitive asset purchase agreement under which Seagate will acquire the assets of LSI's Accelerated Solutions Division ("ASD") and Flash Components Division ("FCD") from Avago for $450 million in cash.
The acquisition strengthens Seagate's strategy to deliver a full suite of storage solutions, providing Seagate with established Enterprise PCIe flash and SSD controller capabilities to deliver solutions for the growing flash storage market. LSI's ASD business, which is the second largest player in the PCIe flash space, offers a highly differentiated enterprise-grade PCIe flash solution focused on the high-growth cloud and hyperscale markets. LSI's FCD business, led by its SandForce SF2000 and SF3700 controller products, is driving a multi-product roadmap to address volume markets.
"Seagate is committed to providing our customers with a complete range of storage solutions, and this acquisition will significantly enhance our flash storage offerings to supplement our existing portfolio," said Steve Luczo, Seagate chairman and CEO. "LSI's ASD business has the broadest PCIe flash product offering and intellectual property in the market today and the FCD business has best-in-class SSD controllers with proven support for a wide range of applications. This acquisition immediately boosts Seagate's range and depth of flash storage capabilities today, and these teams bring to Seagate the expertise to accelerate our roadmap in this important and growing market."
In fiscal 2015, Seagate would expect the combination of its enterprise SSD product line and these SSD Controller families to generate revenues of at least $150 million and be slightly accretive to the company gross margin with operating margin headwind of $30 to $40 million. As Seagate drives operational synergies and leverages its SSD technology into its product portfolio, the company would expect the operating margin contribution from its SSD business to be neutral to positive in fiscal 2016 and beyond.
The transaction is expected to close in the third quarter of calendar year 2014, subject to the satisfaction of customary closing conditions and the receipt of certain regulatory approvals, including those required by the Hart-Scott-Rodino Antitrust Improvements Act.
About Seagate
Seagate is a world leader in hard disk drives and storage solutions. Learn more at www.Seagate.com. Seagate and Seagate Technology are registered trademarks of Seagate Technology LLC.
About Avago Technologies
Avago Technologies is a leading designer, developer and global supplier of a broad range of analog, digital, mixed signal and optoelectronics components and subsystems with a focus in III-V compound semiconductor design and processing. Backed by an extensive portfolio of intellectual property, Avago products serve four primary target markets: wireless communications, wired infrastructure, enterprise storage, and industrial and other. For more information, visit Avago's website: www.avagotech.com.
Related Tags