Microsoft reveals next-gen Xbox console, Xbox Series X
Project Scarlett is officially called Xbox Series X, has a desktop tower-like design.

Published Thu, Dec 12 2019 8:24 PM CST
|
Updated Tue, Nov 3 2020 11:45 AM CST
Microsoft announced its next-gen Xbox console at The Game Awards 2019, and it's called Xbox Series X.
Microsoft just pulled a fast one over Sony by revealing its next-gen Xbox console the Xbox One Series X at The Game Awards, showing a new vertical tower-like design for thermal ventilation.
There was no talk about Lockhart, the cheaper lower-end console, and it's possible Microsoft has scrapped the hardware altogether. No specs were outlined, but Xbox Series X will use a new Zen 2 CPU and Navi GPU combo on a custom AMD SoC, and may have 12TFLOPs of power and 16GB of GDDR6 memory.
Xbox Series X specs and hardware features include:
AMD SoC based on new RDNA architecture

8-Core, 16-Thread Zen 2 CPU and Navi GPU

4x compute power of Xbox One X

Native 4K 60FPS, up to 120FPS

8K resolution support

Ray tracing

Variable Refresh Rate

Variable Rate Shading

NVMe SSD

Dynamic Latency Input support

New Auto Low Latency mode

New controller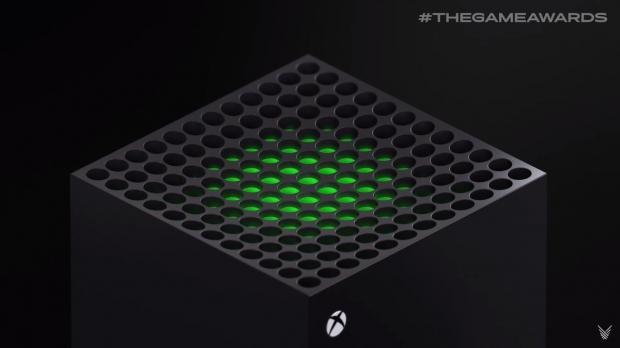 "We see a future where you're instantly absorbed in your games, where the worlds are more lifelike and immersive and responsive. Where you are at the center of your gaming experience. Next holiday, Xbox Series X will lead us into the future of console," Phil Spencer said at the show.
"It's our fastest most powerful Xbox, will set a new bar for performance, speed compatibility. Developers around the world are already hard at work at building new games for Xbox Series X."
Microsoft confirms Xbox Series X will hit native 4K 60FPS "with the possibility of 120FPS". Here's more info on the hardware: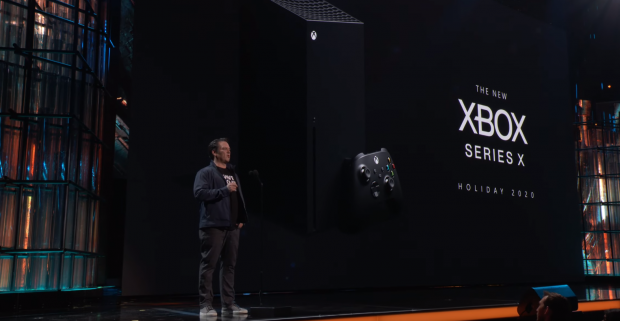 From a technical standpoint, this will manifest as world-class visuals in 4K at 60FPS, with possibility of up to 120FPS, including support for Variable Refresh Rate (VRR), and 8K capability.

Powered by our custom-designed processor leveraging the latest Zen 2 and next generation RDNA architecture from our partners at AMD, Xbox Series X will deliver hardware accelerated ray tracing and a new level of performance never before seen in a console.

Additionally, our patented Variable Rate Shading (VRS) technology will allow developers to get even more out of the Xbox Series X GPU and our next-generation SSD will virtually eliminate load times and bring players into their gaming worlds faster than ever before.

We are minimizing latency by leveraging technology such as Auto Low Latency Mode (ALLM) and giving developers new functionality like Dynamic Latency Input (DLI) to make Xbox Series X the most responsive console ever.

Xbox Series X is also designed for a future in the cloud, with unique capabilities built into the hardware and software to make it as easy as possible to bring great games to both console and elsewhere. Xbox Series X will deliver a level of fidelity and immersion unlike anything that's been achieved in previous console generations.
Xbox Series X is due out by Holiday 2020.
Check below for confirmed specs and details, and a huge content listing of everything we've heard about Xbox Series X so far:
Lockhart
1440p 60FPS

No disc drive

Super-fast SSD that can be used as VRAM

7nm AMD SoC w/ scaled-down 8-core, 16 thread Zen 2 CPU at 3.5GHZ and Navi GPU

Lower GDDR6 memory pool (Possibly 12GB)

~6-8 TFLOPs of power?

Aims to rival PS4 Pro/Replace Xbox One S

Full backward compatibility with all Xbox One games

Cheaper MSRP
Anaconda/Project Scarlett
4K 60FPS

Disc drive with 4K UHD playback

Super-fast SSD that can be used as VRAM

7nm AMD SoC with 8-core, 16 thread Zen 2 CPU at 3.5GHz and Navi GPU

16GB GDDR6 RAM

12 TFLOPs of power

4x as powerful as Xbox One X/aims to replace Xbox One X

Full backward compatibility with all Xbox One games

More expensive MSRP
Project Scarlett confirmed details:
8-core, 16-thread Zen 2 CPU

Navi GPU

Highly customized 7nm SoC from AMD

GDDR6 memory

4x as powerful as the Xbox One X's 6TFLOPs of perf

Can deliver up to 40x more performance than Xbox One in specific use cases

Adaptive sync supported

Super-fast SSD that can be used as VRAM

Supports 8K resolution (likely media playback)

120FPS gaming

Variable refresh rate

Raytracing confirmed with dedicated raytracing cores

Backward compatible with Xbox, Xbox 360, and Xbox One games

Compatible with Xbox One accessories
Project Scarlett coverage:
Related Tags