The latest leaked PS5 devkit photos show the consoles turned on and operating, complete with an LCD panel with real-time hardware usage and a DualShock 5 controller to the side.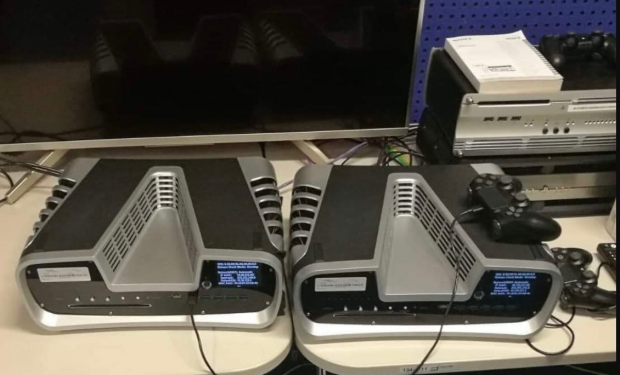 A bit ago we spotted the first PlayStation 5 devkit photos, but the system wasn't actually powered up. The PS5 devkit has that distinctly expansive ventilation system for heat management and easy stackability, hinting there's some serious horsepower under there, and a screen similar to Project Scorpio's devkit that gives out key info in real-time, including RAM and CPU usage, but the exact values are fuzzy.
There's also a small look at the upcoming PS5 controller, at least the prototype of one. We can't get a good look at the controller but it seems to match the new ergonomic design outlined in the DualShock 5 controller patents. There's apparently no lightbar.
Read Also: PS5, Project Scarlett to hit over 10TFLOPs of power, sources say
Remember that the final PlayStation 5 console won't look like this. Devkits are almost quite different than their retail counterparts. The photo clearly illustrates this with the PlayStation 4 devkit in the upper-left that looks like a PC workstation, not a consumer-ready console.
The only real exception to this rule was Project Scorpio, whose devkit looked almost exactly like the retail Xbox One X (sans the nice LCD panel).
The reason for the massive V-shaped chassis and huge ventilation system is two-fold: to ensure easy stackability for devs working on multiple stress tests, and to ensure on-board components stay coo while doing sol. It's likely the devkits are using more powerful and scaled internal hardware in tandem with some crazy storage mechanics.
Devkits are all about two things: Experimentation, and stress-testing to see what the system can do.
The devkits are built to be thoroughly bashed by the most demanding games-building technology--think running Crysis on Ultra settings back in the day. That kind of power-pushing and load means serious heat.
It's also possible the PlayStation 5 devkits are using an SSD with a ReRAM cache module to supercharge speeds, which could produce a decent amount of toasty heat too.
Right now key sources say the PlayStation 5 devkit is more powerful than Project Scarlett's, but that's likely to change as both companies roll out new SDK revisions. The devkit is only part of the puzzle: the software development kits (SDKs) are frequently updated to tune the system's raw power and optimize the devkits for developers.
We'd love to look inside the PS5 devkit, but remember these aren't actual retail products and don't necessarily reflect what'll be sold on store shelves in Holiday 2020.
Check below for more info on the PlayStation 5:
Sony is expected to reveal the PS5 in a special event in February 2020. The console will release in Holiday 2020, and it may cost $499.
PlayStation 5 specs and details:
Custom SoC with second-gen Navi GPU, Zen 2 8-core, 16 thread CPU

Navi, Zen SoC uses new AMD RDNA 2.0 architecture

Ultra-fast SSD

Support for 4K 120 Hz TVs

Ray-tracing enabled

8K graphics support (probably video, not gaming)

Plays all PS4 games

Separate games that ship on BD-XL Blu-ray discs

New controller with extensive haptic and tactile feedback
PlayStation 5 Coverage: