Activision working on 10 new games, one might be a Destiny-killer IP
Activision ramps up games development, but are they ready for another Destiny-like shooter?
Published
4 minute read time
Activision may be working as many as 10 new games as part of its big new business restructuring focusing on games development.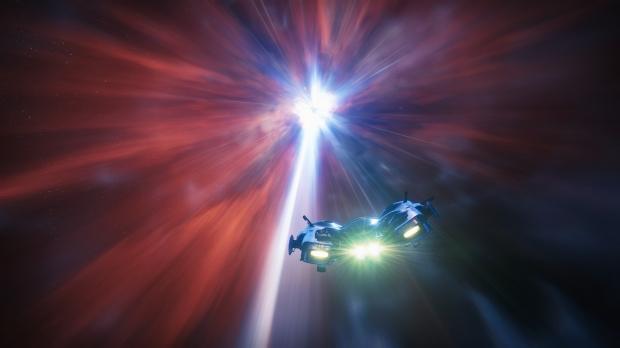 Rumor has it that Activision is strongly ramping up its games slate along with Blizzard, and could be developing nearly a dozen new titles that includes a new Destiny-like MMO-FPS hybrid. The info comes from Call of Duty YouTuber The Gaming Revolution, who cites a friend at Activision as a source.
Apparently Activision wants to make their own wholly-owned IP to replace Destiny. The idea is to create something they don't have to pay royalties on, that can completely control, and something that continually makes money over time via online engagement tactics. The company may enlist Call of Duty FPS experts at Treyarch and Infinity Ward for this project, which could mean Call of Duty will shed its annualized structure. Otherwise it'll be a third-party project.
This report does hold some veracity, at least when it comes to game development volume, but we shouldn't expect every project to be a big AAA endeavor. There's some mobile ports kicking around in there too.
Both Activision and Blizzard are doubling-down on games development right now. Blizzard says it has more games in its pipeline than ever, and new projects may include Overwatch 2, Diablo IV, and maybe Diablo 2 Remastered.
So let's put this more into perspective using what we know about Activsion-Blizzard's current business model changes.
Activision is confirmed to be making big new games
While Activision hasn't confirmed how many projects it's working on, the company did go on an aggressive hiring spree for more devs. Activision famously fired 800 non game-developers from superfluous departments like marketing to re-allocate 20% more cash for games development.
Activision wouldn't do this if they weren't ramping up their internal games slate.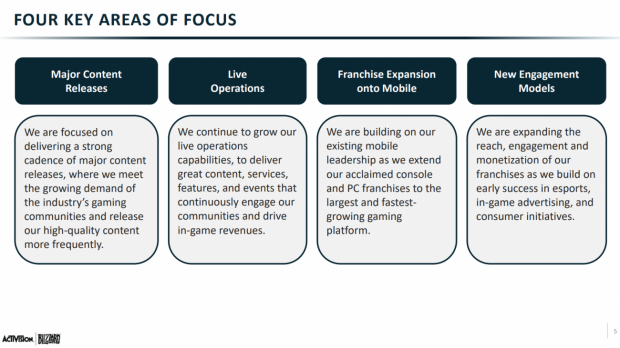 Read Also: Activision: our vision is monetization and engagement
But making new titles is just 1/4th of the new business plan: The other three parts include mobile ports, new engagement strategies, and live service curation.
So all of these projects will have some sort of live service hook. A portion of them will likely be mobile games, too. We can expect microtransactions, cross-play, and standalone mobile games to accompany new releases.
Activision-Blizzard's business model looks like this:
Free-to-play mobile games (titles like Diablo Immortal)

Microtransaction-based games (also F2P)

Premium releases (like Call of Duty)

Advertising (eSports)

Subscriptions (World of Warcraft)
Right now we only know of one other big Activision project, and that's Black Ops 5, which may be set in the Cold War and feature a more grim and visceral campaign. It'll be developed by three teams: Treyarch, who will handle principal dev, and Raven and Sledgehammer Games will help with multiplayer.
Activision may not be eager to make new Destiny-like game
At the same time, Activision might not want to make another Destiny-esque game. They just distanced themselves from Destiny by selling the rights back to Bungie. Whether or not they'll jump back in with their own version is up in the air. The company actually said that Destiny was tying up its resources, which could hint they're not ready to jump back into another huge online MMO-FPS project.
"We had internal resources supplementing Bungie's work, and that means they're tying up one of our scarcest resources: developer time. Now under the arrangement we have reached, this will be freed up after short transition period," Activision Chief Operating Officer Coddy Johnson said in a February 2019 earnings call.
Some of these games may never be released
Just because Activision is working on new games doesn't mean they'll actually launch. Yes, the company is trying to streamline games development, and that means trying to choose projects that will actually manifest into products that can be sold in stores, but that's not always how game dev happens.
Projects are cancelled all the time. Others are put into cold storage for years and years, only to be resurrected later. So expect at least some of the rumored 10 games Activision is working on to be cancelled.
Activision's latest game, the Modern Warfare reboot, sends important signals of what it plans to do in the future: Cross-play, no-lootbox monetization, and a huge post-release content roadmap to rival every other Call of Duty ever made.
Related Tags