Activision earns $7.5 billion as it cuts 800 jobs
Activision pulls in record revenues in 2018, but culls 8% of its workforce amid lower 2019 forecasts and game development ramp-ups.
Published
5 minute read time
Activision earned over $7 billion in revenue in 2018, but it actually expected to earn more. Now it's cutting its workforce by 8% to "reduce duplication" and provide more money to fund game development.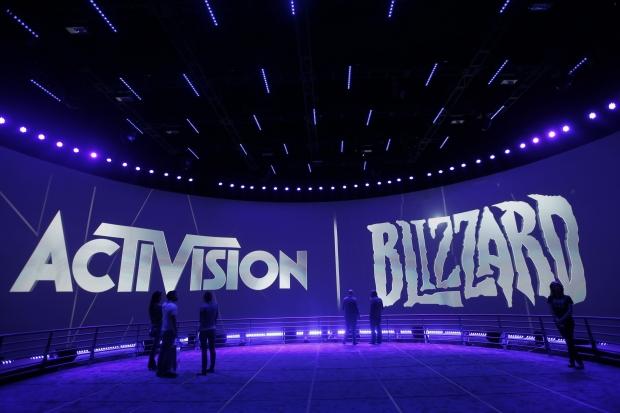 Note: This coverage does not aim to diminish the human cost affected by Activision's firing spree, but to bring more perspective on the business decisions behind it. Our sympathies go out to those affected by the mass layoffs.
Activision-Blizzard's decision to fire nearly 800 employees has caused a stir in the industry, especially since the company just had a record year in 2018. The gaming titan pulled in over $7.5 billion in net revenues in 2018, beating its guidance by $145 million and outpacing 2017's earnings by almost 7%. But company CEO Bobby Kotick says these earnings didn't "realize our full potential." But why? These numbers are driven by Call of Duty: Black Ops 4's massive success, continuing Blizzard engagement, and Candy Crush cash--all of which are wrapped up in billion-dollar monetization (digital once again earned 77% of revenues). The decision really comes down to how much Activision-Blizzard is spending altogether.
But there's more to these numbers than meets the eye. The company might've made over $7.5 billion in 2018, but it certainly doesn't get to keep that much.
A closer look at Activision-Blizzard's earnings shows the publisher spends billions every quarter on expenses that range from publishing and administration to game development and licensing. In fact, it spent over $5.5 billion on total costs and expenses, and marketing is almost as high as game development in some of the quarters. So in 2018 the company turned a profit of $1.782 billion, representing a ~24% profit margin.
These are still pretty good numbers. So why did the company fire so many people?
It's simple: it wants to spend less money on one cost and more on another.
Activision says by reducing 8% of costs (it doesn't actually refer to employees as people, just costs) it can boost game development revenues by some 20%. This human trade-off will fuel and accelerate games incubation, production, and development across all major segments.
(Continued below)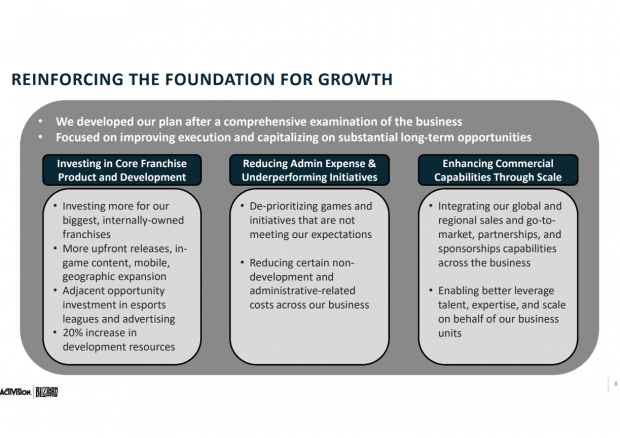 "While our financial results for 2018 were the best in our history, we didn't realize our full potential. To help us reach our full potential, we have made a number of important leadership changes. These changes should enable us to achieve the many opportunities our industry affords us, especially with our powerful owned franchises, our strong commercial capabilities, our direct digital connections to hundreds of millions of players, and our extraordinarily talented employees." --Activision-Blizzard CEO Bobby Kotick
We guess that the bulk of this cash is going towards Blizzard, who is working on a ton of new games like Diablo IV as well as new IPs, and Activision is planning Call of Duty 2019.
The publisher will invest more money into the development of major IPs and frontline releases, it says.
Of course this money will come from anywhere but the top of the pile--the executives earning tens of millions every year will keep their payouts (and even get bonuses). This is a sharp contrast to how Nintendo execs Shigeru Miyamoto and then-President Satoru Iwata took dramatic paycuts so they didn't have to fire anyone during the Wii U's tumultuous days.
Also there's next year's forecast to consider. Black Ops 4 was a huge money-maker for the publisher duo in 2018, and rightly so as its a chapter of the most popular Call of Duty series. But the lion's share of earnings usually fluctuates between Activision and Blizzard over any given year, even with annual Call of Duty releases. Some years Blizzard reigns supreme with its live services and subscriptions, other years Activision conquers with mainline Call of Duty games.
Next year's forecast has a lot to do with the layoffs, too. Activision expects to earn $6 billion in 2019, nearly 25% less than it made last year. The company hopes by shaving off what it considers ancillary jobs that it can maximize profits, especially during a time when it considers these jobs aren't entirely necessary.
This restructuring may be permanent, but it may also change according to the publisher's needs. Right now it says it needs more cash for games (and shareholders, as eliminating more jobs frees up money that can be delivered to stakeholders).
But here's another interesting tidbit: once these new games are ready to launch, I expect Activision-Blizzard to ramp up marketing and other segments it just cut down. I think the company will go through a fluctuation phase of leaning itself out to push money towards game dev, and once those games are finished (or a portion of them are done), it can bulk up its marketing and administration arms once more.
There's some parts that will remain cut off, though. The marketing, publishing, Q&A and other teams behind Destiny will remain blacked out because Activision doesn't own the publishing rights any more.
(Continued below)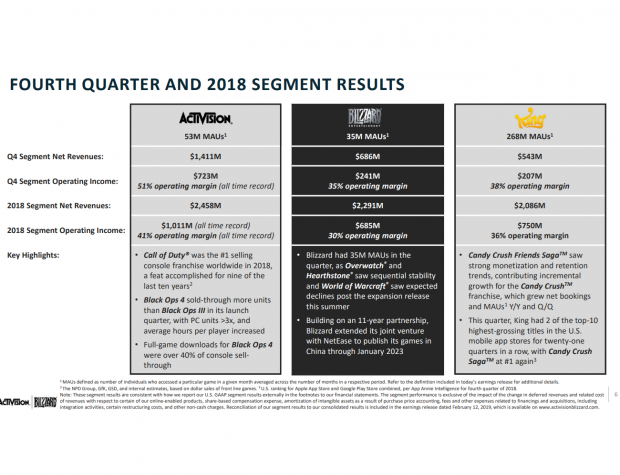 "Blizzard earns more consistent money than Activision simply because it has more games, but Call of Duty's holiday releases typically surge Activision segment revenues."
Activision-Blizzard is also scrutinizing its games a lot more than it used to. Under this new aggressive restructuring, titles that don't perform to expectations will be minimized, deprioritized, or outright eliminated.
Here's what company COO Coddy Johnson said in the recent earnings call:
"First, we are investing more in development for our biggest internally owned franchises across upfront releases, in-game content, mobile and geographic expansion.
"Second, we are deprioritizing initiatives that are not meeting our expectations and reducing certain non-development and administrative-related costs across our business.
"Third, we are integrating our global and regional sales and go-to-market partnerships and sponsorships capabilities across the business, enabling us to better leverage talent, expertise and scale on behalf of our business units."
Bear in mind that any new game is less of a vehicle for experiences and more of a gateway to more long-term microtransaction revenues (especially for Activision-Blizzard). Today's new games typically serve as portals to online-based earnings in the form of in-game purchases and subscriptions, so any new sequels or IPs will have all kinds of online hooks in them.
So when the publisher says it's investing in games, it's actually spending money to secure more guaranteed long-term earnings through lootboxes and the like.
When it comes down to it, the culling of 800 jobs was a cold, calculated and machine-like business decision rooted in the industry's basest aim: to make as much money as possible.
Related Tags