As Activision pivots away from new IPs and games towards safer bets like sequels, the company now reportedly disrupts Call of Duty's rotating development cycle in favor of more guaranteed payoffs.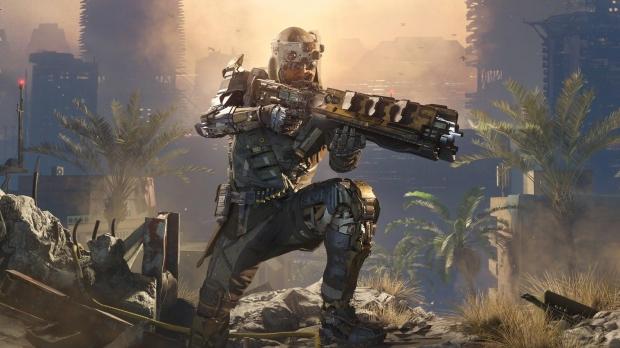 Next year's Call of Duty will be Black Ops 5, sources tell Kotaku, and will be developed by a trio of studios instead of just one. Treyarch is set to handle gunplay and multiplayer whereas Sledgehammer Games and Raven will craft the campaign portion. Before now, development of Call of Duty games rotated among three studios. Every year Infinity Ward, Treyarch, and Sledgehammer Games took turns making titles in the billion-dollar franchise. Following the departure of studio leads Glen Schofield and Michael Condrey ,Sledgehammer has now been relegated to a support team.
This could mean Treyarch and Infinity Ward will be the only teams to have creative control over mainline Call of Duty games going forward. This falls in line with Activision's recent focus on aggressively pursuing wholly-owned IP with new investments, games engines, and sequels. Changing up the rotation could also mean Call of Duty won't be an annualized franchise any more, putting more reliance on the company's other branches King and Blizzard to pick up the slack in between FPS releases.
Sources tell Kotaku that Black Ops 5's campaign mode will be set during the Cold War, and is a carry-over from Sledgehammer's Call of Duty 2020 project. Black Ops 4 notoriously shipped without a singleplayer campaign mode and went fully online multiplayer, a move that didn't actually manifest the long-winded monetization revenues Activision had hoped for.
Call of Duty 2019 will follow a similar tact.
Developed by Infinity Ward and believed to be Modern Warfare 4, this year's Call of Duty will have a singleplayer campaign with co-op elements thrown in. It's not expected to be as big as Black Ops 4, however, as Activision predicts lower yearly revenue. Blizzard confirmed it won't release any new games in 2019.
This development comes at an interesting time for Activision-Blizzard.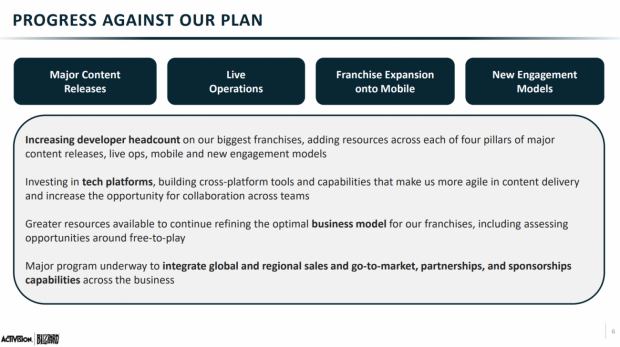 The company recently went under massive restructuring in a bid to boost games development resources. The company fired 8% of its non-game development workforce, or nearly 800 people, so it could raise development revenues by 20%. But apparently fortifying Sledgehammer Games wasn't a big part of this plan.
Instead, Activision-Blizzard is taking a page from EA's book and having its internal development teams work closely together on projects. Call of Duty games are typically collaborative efforts, and no one team simply reset the stage every year--progress, tools, and iteration from previous games carried over to new games. Now that certain teams are scaled back this process could become even more tighter and reliant on crunch.
Not all of that new revenue will be used to make new games, however.
Making new games is only one-fourth of Activision's business plan, and based on the Black Ops 5 reports, a lot of that cash is being used to develop new live services roadmaps instead. We knew the allocated revenue would be used for monetization models too, but we didn't know how much emphasis would be put on live service curation.
This might be a bad road for Activision to pursue. Without new IPs and an even stronger emphasis on live services the company runs the risk of straining an already load-weary camel.
An over-reliance on aggressive monetization tactics is creating a very real earnings ceiling. Activision's Q1 2019 monetization revenues were down a huge $200 million year-over-year, representing a large 20% decrease from last year. In fact, all of Activision-Blizzard's metrics were down in Q1, including sales, operating income, and profits.
In a Q1'19 earnings call, Activision Chief Operating Officer Coddy Johnson discussed how this new restructuring plan was already underway with favorable results.
"Now a critical step to realizing its growth opportunities is reinforcing our product pipeline. Now, as I discussed last quarter, we are growing our aggregate developer head count on Call of Duty, Candy Crush, Warcraft, Hearthstone, Overwatch, and Diablo by 20% this year to accelerate the delivery of content in our pipeline and give our communities more opportunities to engage."
"To share some of the detail of the work underway, we're organizing the expanded development teams to better support the delivery of both upfront content and live operations with more talent working on getting the games in our pipeline out to our communities, and also more resources dedicated to following up with the volume and the quality evening game content that gaming communities increasingly expect."
Activision may be spending the bulk of its new dev cash on Blizzard's fresh initiatives. Blizzard currently has more projects in the works than its ever had, including Diablo IV, a smattering of new IPs, and perhaps Overwatch 2.
Right now Activision's core business is all about Call of Duty...and that could be a good or bad thing depending on the market.