Activision-Blizzard isn't just a games company any more, and hasn't been for a long time. Like most publishers, it's pivoted hard towards the billion-dollar live service market and has become the top games-maker outside of Tencent. While new games are definitely on the way, these fresh titles will act as gateways to more monetization for years to come.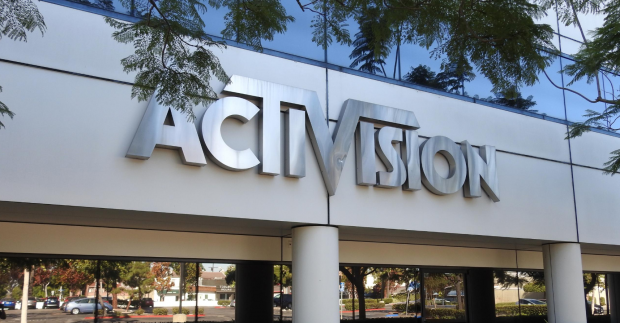 Activision-Blizzard is unlikely to make a new game that doesn't have some sort of online hook, especially if its a first-party IP. The company is forging ahead with its new business model, which puts stronger emphasis on live services and successful, wholly-owned IPs like Overwatch, Call of Duty, and Diablo. Now in its latest Q1 2019 earnings report, the publisher reveals its four-pronged approach to future growth. Making new games is only one part of this plan.
In 2018, the same year it earned $7.5 billion in revenue, the company fired nearly 800 non-game dev employees so it could narrow its focus on a four-pronged plan built around engagement monetization, new games, live operations, and mobile ports. These jobs, mostly in marketing and publishing, were deemed redundant as the publisher ramps up dev on new games, new engagement models, and live services to wrap everything together.
Essentially Activision-Blizzard is moving its costs around; instead of paying salaries, that money is being re-invested into the future roadmap.
But as we said above, making new games is only a part of this formula.
Outside of annualized Call of Duty games, Activision-Blizzard doesn't really release that many new games. The duo typically relies on the hundreds of millions generated from microtransactions and subscriptions in key games to fund dev on new projects and turn a profit. Blizzard hasn't released a new game in some time, but this trend will change as it ramps up dev on new projects like Diablo IV, Diablo, and even a handful of new projects and new IPs.
Even still a lot of the extra revenue gleaned from the restructuring isn't just for games. It'll be partly used to create, implement, and host live services for these new games, as well as new monetization opportunities. Activision-Blizzard is always investing present cashflows into future revenue-generating methods.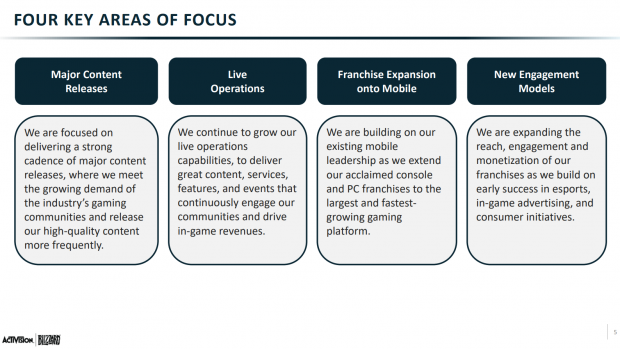 Activision's future is laid out neatly in four main business principles:
Major Content Releases - Activision-Blizzard is aggressively ramping up games development on new projects, including Blizzard's plethora of new titles.
Live Operations -With new games, comes new opportunities for live services to expand the experience over time. The company will drop new content updates in both old and new games, including DLC, expansions, and free content more frequently.
Mobile Ports - All of Activision-Blizzard's biggest franchises will get mobile ports of some kind. This will churn even more monetization and microtransaction earnings while acting as mass-market advertisements for its biggest IPs. As more people play mobile games, they more they'll spend, and the more likely they are to buy into a premium release like Diablo IV. This should be doubly true for Call of Duty mobile, which is rolling out to China via Tencent.
New Engagement Models - This tier is all about monetization and getting people's attention. eSports will be a big part of this moving forward--Activision-Blizzard has two major powers right now with the Overwatch and Call of Duty eSports Leagues--and aims to increase revenue via advertising, spectating, and competition. There's also the classic microtransactions.
This new business model isn't exactly brand new, but it's set in stone within the company's ethos moving forward.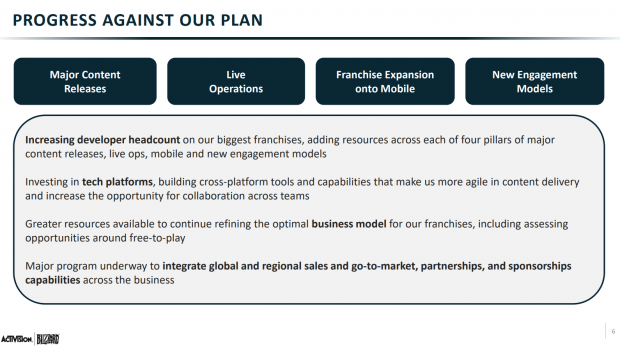 Activision-Blizzard's Chief Operating Officer Coddy Johnson expounds on the four-pillar model:
"As a reminder, we have four key long-term strategic growth drivers: first, a strong cadence of major content releases where we meet the growing demand of the industry's gaming communities and release our high-quality content more frequently," Johnson said in the Q1'19 earnings call.
"Second, robust live operations where we make sure we deliver great content, services, features and events to continuously engage our communities and drive in-game revenues.
"Third, extending our franchises to mobile where we build on our existing mobile leadership and extend our acclaimed console and PC franchises to the largest and fastest-growing platform.
"Fourth and finally, expanding the reach engagement and monetization of our franchises as we build on early success in eSports in-game advertising and consumer initiatives."