HTC Vive comes with free copy of Fallout 4 VR
It's only fitting that Vive comes with what could be the killer app VR desperately needs.

Published Mon, Oct 2 2017 3:13 PM CDT
|
Updated Tue, Nov 3 2020 11:54 AM CST
All new purchases of an HTC Vive now come bundled with a free copy of Fallout 4 VR.
Fallout 4 VR is being heralded as an industry changer by AMD, who has recently partnered with Bethesda in a cross-collaborative initiative. A bit ago I predicted that Fallout 4 VR would be the killer app VR so desperately needs, and Bethesda Game Studios is doing everything in their power to make that happen.
"[Fallout 4 VR] is a ground-breaking VR title. It will change the way we think about VR. It will be an industry changer," AMD corporate vice president Roy Taylor told MCVUK at this year's VR World Congress.
The main selling point of Fallout 4 VR is that it's the entire Fallout 4 experience adapted specifically for the HTC Vive (it's an exclusive). Most VR games are small, bite-sized experiences rather than massive sprawling games, and Fallout 4 might be the first open-world VR game that you can spend hundreds of hours in doing different things. This is a big deal for the virtual reality market, and could arm developers with invaluable information as they iterate and build their own experiences. The HTC Vive also got a hefty $200 price cut reducing its total price to $599, and now it comes with a free copy of Fallout 4 VR.
Fallout 4 VR will be available on December 12, 2017 exclusively for the HTC Vive for $59.99.
"Fallout 4 VR is the most anticipated title for VR this holiday, and the game development team at Bethesda Game Studios is delivering on the promise with a full-length AAA open-world game that takes advantage of Vive's incredible room-scale immersion for a mind-blowing experience in the Wasteland," said Joel Breton, GM of Vive Studios.
"The promise of a game with near endless content, including hundreds of locations, characters, and quests, fully playable in VR, is something that we have been focused on providing for the VR gaming community. We are now thrilled to provide this incredible game to new Vive owners and eagerly look forward to game's launch on Vive this December."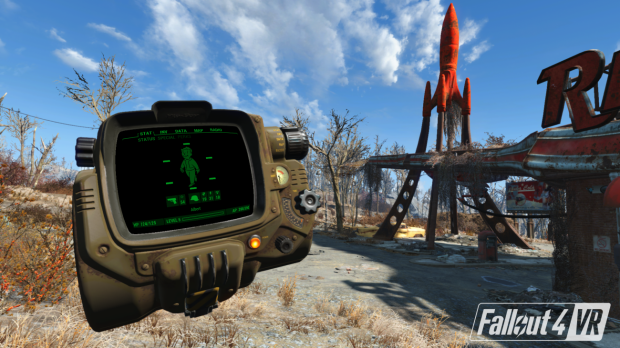 Related Tags