Battlefront II may have card-based microtransactions
Leaked Battlefront II footage gives clues on how EA may monetize the game with microtransactions to fund DLC and updates.

Published Sat, Jun 10 2017 9:53 AM CDT
|
Updated Tue, Nov 3 2020 11:55 AM CST
E3 2017 - Here at TweakTown, I've outlined a case for why I think Battlefront II will have microtransactions, and you can read that here. But until now I've had to make guesses based on industry trends. Earlier today some pre-alpha footage for Battlefront 2's gameplay was accidentally leaked, giving gamers worldwide a pre-E3 look at the multiplayer action.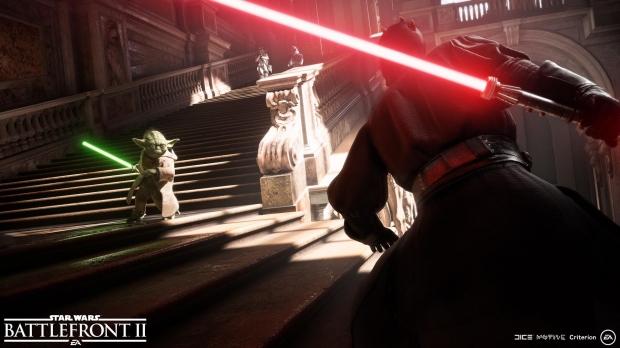 Based on what I've seen, I believe that EA will monetize Battlefront II with a card-based digital economy and allow users to buy card packs with premium currency that contain random rewards. This monetization system would be tiered, as in Platinum packs with X chance of a Rare, or Gold packs with X chance for an Uncommon-grade card, etc.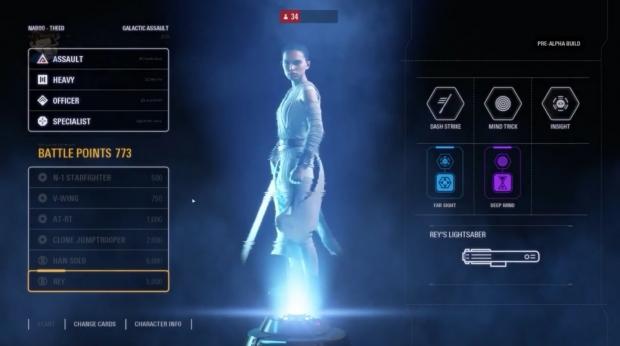 Based on what I've seen, the cards may be used for two different things: passives cards that buff hero abilities, such as Rey's Insight skill that lets her see through walls, or Darth Maul's Choke Hold maneuver, and the other cards may give basic artillery units new abilities in addition to their weapon type.
So cards may do two different things for heroes and basic classes--for heroes, cards buff their set abilities; for units, cards will apparently unlock new abilities.
However, it's possible that cards buff artillery abilities as well, so keep that in mind.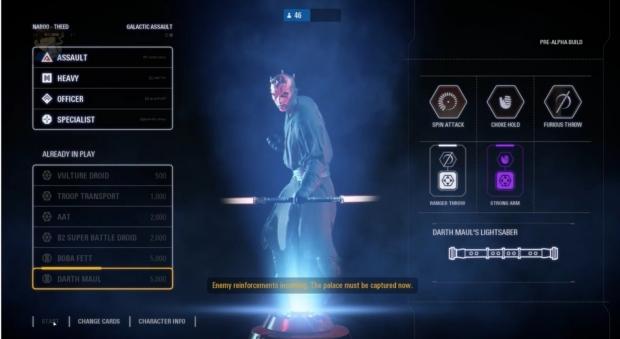 Users can swap out cards at any time, giving players complete customization over heroes and their units. This strongly indicates a monetized economy will be tapped, giving players access to new cards to customize their characters. The footage indicates that these cards are color-coded to denote different rarity types.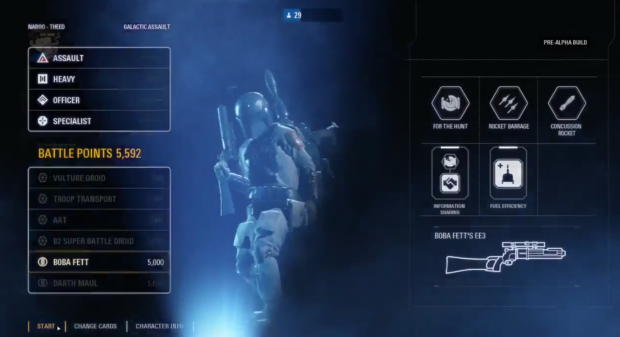 For example, Boba Fett's ability-buffing cards are simply all white, whereas Rey's are blue and purple, indicating higher card rarity.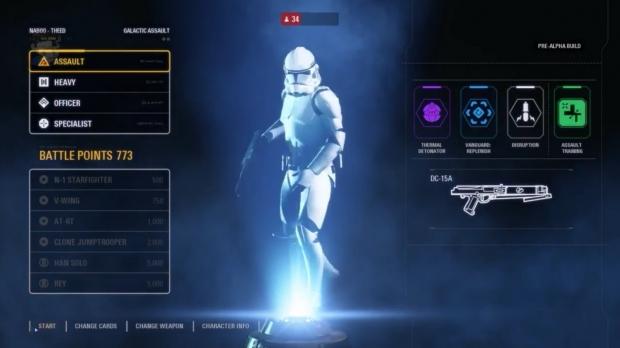 The footage also shows an Assault class trooper with purple, blue, white, and green cards. It's possible that the multi-colored cards are buffing the damage or efficacy of the abilities themselves rather than adding new abilities to the class or character. But it's also possible that the cards themselves unlock new abilities, too.
It's highly likely that Battlefront II will let players spend in-game credits to unlock card packs in addition to a premium currency that's bought with real money.
"There's a lot of stuff for you to unlock and customize and that's our main way of making sure people can play this game for a long time," Brannvall said during a Q&A session at the Star Wars Celebration.
"We have a very long tail to our game. We are very passionate about supporting it post-launch. [...] We want players to play for a long time so there will be a lot of cool stuff for you to unlock."
Remember that this demo is pre-alpha footage, so it doesn't necessarily show final content. It's possible--and likely--that the retail game will have different features upon release.
EA may or may not talk about its monetization plan for Battlefront II during its EA Play showcase today at 12PM PST / 3PM EST, but we'll be sure to keep an eye out for more clues and tidbits.
Battlefront II will release on November 17, 2017 on PS4, Xbox One and PC. Check below for a list of everything we know about the game so far.
Battlefront 2 details
Full singleplayer campaign that bridges Return of the Jedi and The Force Awakens, play as Imperial special forces commander Iden Versio

New heroes from across all three eras: Darth Maul, Yoda, Luke Skywalker, Kylo Ren and Rey confirmed

Maps from all three eras: prequel, original trilogy, expanded universe - Theed, Takodana, Hoth, Endor, Kamino, Mos Eisley, Yavin-4 and Starkiller Base confirmed

20 vs 20 multiplayer mode

Galactic space battles

Offline 2-player split-screen co-op

Customizable characters and heroes

No season pass, but may have microtransactions

EA Access and Origin Access subscribers get 8-day early access trial starting Nov 9

Releases Nov 17, 2017 on PS4, Xbox One and PC
Battlefront 2 coverage
Related Tags