Battlefront 2 may have microtransactions
UPDATE: Microsoft Store says Battlefront 2 features 'in-app purchases,' strongly hinting microtransactions are included.

Published Sat, Apr 15 2017 3:11 PM CDT
|
Updated Tue, Nov 3 2020 11:55 AM CST
UPDATE: The official Microsoft Store listing for Battlefront 2 says the game has "in-app purchases," strongly hinting the game will have microtransactions as I predicted.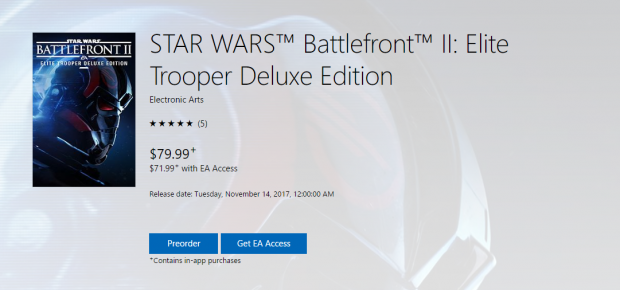 DICE today confirmed that Battlefront 2 won't have a season pass, and EA has "something different in mind" to keep gamers playing longer without fragmenting the community. Does that mean microtransactions are coming?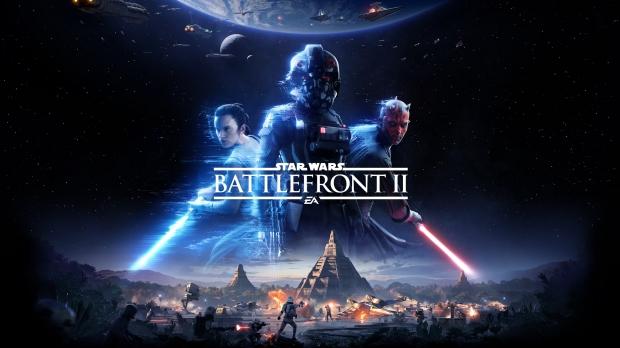 Publishers like EA and Ubisoft have very typical business models when it comes to online-based multiplayer games: strategic releases of paid DLC content to engage the community, and microtransactions to ensure recurrent player spending keeps things profitable. If a game doesn't go with paid DLC or season passes, it usually goes with microtransactions instead. EA has no stranger to "MTX" (microtransactions), and makes a huge portion of its money through in-game purchases in games like FIFA and Madden.
Battlefront 2 creative director Bernd Diemer has confirmed that Battlefront 2 won't have a season pass. "We don't have a season pass," Diemer said during the Star Wars Celebration livestream. "We decided on that, and it's one of those difficult decisions because it has so many implications all around. When we looked at the way Battlefront had evolved over its lifetime, with the DLC and everything, we decided, 'You know what? For this type of game, season passes are not the best thing. We need to [take it apart] and come up with something better. We don't want to segment our community."
Diermer didn't outright confirm microtransactions, but says DICE and EA have creative something different that should solve Battlefront 1's problems.
"I cannot talk about the specifics of this, but we have something different in mind that will allow you to play longer, be [more] invested in the game without having a fragmented community."
Read Also: EA just earned over $1 billion in a single quarter
Having looked at EA's company financials over the past few years, I can tell you that the publisher will almost certainly put microtransactions into Battlefront 2.
There's really no other way for the game to continue earning cash, unless, of course, Battlefront 2 uses paid DLC packs, going back to the old-school pre-season pass method of distributing content. But that's not nearly as popular or profitable as the MTX method, which has generated tons of income for the likes of EA and Ubisoft.
Battlefront 2 will drop November 17, 2017 on PS4, Xbox One and PC.
Related Tags