Battlefront 2 will have 40-player multiplayer mode
EA promises to make Battlefront 2 the 'ultimate Star Wars battleground' across the franchise's three eras.

Published Sat, Apr 15 2017 4:17 PM CDT
|
Updated Tue, Nov 3 2020 11:55 AM CST
EA's new Battlefront 2 sequel will retain the original game's 20 vs 20 multiplayer mode, this time with galactic in-space dogfighting.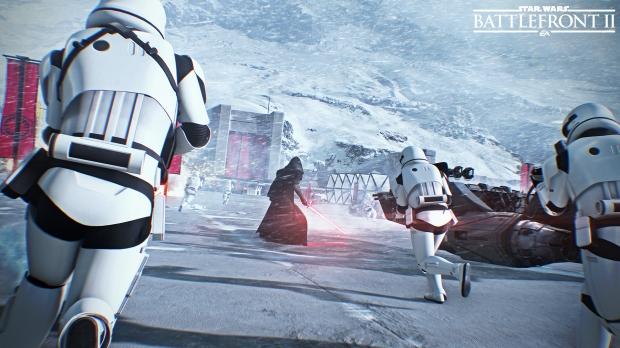 While DICE and EA have yet to reveal specific details about Battlefront 2's 40-player mode, including which maps and vehicles will be featured, we should see the mode transcend across all three Star Wars eras--prequel Clone Wars timeline, original trilogy, and the expanded universe--with battles from each specific era.
"Join up to 40 players in massive multiplayer fights in authentic locations across all eras. Revel in deep class-based online gameplay, pilot a wide variety of land and air vehicles, and control iconic characters with distinct abilities that can turn the tide of battle."
The devs did tease three new maps: Yavin 4's jungle canopies, the spaceport town of Mos Eisley (whaaat?!) and Starkiller Base. Both characters and ships will be customizable, too: "players can choose from an array of land and air vehicles and master their own hero's journey, with customizable character progression across heroes, villains, troopers and starfighters."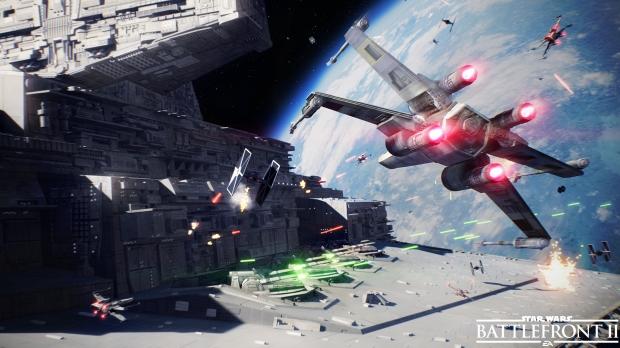 One of the most welcome announcements was that classic Rebels vs. Imperials space dogfighting is returning. EA promises this triumphant return to all-out intergalactic chaos will be staggering in scope with "galactic-scale space combat," and EA's Criterion has built space combat from scratch with tons of new and old vehicles to choose from.
"Players can drop into the cockpit of the galaxy's most iconic ships, weave between asteroid fields and fly through imperial dockyards in high stakes dogfights," EA said in its official press release.
Battlefront 2 will also feature tons of Heroes from all three eras of the Star Wars franchise. Players will even be able to have certain heroes fight cross-era, ie Darth Maul versus Luke Skywalker, or Yoda against Kylo Ren.
"These Hero characters are also highlighted in the vastly-expanded multiplayer. Darth Maul, Yoda, Kylo Ren, Luke Skywalker, Rey, and many more iconic (and feared) characters from all three cinematic eras will be playable. In certain modes, you'll be able to pit heroes from the prequels trilogy, original trilogy, and new trilogy against one another in combat."
The publisher has also confirmed Battlefront 2 won't have a season pass, hinting the game won't deluge players with a ton of extra content. DICE affirms the team has learned from the original game, and has a better solution planned...but we suspect Battlefront 2 will feature in-game microtransactions in lieu of a season pass.
Battlefront 2 drops on November 17, 2017 on PS4, Xbox One and PC, and will have an early access trial for EA and Origin Access subscribers.
For more information on Battlefront 2, check out the official press release.
Related Tags