Although Sony has officially confirmed the PlayStation 4K's existence, there's still plenty of unknowns about the new console, mainly with how it'll handle 4K upscaling and if the performance discrepancy compared to old PS4 games. Now a batch of purportedly leaked slides from Sony answer a few of these questions, and also seem to confirm the leaked PS4K specs as accurate. In fact, I'd go so far as to say that these documents might be the leaks that Giant Bomb cited in their PS4 Neo reveal.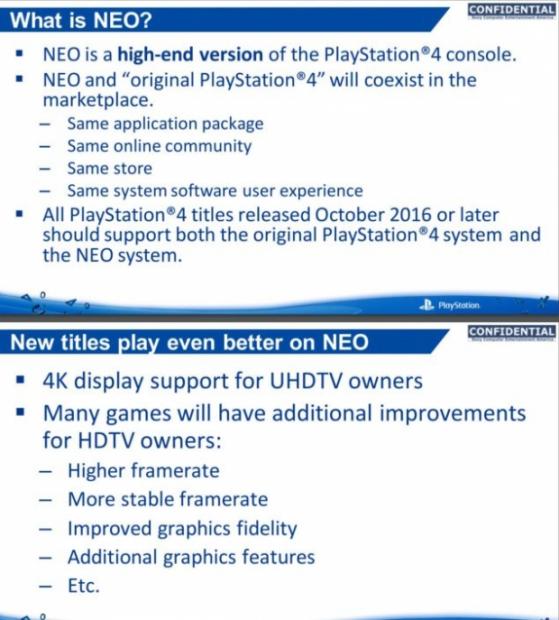 Note: We have no way of confirming if the following slides are accurate or not. Take the following content with a grain of salt.
The slides start off by telling us what we already know: the PS4 Neo will co-exist with original PS4s, with the same games, same PSN presence, etc. Then Sony goes on to corroborate what we've heard about the new games: all games after October 2016 will need to have two modes, a Base Mode for original PS4 consoles, and a Neo Mode for PS4 Neo, which enables 4K upscaling, 1080p 60FPS, etc. The slides reinforce that you won't have to have a 4K TV to play games in Neo Mode, and HDTV owners will enjoy "higher, more stable framerates" as well as the expected higher fidelity and "additional graphics features" with the PS4 Neo.
As far as PS4 Neo specs are concerned, the reportedly leaked slides match quite perfectly with those leaked by Giant Bomb. The slides say that the PS4 Neo rocks the same 8-core Jaguar CPU used in the original, but overclocked to 2.1GHz, with a graphics solution made up of 36 improved AMD CUs at 911MHz, with 2.3x TFLOPs power as the original PS4. The Neo has the same 8GB of unified GDDR5 system memory, but clocked at a higher memory bandwidth of 218GB/s. Sadly the Neo could have the same stock 500GB HDD as the PS4.
In relation to the PS4, the 4K-ready PS4 uses the same GPU/CPU percentage, with 6.5 cores available in 7-core mode. In fact, games will only have an extra 512 MiB (mebibyte) of Direct Memory to utilize.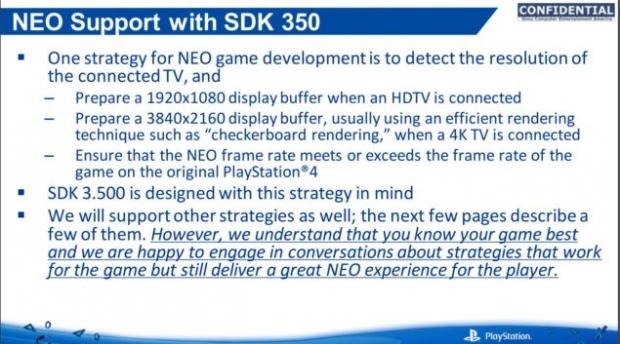 The next few slides talk about how the PS4 Neo's display buffer will work, and Sony gives a few guidelines to devs on what methods to use for upscaling games. Sony advises devs use "checkerboard rendering," an advanced rendering type Ubisoft used while making Rainbow Six: Siege.
It looks as if Sony isn't setting hard rules for devs regarding 4K upscaling, and developers will be able to openly discuss certain methods with Sony. It does appear, however, that Sony has to approve of these methods beforehand, so communication between devs and Sony will be key.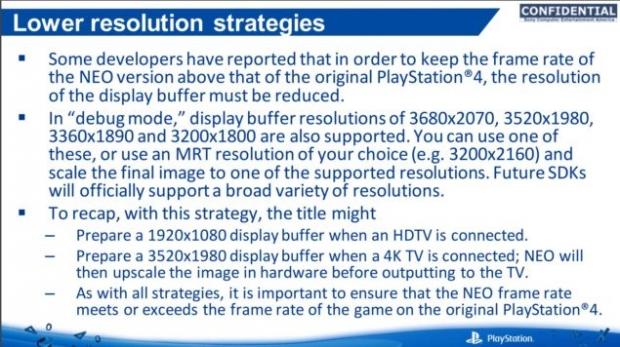 Some devs, however, have had trouble matching high resolutions with high frame rates. This might not bode too well for the PS4K, especially with its upjumped, highly-customized GPU hardware which could be based on AMD's new Polaris GPU technology. However, this is likely just for the upscaled 4K resolutions, not the possible borderline 1080p 60FPS performance we could see implemented for non-4K HDTV owners.
To solve this problem, Sony advises devs to lower the resolution of the display buffer to increase FPS--a sacrificial balance we've seen all too often this generation of consoles. Developers typically have to enable dynamic resolution scaling in order to achieve 60FPS performance on current-gen consoles, meaning the games resolution will scale at will in order to hit the targeted frame rates. So this means the upscaled 4K resolutions will vary on a game-to game basis in order to hit specific FPS ranges.
Games that use Neo Mode won't be able to dip below the PS4 versions: "As with all strategies, it is important to ensure that the Neo frame rate meets or exceeds the frame rate of the game on the original PlayStation 4," reads the slide.
The slides finish off by telling devs not to bother upscaling games to 1440p simply because, according to Sony, there's not that much difference between 1080p and 1440p. The Japanese console-maker says that it's still investigating and experimenting with more "low-cost techniques to increase resolution" and that developers will have to reach out to specific partners to learn more.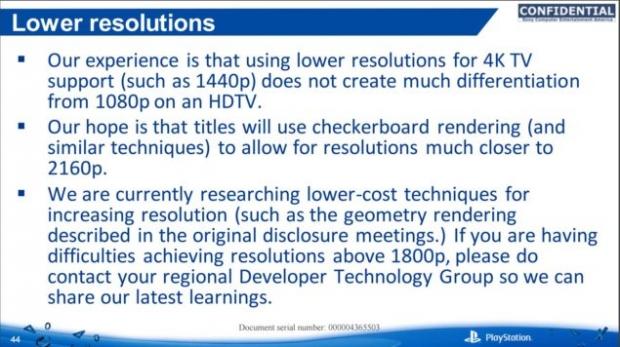 Conclusion
These slides basically tell us that the PlayStation 4 Neo won't just benefit UHDTV owners, but HDTV gamers too. We don't know the exact numbers, but I'm guessing gamers will be able to play in smooth 1080p 60FPS in Neo Mode on regular HDTV's. We do know that games in Neo Mode can't dip below their Base Mode PS4 counterparts, and that devs will have to scale back 4K resolution to hit the FPS rates of the Base Mode versions.
The slides also tell us why the PS4 Neo has a "Base Mode" at all. The Base Mode is essentially there to enable a kind of "backward compatibility" with existing PS4 games that were published before October 2016, ie all the games that don't have a Neo Mode. Sure if you own a PS4 Neo you could theoretically switch between Neo Mode and Base Mode at will, but there's really no reason to.
All in all, the slides indicate that Sony's PlayStation Neo console might actually be frustrating for developers. However we're not sure what tools that Sony is providing devs--for all we know they could have a fancy new version of AMD's new advanced upscaling tech to upscale its games from 1080p to 4K.
While Sony will provide the tools, techniques and know-how, it's up to developers to learn the ropes and create their own unique methods. Devs will also have to communicate with Sony in order to get their games up and running on the Neo, putting even more mandates on dev teams. But we could also argue that these devs have already been doing this for years--look at Ubisoft with Rainbow Six: Siege, for example--and the PS4K will allow these devs to push their skills to new heights.
If the slides are accurate, the PlayStation 4 Neo could launch in October 2016, or at the very least in 2016. Remember, we're not sure if these slides are 100% authentic and other than the existence of the console and 4K upscaling, nothing's been confirmed so far.
Check below for a list of everything we know about the PlayStation 4K so far:
Original PS4
CPU: 8 Jaguar Cores at 1.6 GHz
GPU: AMD GCN, 18 CUs at 800 MHz (equivalent to Radeon HD 7850)
Memory: 8 GB GDDR5, 176 GB/s
PS4 NEO / PS4K
CPU: 8 Jaguar Cores at 2.1 GHz
GPU: Improved AMD GCN, 36 CUs at 911 MHz (possibly built on Polaris10 Ellesmere?)
Memory: 8 GB GDDR5, 218 GB/s
Everything we know so far about the PlayStation 4K: