Sony Pictures announce first 4K UltraHD Blu-ray titles coming for 2016
The second studio to announce slate of titles, and a tease of many more to come.

Published Nov 10, 2015 7:21 PM CST
|
Updated Tue, Nov 3 2020 12:03 PM CST
Eight weeks on from the first announcement of 4k UltraHD Blu-ray titles coming from Twentieth Century Fox Home Entertainment, Sony Pictures; one of the biggest advocates for the format has revealed their first wave of release which will hit the market in early 2016 - and it's an eclectic bunch, to be sure!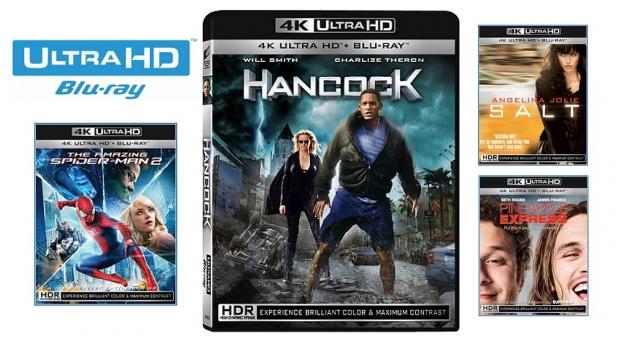 According to the company's press release, the first batch will be headlined by the admittedly disappointing 2014 action blockbuster 'The Amazing Spider-Man 2', along with 'Salt', 'Hancock', 'Chappie', 'Pineapple Express' and 'The Smurfs 2'. All titles will future HDR enhancement, along with support for next generation audio codecs - likely to be DTS:X.
Sony Pictures have been aggressively mining their back catalogue and striking new 4K digital intermediates in preparation for the UltraHD future, issuing some out in remastered 1080p Blu-ray releases. The press release also promises future 4K releases including 'Fury', 'Captain Phillips', 'Crouching Tiger, Hidden Dragon', 'Men In Black', 'Ghostbusters', 'The Fifth Element', 'Bad Boys', 'The Da Vinci Code', 'Bram Stoker's Dracula', 'Leon: The Professional', 'Lawrence Of Arabia', 'The Bridge on the River Kwai', 'The Guns of Navarone', 'Taxi Driver' and 'Mr. Smith Goes to Washington', along with "many others". It will certainly be interesting to see how the market responds to another physical format, surely to be the last of its kind.
Related Tags