The Smurfs 2 (2013) Blu-ray Movie Review
"I'm just smurf-ing with you."

Published
3 minutes & 22 seconds read time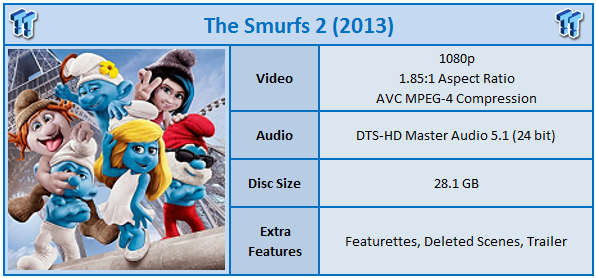 In 2010, Sony Pictures pushed hard to mold the feature film adaptation of the evergreen characters from Belgium into a new franchise. By inking lucrative licensing deals left right and centre, it was certainly difficult to escape the media blitz that resulted. It was no surprise then that the film was a moderate success; its charm and non-threatening live action actors, including How I Met Your Mother star Neil Patrick Harris, helped sell the concept.
Two years later, and Sony returns with their attempt to continue the franchise, with the same talent and the same director: Raja Gosnell, who is most well-known for similarly helming the Scooby Doo CG/ live action hybrids. Unfortunately, it seems Gosnell struggles with the weight of expectation, considering this is now his second sequel, which fails to live up to the standards set by its predecessor.
It's Smurfette's (Katy Perry) birthday, and the Smurf village is diligently working on her surprise party. However, disaster strikes when she is kidnapped by two evil Smurf hybrids, in a plot devised by the dastardly Gargamel (Hank Azaria) to harvest their Smurf essence. Papa Smurf (Jonathan Winters) corrals the help of three Smurfs to rescue her from the human world, but Gargamel has become a famous and powerful celebrity in his own right, making him an even more formidable threat than ever before.
Ignoring the script silliness, and the contrived and one-eyed motivation of Gargamel to destroy the Smurfs, even in the face of his newfound celebrity, sadly, The Smurfs 2 doesn't quite live up to the fun and fancy free nature of the first film. The kids might get through it, but it's not going to become a modern family favorite, that's for sure.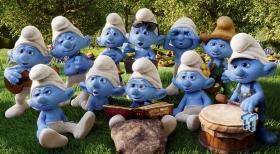 Video
The Smurfs 2 is presented in the aspect ratio of 1.85:1, encoded with AVC MPEG-4 compression.
Made to shine on Blu-ray, The Smurfs 2 comes with a wonderful richly color palette, and pleasant production design, which give it a natural edge. Live action footage is replete with abundant and subtle fine details, whilst the CG animation of the Smurf characters is quite sublime, with very fine mottled textures, whilst the cascading strands of hair on Smurfette's head are each individually identifiable. Unfortunately, the strong detail on the live action footage makes the relatively unconvincing CG animated cat Azrael stick out quite a bit in comparison.
Overall, it's a really great transfer that truly skates the limits of what Blu-ray technology can provide.
Audio
The Smurfs 2 is presented in DTS-HD Master Audio 5.1, at 24 bits.
A rather pleasant and effortless sound mix is encoded well on disc, which generally does all the right things, but doesn't frequently call attention to itself needlessly.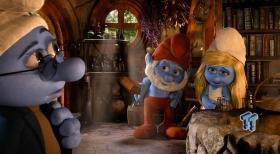 Dialogue is clear and intelligible, and rock solidly in sync. The surrounds are kept frequently active, and provide a lot of subtle ambience that might go a little unnoticed, but would be infinitely noticeable in their absence. Subwoofer usage is perhaps a little light at times, but where necessary, it does hit the low notes satisfyingly.
The score by Heitor Pereira is whimsical and fitting, but entirely unmemorable. Naturally, the Smurfs theme is sung and hummed throughout.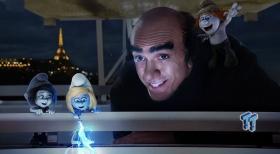 Extras
Sony has gone to a reasonable amount of trouble to craft a solid extras package, and further reasons to take the disc home. Let's take a look at what's here.
First up, we have a range of rather brief Featurettes, which are concerned with different aspects of the production. First is Daddy's Little Girl: The Journey of Smurfette, which looks closer at the Katy Perry voiced character, whose role has been significantly expanded this time around. Next, is a brief exploration of the new characters in The Naughties! The Tale of Hackus and Vexy, whilst the The Puurrfect Companion: Azrael's Tail and Animating Azrael features look at the aforementioned unsuccessful merging of live action and CG animation. The last, Evolution of the Naughties, shows the changing character designs of the naughty, turned nice duo.
Finally, the inclusion of five Deleted Scenes amount to around four minutes of screen time, and don't really add up to anything of consequence, although diehard fans (if they exist) might beg to differ.
The Previews section merely holds a teaser trailer for the first Smurfs film.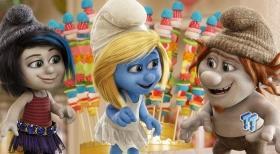 Notably missing from the Australian Blu-ray release is the 22 minute long The Smurfs: The Legend of Smurfy Hollow stand alone feature, which eschews the live action actors, and concentrates solely on the little blue things, with a rather pleasant mix of CG and traditional animation. As a re-telling of the classic Sleepy Hollow tale, in many ways, this is probably better than the film itself. A sorely missed inclusion.
PRICING: You can find The Smurfs 2 on Blu-ray for sale below. The prices listed are valid at the time of writing, but can change at any time. Click the link to see the very latest pricing for the best deal.
United States: The Smurfs 2 on Blu-ray retails for $12.75 at Amazon.
Canada: The Smurfs 2 on Blu-ray retails for $10.00 at Amazon Canada.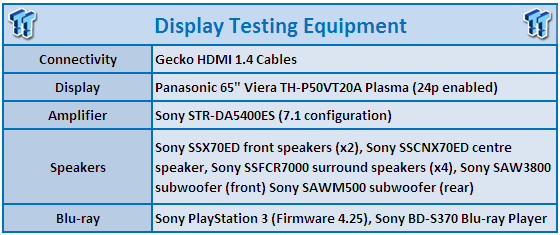 PRICING: You can find products similar to this one for sale below.

United States: Find other tech and computer products like this over at Amazon.com

United Kingdom: Find other tech and computer products like this over at Amazon.co.uk

Australia: Find other tech and computer products like this over at Amazon.com.au

Canada: Find other tech and computer products like this over at Amazon.ca

Deutschland: Finde andere Technik- und Computerprodukte wie dieses auf Amazon.de
We openly invite the companies who provide us with review samples / who are mentioned or discussed to express their opinion. If any company representative wishes to respond, we will publish the response here. Please contact us if you wish to respond.