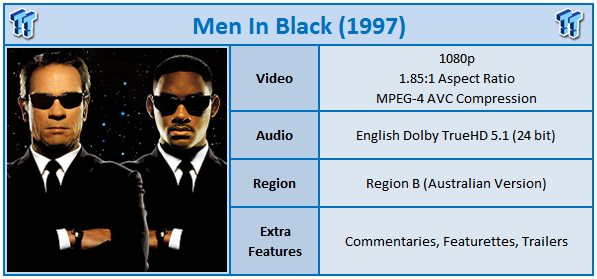 Riding high on the success of Independence Day , it's curious that the then rising star Will Smith chose another alien blockbuster as his follow up film, although it doesn't seem to have harmed his career one iota.
Based on the little known comic book created by Lowell Cunningham, the Men in Black are a secret government organization tasked with concealing the existence of extra-terrestrial life on Earth and the inevitable political conflict that goes along with it.
After the retirement of his partner, Agent Kay (Tommy Lee Jones) is on the lookout for a replacement and streetwise cop James Edwards (Will Smith) is recruited to fill the position. And it's not a moment too soon either, as the malevolent species 'the Bug' (Vincent Donofrio), an oversized cockroach-like species has arrived on Earth and threatens its existence if it cannot find the Galaxy, a device of infinite power they need to win a galactic war.
With sci-fi riding high after the release of Star Wars Trilogy: Special Edition, Men In Black was the surprise cinematic hit of 2007, helped by the catchy tie-in song performed by Will Smith and which spawned hundreds of tie-on products, from action figures, games, collector cards and the trademark Ray-Bans.
Video
Men In Black is presented in the film's original aspect ratio of 1.85:1, encoded with AVC compression.
Whilst I suspect this transfer was minted a few years before the disc went to market four years ago, this is still a reasonably good transfer, even if it is not quite up to scratch with more recent productions.
The colour balance is glorious and represents the biggest jump over the previous DVD release. This is a reasonably dark movie, but the splashes of colour and gradients are really allowed to shine here. The image is very sharp and detailed and belies just a hint of video noise and features a fine layer of grain. The black levels are quite inky, but not too heavily contrasted as to result in black crush.
The once cutting edge visual effects are now not so much and the higher resolution transfer is even less able to hide the digital seams. Still, this is the best that the film has looked since its original theatrical release.
[img]2[/img]
Audio
Men In Black is presented in Dolby TrueHD 5.1, encoded at 24 bits.
Despite its age, Men In Black punches above its weight and doesn't let up during its short run time. Surround channel usage is very high and cuts through when it needs to.
The sound design is particularly alien and experimental and scrubs up very well mixed losslessly. For a blockbuster film of recent-ish vintage there's a surprisingly small amount of explosions and general warfare, but the subwoofer does an admirable job of calling attention to itself when necessary.
The theatrical score, composed by Danny Elfman is instantly recognizable and is a true highlight. It's mixed very aggressively and pushes the film along. Will Smith's titular theme song is held back for the end credits and is mixed surprisingly conservatively.
[img]3[/img]
Extras
Whilst Sony Pictures haven't produced much in the way of new extra features, they have ported over all of the original DVD features, which are reasonably solid. Let's jump in.
First up are two audio commentaries, the first with Director Barry Sonnenfeld and star Tommy Lee Jones. Tommy Lee Jones seems to be a bit overwhelmed by the whole audio commentary game, but Barry Sonnenfeld guides him through and supplies quite a bit of background information on the production. The audio is supplemented by a feature which allows the duo to draw on your screen and highlight certain objects. This was quite the revolution back in the DVD days, but not so much anymore. The second track is a bit heavier with production trivia provided by Director Barry Sonnenfeld and various make-up and visual effects personnel.
Next up are a bunch of video based supplements, headlined by the 23 minute Metamorphosis of the Men In Black documentary which serves as the best look at the film's production, cataloguing it from the original comic book origins. The Original Featurette is little more than a made-for-TV special with brief sound bites.
The Visual Effects Deconstructions and Storyboard Comparisons are fairly static presentations of some mildly interesting comparisons between the original blue screen stage work and the original storyboards.
The Scene Editing Workshop was quite the revolution on the original DVD, but its use here is reasonably outdated. However, it is ironic that a film that was essentially a mess before editing straightened it out, gives viewers the chance to do the same.
Finally, we have the films Music Video by Will Smith and the original Theatrical Trailer, all in standard definition.