AMD Zen 4-based Ryzen 7000 series CPU spotted in the nude: delidded
AMD's new Ryzen 7000 series 'Zen 4' CPU finds its way into the hands of an 'unnamed overclocker' and instantly delidded.

Published Wed, Jun 8 2022 7:28 PM CDT
|
Updated Thu, Jun 30 2022 8:32 PM CDT
AMD's new Zen 4-based Ryzen 7000 series CPU has fallen into the hands of an "unnamed overclocker" and been instantly delidded. Check it out: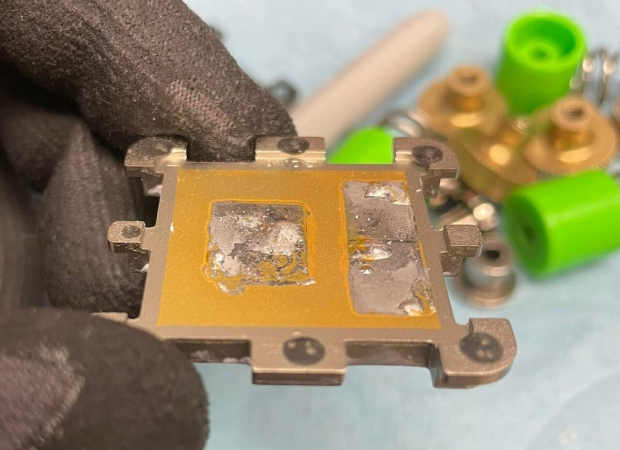 TechPowerUP reported the image, noting that the "person who shared this picture should most likely not have done so and as such, we won't be posting a link to the source". The photo shows us the IHS that is pretty damn thick, but you've also got the two CCDs and the IOD soldered to it.
The two CCDs in question are part of a two-chiplet design: each chiplet packs up to 8 x Zen 4 CPU cores (16 cores in total for up to 16 cores and 32 threads in the flagship Zen 4 processor). The I/O die is also new, with an integrated RDNA 2 GPU, and made on TSMC's fresh 6nm process node.
TPU notes: "Judging by the looks of the area where the CCDs and the IOD attach to the IHS, this looks like a destructive delidding, although it could just be leftovers from the soldering material. The IHS has clearly been coated with some materials for a good solder interface as well, but this is nothing new, as we've seen this on delidded, soldered CPUs in the past".
Related Tags