AMD corrects Ryzen 7000 series CPU power numbers: 170W TDP, 230W PPT
AMD confirms its Zen 4-powered Ryzen 7000 series CPUs will top out at up to 170W TDP, and 230W PPT. Up from 125W in rumors.

Published Thu, May 26 2022 8:22 PM CDT
|
Updated Thu, Jun 16 2022 9:11 PM CDT
AMD's new Ryzen 7000 series CPUs will debut later this year, with previous rumors teasing a 170W TDP but that has now been cleared up by AMD's Robert Hallock.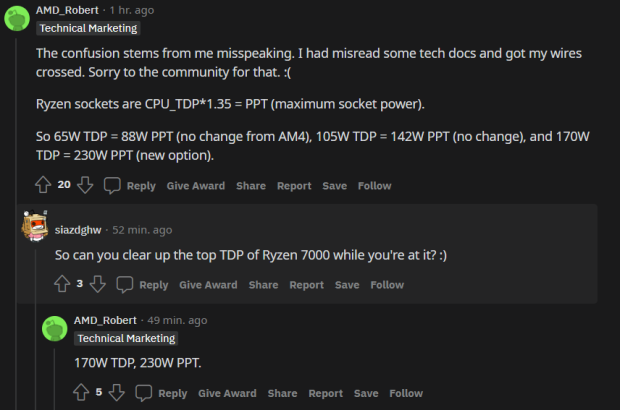 The next-gen Zen 4-based architecture was teased in a 16-core prototype CPU at Computex 2022, but then Hallock cleared some things up on Reddit. Hallock explained: "The Computex processor was a 16-core prototype sample not yet fused to specific power/TDP values, but it was operating in a range below the new 170W TDP group we've developed. It's a conservative figure."
Hallock added: "The confusion stems from me misspeaking. I had misread some tech docs and got my wires crossed. Sorry to the community for that. Ryzen sockets are CPU_TDP*1.35 = PPT (maximum socket power). So 65W TDP = 88W PPT (no change from AM4), 105W TDP = 142W PPT (no change), and 170W TDP = 230W PPT (new option).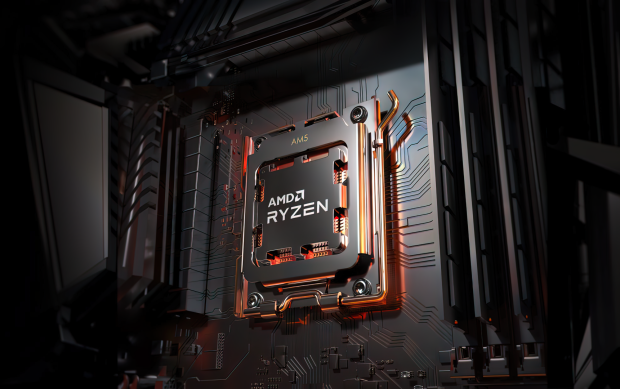 AMD is now confirming -- and clarifying -- that the new Zen 4-powered Ryzen 7000 series will have higher-end models tapping up to 170W TDP... other reps claims a 125W TDP. That's a big change, 45W... also driving up the package power of the AM5 socket.
AMD Ryzen 7000: 170W CPU TDP / 230W Package Power

AMD Ryzen 7000: 125W CPU TDP / 170W Package Power

AMD Ryzen 5000: 105W CPU TDP / 142W Package Power

Intel Alder Lake-S: 125W CPU PL1 / 241W PL2 Power Rating
But when compared against the current-gen AM4 socket, which the Ryzen 5000 series CPUs tap out at a 105W TDP and package power of 142W -- that's a huge 1.35x increase for Zen 4-based Ryzen 7000 series CPUs on the new AM5 socket. 65W TDP increase, and 88W PPT increase.
AMD Ryzen 9 5950X 16-core, 32-Thread Unlocked Desktop Processor (AMD Ryzen 9 5950X)
Related Tags