3D artist Evilboris made an interactive render comparing the Xbox Series X's new rectangular chassis to other consoles and devices.
Microsoft's new Xbox Series X has a unique shape. It's not a flat box, but a rectangular prism that can stand up like a Corsair One. Size is a major concern for gamers, but some number-crunching shows the Xbox SX isn't all that big. Now an artist has created a visual representation that scales the system up against current-gen hardware like the Xbox One, Xbox One S, Xbox One X, PS4 Pro, and Nintendo Switch.
The Xbox SX is basically as tall as current-gen systems like the Xbox family and PlayStation 4 Pro when they're standing on their sides. But the new Xbox's shoebox shape is much thicker around and has more depth. It's not nearly as tall as a fully-fledged desktop PC chassis, but it's taller than a Mac Pro. It's also a bit taller than a docked Nintendo Switch when the Xbox SX is laid on its side.
Remember that Microsoft has yet to give out exact dimensions of the Xbox SX, and these images are based off of approximations made by various users.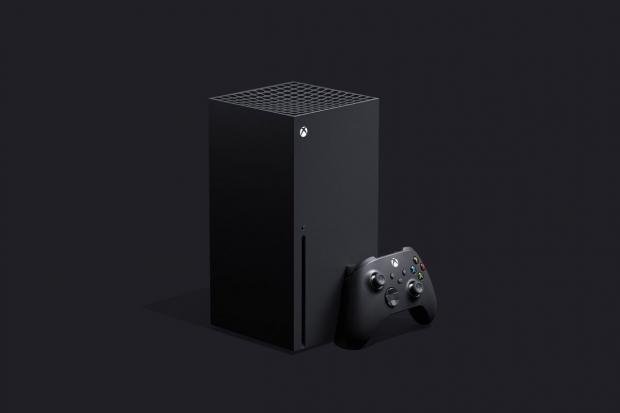 The shape is curious but it's more about performance than striking looks. The Xbox Series X feature some serious horsepower in the box, and everything's stacked in that way to ensure components stay cool via a specifically-designed thermal ventilation system.
Microsoft confirms the Xbox SX is a quiet and efficient machine, despite sporting enthusiast-grade hardware like a new AMD SoC with a 12TFLOP Navi GPU, a Zen 2 CPU, a new SSD with proprietary tech built-in, and GDDR6 unified memory.
Xbox Series X is due out by Holiday 2020. No pricing has been announced.
Check below for confirmed specs and details, and a huge content listing of everything we've heard about Xbox Series X so far:
Xbox Series X confirmed details (Formerly Project Scarlett):
8-core, 16-thread Zen 2 CPU

Navi GPU on RDNA architecture

Highly customized 7nm SoC from AMD

GDDR6 memory

2x Xbox One X's 6TFLOPs of GPU perf

4x CPU power of Xbox One generation

Can deliver up to 40x more performance than Xbox One in specific use cases

Adaptive sync supported

Super-fast SSD that can be used as VRAM

Supports 8K resolution (likely media playback)

120FPS gaming

Variable refresh rate (adaptive sync/FreeSync)

Variable Rate Shading

Raytracing confirmed with dedicated raytracing cores

Backward compatible with thousands of Xbox, Xbox 360, and Xbox One games

New controller with a dedicated share button

Compatible with Xbox One accessories
Lockhart (Unconfirmed lower-end Xbox Series hardware)
1440p 60FPS

No disc drive

Super-fast SSD that can be used as VRAM

7nm AMD SoC w/ scaled-down 8-core, 16 thread Zen 2 CPU at 3.5GHZ and Navi GPU

Lower GDDR6 memory pool (Possibly 12GB)

~6-8 TFLOPs of power?

Aims to rival PS4 Pro/Replace Xbox One S

Full backward compatibility with all Xbox One games

Cheaper MSRP
Anaconda/Xbox Series X/Project Scarlett
4K 60FPS

Disc drive with 4K UHD playback

Super-fast SSD that can be used as VRAM

7nm AMD SoC with 8-core, 16 thread Zen 2 CPU at 3.5GHz and Navi GPU

16GB GDDR6 RAM

12 TFLOPs of power

2x GPU power as Xbox One X/aims to replace Xbox One X

Full backward compatibility with all Xbox One games

More expensive MSRP
Xbox Series X coverage: