Jedi: Fallen Order channels Uncharted, The Force Unleashed
Respawn's big new Star Wars game sounds like a mishmash of some of the best games.

Published Apr 14, 2019 4:12 PM CDT
|
Updated Tue, Nov 3 2020 11:48 AM CST
Respawn's new Star Wars game channels some of the best games in the industry, and may channel what Visceral's "Star Wars Uncharted" game could've been...only with Force powers.
Jedi: Fallen Order, the next big marquee Star Wars game from Respawn Entertainment, sounds quite familiar. Billed as an action-adventure game, EA's official description paints a picture very much akin to games like Uncharted and The Force Unleashed. EA says it'll deliver "cinematically charged lightsaber and Force combat" set in a "galaxy-spanning adventure."
The game's official story reveal trailer highlighted some of these features. We saw some of the Nathan Drake-style death-defying stunts players will face including running on walls and making impossible leaps of faith. Jedi: Fallen Order even has Cal, the Padawan protagonist, solving mysterious puzzles set across ancient Jedi temples scattered across the galaxy--much like Indiana Jones or Nathan Drake search for relics.
There's lots of parallels here, but some big differences too. Cal will manipulate environments using the Force, which should add a new dimension to puzzle-solving and traversal. The backdrop also sets itself apart from the real-world locales used in Uncharted, but the core themes, tenants, and structure might be the same. This actually makes sense. Game director Stig Asmussen says Fallen Order was made by lots of devs, including those who worked on Uncharted games.
We kind of see things going full circle here, as Uncharted was based off of Indiana Jones, a Lucasfilm property, and Jedi: Fallen Order taking queues from Uncharted.
Combat seems to resemble The Force Unleashed. Respawn hasn't shown combat off yet but promises it'll deliver an intuitive system built around reflexes and strategy. Jedi: Fallen Order has "thoughtful combat" that's designed to appeal to everyday gamers and fans, but it's deep enough to pull in hardcore enthusiasts with an innovative mastery mechanic.
"It's an action melee game. You play as a Jedi on the run in training with a lightsaber and force powers," Asmussen said during the game's panel reveal. "We made sure the combat is something easy to pick up, but if you put the time in you can master it. It has a lot of depth. This is Star Wars. Combat is key to us--we call it thoughtful combat, and you identify and exploit the weaknesses."
This matches rumors that said Fallen Order would be closest to The Force Unleashed insofar as mechanics.
What I'm most interested in is how Jedi: Fallen Order channels a previous Star Wars game. It's possible Respawn morphed Fallen Order using mechanics and assets from a cancelled project.
Read Also: Jedi: Fallen Order was in development since 2014
Back in 2017, EA closed down Visceral Games and cancelled its ambitious Star Wars game, Project Ragtag. Ragtag wasn't about Force-users or Jedi, but instead focused on an underdog group of bounty hunters and space scoundrels. It would shift perspectives at various stages, and players would take on the roles of different characters in each segment.
After the cancellation, Visceral devs working on Ragtag spread to other teams. Visceral's progress on Ragtag would be cannibalized and used to create new games. EA's Vancouver studio would use the assets and content from Ragtag to make a new game, Project Orca, which was cancelled in favor of a smaller project due out in 2020.
Ragtag was described as "Star Wars Uncharted" by those who saw it. It was a singleplayer-driven game with emphasis on action, adventure, story, and interactive mechanics.
Sure it didn't have lighsabers or Force-users, and probably took place on different planets and featured different characters, but...
All of this sounds suspiciously like a newly announced Star Wars game. I'd like to hear the story behind this and if it's just coincidental, or if key members of Visceral's team jumped to Respawn to help make Fallen Order...and if they brought pieces of Ragtag with them too.
In any case, Jedi: Fallen Order is slated to release November 15, 2019 on PS4, Xbox One and PC.
Check below for more information: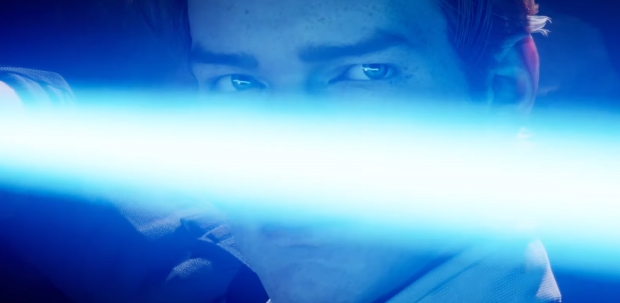 A galaxy-spanning adventure awaits in Star Wars Jedi: Fallen Order™, a new third-person action-adventure title from Respawn Entertainment. This narratively driven, single-player game puts you in the role of a Jedi Padawan who narrowly escaped the purge of Order 66 following the events of Episode 3: Revenge of the Sith. On a quest to rebuild the Jedi Order, you must pick up the pieces of your shattered past to complete your training, develop new powerful Force abilities and master the art of the iconic lightsaber - all while staying one step ahead of the Empire and its deadly Inquisitors.

While mastering your abilities, players will engage in cinematically charged lightsaber and Force combat designed to deliver the kind of intense Star Wars lightsaber battles as seen in the films. Players will need to approach enemies strategically, sizing up strengths and weaknesses while cleverly utilizing your Jedi training to overcome your opponents and solve the mysteries that lay in your path.

Star Wars fans will recognize iconic locations, weapons, gear and enemies while also meeting a roster of fresh characters, locations, creatures, droids and adversaries new to Star Wars. As part of this authentic Star Wars story, fans will delve into a galaxy recently seized by the Empire. As a Jedi hero-turned-fugitive, players will need to fight for survival while exploring the mysteries of a long-extinct civilization all in an effort to rebuild the remnants of the Jedi Order as the Empire seeks to erase the Jedi completely.

KEY FEATURES

● Cinematic, Immersive Combat - Jedi: Fallen Order delivers the fantasy of becoming a Jedi through its innovative lightsaber combat system-striking, parrying, dodging-partnered with a suite of powerful Force abilities you'll need to leverage to overcome obstacles that stand in your way. This combat system is intuitive but takes training and practice to fully master its nuances as you gain new powers and abilities along your adventure.

● A New Jedi Story Begins - As a former Padawan on the run from the Empire, you must complete your training before Imperial Inquisitors discover your plan to revive the Jedi Order. Aided by a former Jedi Knight, a cantankerous pilot and a fearless droid, you must escape the evil machinations of the Empire in a story-driven adventure. Explore and overcome a wide range of challenges focused on combat, exploration and puzzle-solving.

● The Galaxy Awaits - Ancient forests, windswept rock faces and haunted jungles are all unique biomes you'll explore in Jedi: Fallen Order, with the freedom to decide when and where you go next. As you unlock new powers and abilities, opportunities open up to re-traverse maps in new ways; leveraging the Force to augment the way you explore. Move quickly, however, as the Empire is actively hunting your every step in their effort to exterminate all remnants of the Jedi Order.
Related Tags