Visceral's Star Wars game was basically Star Wars Uncharted
Visceral's now-cancelled Project Ragtag would've been something very, very interesting for the Star Wars universe.
Published Jan 19, 2019 5:06 PM CST
|
Updated Tue, Nov 3 2020 11:49 AM CST
4 minute read time
Visceral's cancelled Star Wars game, codenamed Project Ragtag, would've been the franchise's own intergalactic version of Uncharted infused with action elements.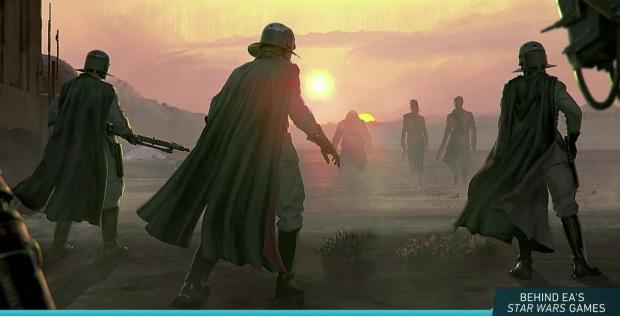 I was looking forward to Project Ragtag ever since I reported about the Star Wars games timeline in 2016. The game, which was being directed by Uncharted dev Amy Hennig and was cancelled in 2017 along with Visceral's closure, would've had an original storyline with one singular aim: to make gamers feel like they've played a Star Wars movie. Not a whole lot is known about Ragtag, but Rogue One writer Gary Whitta says it would've been like Star Wars Uncharted.
"I saw a bunch of that game and it looked terrific," Whitta said in a recent episode of Kinda Funny Games Daily.
Obviously Whitta didn't see the final product or even a snippet of a finished version, but based on the slices of gameplay and presentations, the game was shaping up to be something epic. "After it was cancelled I saw some stuff--I saw what they had up to that point. It was far from finished, but it looks amazing. Basically it would've been Star Wars Uncharted, which I'm very excited about."
Amy Hennig wasn't shy about talking about Ragtag's process, though. In a 2016 Star Wars Celebration event, Hennig said Ragtag was being made similar to Uncharted in order to bring that cinematic tone and feel. So parallels between the two action-adventure games are inevitable.
"The process I've been using [for this new Star Wars game] is really similar to what I did for Uncharted, to be honest. If you're trying to reconstruct a classic action-adventure experience, you need to deconstruct the films so you know how to reconstruct them in an interactive context as gameplay," Hennig said during the event.
"The end goal with [our Star Wars game] is players really feel like they played a Star Wars film. So I've applied the [Uncharted process] to this project."
"So what does that mean exactly? That means getting the structure right--this means you have to understand where the act breaks fall, where all the obstacles and reversals fall, all the set pieces...what are all the component parts that make up a Star Wars story."
(Continued below)
Original concept footage for Visceral's cancelled game, Project Ragtag.
So why was Visceral canned and Ragtag cancelled?
The answer to that is multi-faceted, but it likely has something to do with EA's focus on live-service based games and the terrifically difficult process of making Star Wars games. Games like FIFA 18 and heavily monetized shooters like Battlefield tell us about EA's business model, but what about the dynamic between Lucasfilm, Disney, and the publishers that make their Star Wars games?
The truth is making Star Wars games was very messy way before EA signed up.
The Star Wars curse
Anyone who makes a Star Wars game has to constantly keep in touch with Lucasfilm and get approval on specific changes, characters, themes, and everything else. Although Disney now owns the reins to the franchise, apparently not a whole lot has changed from the complicated Lucas Arts days of games-making.
According to Jason Schreier's book Blood, Sweat and Pixels, in the days of Lucas Arts developers had to consistently check and double-check every little thing to make sure it fit into the Star Wars universe, and arbitrary decisions by George Lucas could set the team back and erase months of progress.
That same structure is still apparently in place and is probably a big reason why Star Wars games are just so hard to make. This likely leads to a sluggish pace in game development where great ideas and huge sprawling experiences are scrapped in favor of comparatively easier projects like Battlefront II, a shooter without a lot of story depth.
A lot of people blame EA for the death of Project Ragtag and more recently, the cancellation of EA Vancouver's Project Orca, which used assets from Ragtag. But it goes a lot deeper than that, and it seems like the franchise's game development is being mismanaged on an executive and corporate level while the grunts in the trenches (game devs) see their work repeatedly washed away and consistently morphed.
(Continued below)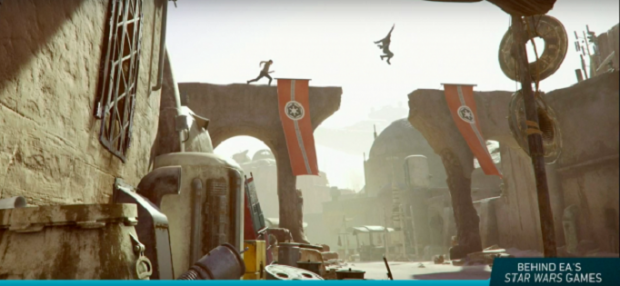 More early concept art for Project Ragtag.
EA is undoubtedly responsible in some respects (such as Battlefront II's lootboxes that we actually predicted) but they inherited one of the most complex franchises to make games for, not only insofar as scope and lore, but on a bureaucratic level. It seems like developers have to jump through way too many hoops to get their projects finished.
This process is unlikely to change any time soon. EA is reportedly pivoting to a more condensed Star Wars game set for a 2020 launch, a year after Respawn's big action-based third-person Jedi: Fallen Order game.
After EA's license expires in 2023 or thereabouts I expect no other major publisher will really want to touch the Star Wars franchise. Especially not with every games-maker investing heavily in wholly-owned IPs.
Related Tags