EA actually cancelled its new Star Wars game to preserve the release slate timeline and fill in gaps, not disrupt it.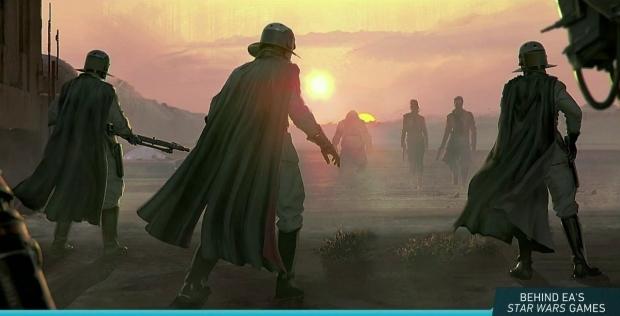 EA Vancouver's open-world Star Wars game was cancelled so the studio could work on a smaller, more condensed project that releases sooner, sources tell Kotaku.
The plan is to shift focus from EA Vancouver's previous project, a big galactic bounty hunter affair called Project Orca, into a more streamlined and self-contained game. This would allow the Vancouver studio to release a game sooner and fill in obvious gaps in the original Star Wars timeline of games. It's possible this new project will utilize and iterate key elements, assets, and content from Project Orca while depending less on live services, as online-driven games with microtransactions and digital economies typically take years upon years to make. How Kotaku frames Orca makes it seem like a live-based experience with a wide content roadmap.
It's likely that EA Vancouver's new re-shaped Star Wars game will ship a year or so after Respawn's big new action-driven Jedi: Fallen Order title, which is slated for a 2019 release.
This kind of timing means specific features such as live-based content and monetization schemes may be limited in EA Vancouver's new game, which is a trade-off EA may make in order to ship a game faster. EA thrives on the billion-dollar live service market and has said these services are more important than full game sales.
Early concept footage of Visceral's cancelled Star Wars game, aka Project Ragtag.
Read Also: Why EA closed Visceral and recycled its Star Wars game
This development isn't actually anything new in the world of games-making.
The games industry is always in flux. Projects are born, live, and die all the time, and projects constantly get rebooted and shift while in dev. EA's Star Wars games are prime examples of this cyclic waxing and waning.
First EA cancelled Project Ragtag, an ambitious third-person action-adventure game from Visceral Games. The studio was shut down shortly after. The bones of Project Ragtag were handed off to EA Vancouver who morphed it into Project Orca using assets and content from its predecessor.
Now Project Orca is lending way to a more fastidious game at the hands of its development team, who may be condensing their original vision into something more palatable to ready a faster release.
Other Star Wars games are in development outside of EA Vancouver's project, too.
There's the aforementioned Jedi: Fallen Order, a third-person action game from Respawn that takes place between Episodes III and IV when the Jedi were being hunted. Respawn says the game will focus strongly on characters and story while bringing the chaotic action the studio is known for. It's also worth noting that Respawn Entertainment is now a wholly-owned EA company.
Sources also tell Kotaku that EA Motive's Montreal-based studio is working on a new Star Wars project that will probably release after the Project Orca successor.
Ultimately a lot of this confusion could've been alleviated with direct information from the publisher. EA needs to be more forthright about the franchise's timeline of games and give us a tentative schedule the way it did back in 2016.
Things change all the time in the games industry, though, and maybe EA is waiting until it has a confident roadmap before it reveals any more info. But it's still confusing to everyday consumers and avid fans alike.