Why EA closed Visceral and recycled its Star Wars game
Visceral Games is no more, and their ambitious new Star Wars game is to be recycled into a service-based game. Where's what you need to know.
Published Oct 18, 2017 2:43 AM CDT
|
Updated Tue, Nov 3 2020 11:53 AM CST
6 minute read time
EA has officially closed Visceral Games, the studio responsible for Dead Space and Battlefield Hardline, and the developer's ambitious new Star Wars project (codenamed "Ragtag") has been handed off to another internal EA studio.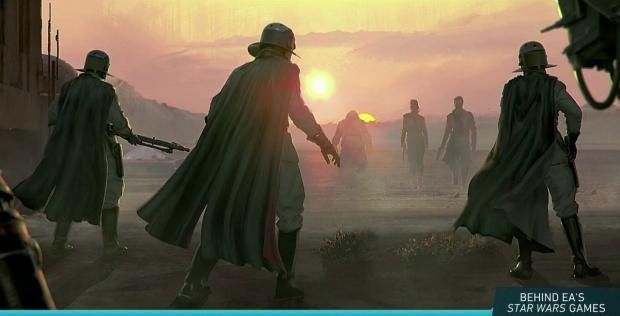 Visceral Games is no more, and one of the big reasons EA likely canned the studio was because of their upcoming Star Wars game led by Amy Hennig. EA is embracing the games-as-a-service business model that essentially sees games lasting much longer and making more long-term money via microtransactions and lootboxes. I've reported on this in the past, and predicted that pretty much every new EA game--or AAA game from a big publisher--will have microtransactions and embrace this model. Sadly, Visceral's new Star Wars project just didn't fit this model, and EA has decided to dismantle the studio entirely and hand the project off to EA Vancouver, who will make a game from the assets and bones of Project Ragtag while incorporating that critical GaaS hook. This marks the second time EA has shut down a studio recently, the first being BioWare Montreal, who was shut down after the humiliating reception around Mass Effect: Andromeda.
In a recent blog post, EA exec Patrick Soderlund announced Visceral Games' closure and explained what the future holds for Project Ragtag.
"Our Visceral studio has been developing an action-adventure title set in the Star Wars universe. In its current form, it was shaping up to be a story-based, linear adventure game," Soderlund said. The exec went on to say that this linear story model just didn't mesh with player testing--and, more importantly, EA's all-in monetization business model.
"Throughout the development process, we have been testing the game concept with players, listening to the feedback about what and how they want to play, and closely tracking fundamental shifts in the marketplace. It has become clear that to deliver an experience that players will want to come back to and enjoy for a long time to come, we needed to pivot the design."
"A development team from across EA Worldwide Studios will take over development of this game, led by a team from EA Vancouver that has already been working on the project," Soderlund said, then explaining that Visceral Games will die off, despite being a wholly-owned studio. The Star Wars project was essentially strike three for Visceral, with the first two being Dead Space 3 and Battlefield Hardline. "Our Visceral studio will be ramping down and closing, and we're in the midst of shifting as many of the team as possible to other projects and teams at EA."
Early prototype footage of Visceral's Star Wars game, codenamed Ragtag.
Kotaku's Jason Schreier received a copy of an internal EA email that discloses more information on the project's future:
"A development team from across Worldwide Studios will take over development of Ragtag, led by the EA Vancouver team that has already been working on the project. Steve Anthony will lead this team, and we will use much of the work that has been done to date by Visceral - the assets of Ragtag that have already been built will be the foundation of this new game," reads the email.
Ex-Naughty Dog talent Amy Hennig was overseeing Visceral's Project Ragtag, and she worked hard with the studio to ensure the third-person adventure game stayed authentic and true to the original trilogy. EA has yet to confirm if Amy Hennig has left the project, or will stay on to help EA Vancouver recycle the remains of Project Ragtag.
"We're writing an original Star Wars story, with new characters, new locations, new tech, new creatures...you name it," Hennig said during 2016's Star Wars Celebration event.
"Our game is a long ways out, we don't have a name yet, but we've been working hard on it and digging in with our partners at Lucasfilm. It's critical to have this collaborative relationship with our partners at Lucasfilm. All of it has to sit authentically alongside the stuff people know now."
Essentially Visceral was making something that just doesn't fit with EA's business model, which pulls in billions a year through recurring monetization via FIFA, Madden, and Battlefield--a linear singleplayer-based experience that aimed at telling a story instead of engaging millions of people and lasting for years to come.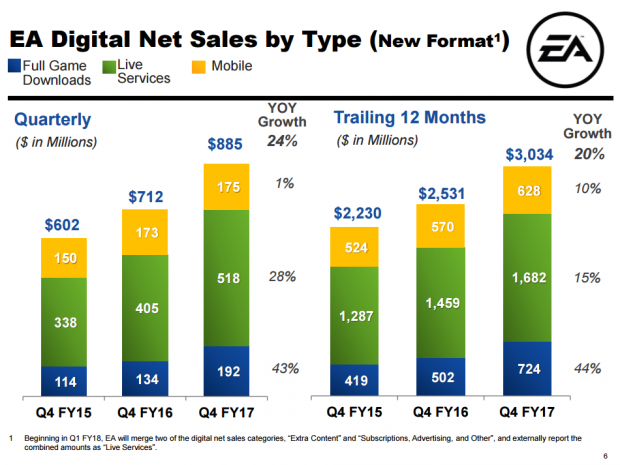 In trailing twelve-months figures for FY17, EA pulled in over $1 billion from live services across consoles, PC and mobiles, which includes subscriptions, microtransactions, DLC, in-game purchases, and advertisements.
For example, EA expects to earn over $5 billion in net revenue in the fiscal year ending March 2018, and earnings via live services will be a big part of that. Battlefront II will rake in a considerable portion of revenues, EA predicts, via 14 million sales during the fiscal year and a huge treasure trove of cash pulled in by the game's Star Card microtransactions. But FIFA 18 and Madden 18 will be the big breadwinners.
Project Ragtag was originally set to release during EA's fiscal 2019 timeline, which is from April 1, 2018 through March 31, 2019, but now the game has been delayed to an undisclosed timeframe.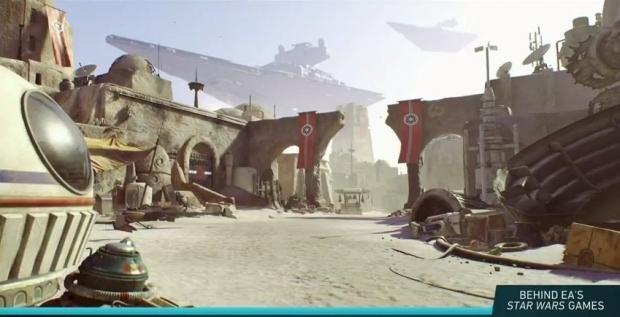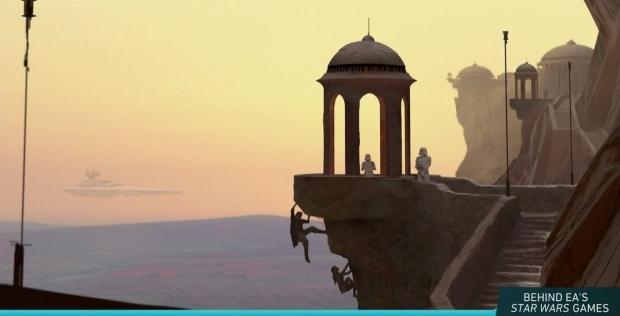 Early concept art and in-game rendering from Project Ratag, Visceral's third-person adventure-based Star Wars game.
So what does this mean for the future of EA games?
Expect every AAA game to have some sort of online mode with a GaaS hook, meaning gamers will have opportunities to spend money on microtransactions and lootboxes to fund new updates and content. I've said in the past there's nothing wrong with this model, but it's become so successful that it's disrupting other facets of gaming. AAA games publishers are now wholly embracing this model, to the point where every major game will incorporate it.
This means BioWare's new online third-person shooter game Anthem will almost assuredly incorporate the microtranasction and engagement-laden Games-as-a-Service business model , and likely the new Dragon Age project as well.
Long ago I predicted that Mass Effect: Andromeda would be morphed by this model, as well as BioWare's new Destiny-like IP called Anthem.
What does this mean for the future of EA's Star Wars games?
More of the same. Expect these titles to basically be like Battlefront II: designed to engage and monetize players for the long term, while offering expansive content that continually evolves over time.
It's worth noting that two key BioWare veterans left recently: BioWare general manager Aaryn Flynn, who had been with the company for over a decade, left a month after Anthem was officially announced.
Just days ago Dragon Age creative director Mike Laidlaw left BioWare after 14 years with the company.
While both said nothing about EA or the new business model, I'm wondering if this shift towards microtransactions and GaaS and away from singleplayer adventures had anything to do with it.
Thank god EA doesn't wholly own Respawn Entertainment.
Related Tags