Jedi: Fallen Order similar to Force Unleashed, sources say
Respawn's new Star Wars game may be like The Force Unleashed, and should be singleplayer-only.

Published Wed, Sep 12 2018 6:30 PM CDT
|
Updated Tue, Nov 3 2020 11:50 AM CST
Respawn's new third-person action Star Wars game Jedi: Fallen Order will have similarities with The Force Unleashed, sources have told the Making Star Wars Podcast.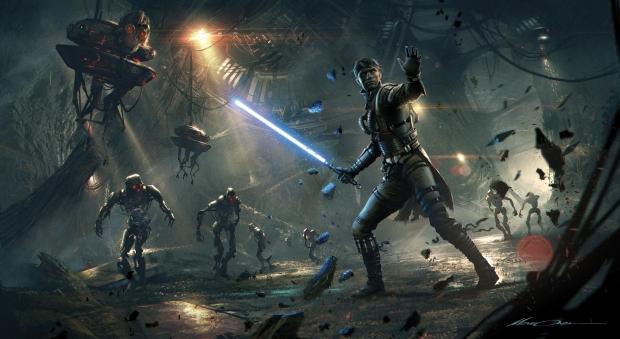 We've known about Respawn's new Jedi: Fallen Order game for a while before it was announced at E3 2018. It'll be a narrative-driven experience that focuses strongly on characters and story, but it'll also have "larger-than-life action" and "groundbreaking mechanics" built into it as well. Jedi: Fallen Order takes place between Episodes III and IV when the Jedi were being hunted down, during a dark time in galactic history. On top of the 2019 release date, that's pretty much all we know about the game. Until now.
In the latest Making Star Wars podcast (about 19:01) a contributor says Jedi: Fallen Order will have ties to The Force Unleashed in more than a few ways. Anonymous sources at Respawn apparently divulged key info to the podcaster, including that we play as a young padawan who grows up during Order 66, and the game will be closer to The Force Unleashed without any crazy or ridiculous Force moments.
"I was talking to somebody in the gaming industry this week about that game that's coming, the next Star Wars game [Jedi: Fallen Order]. It's going to be pretty much like The Force Unleashed without the 'Mountain Dew' qualities. It won't be [extreme] or absurd. It'll be true to canon and content we've seen in films. It won't be absurd, it'll be way way more Force Unleashed. You won't see anyone slinging Star Destroyers down and smashing them into each other."
We'll be playing as a Jedi in the game, so we'll be on the other side of Starkiller's hunt against the Light Side.
Jedi: Fallen Order should also be primarily singleplayer-focused and shouldn't have an active multiplayer component--at least not an in-depth one with monetization hooks.
This is surprising given EA's love and doubled-down push for engagement, which facilitates long-term earnings via microtransactions in live service games such as Battlefront II. EA earns billions every year in part from its massively lucrative Ultimate Team microtransaction model, and we've found lots of in-game purchase opportunities being infused into its key titles.
This trend may not be found in Respawn's new Jedi: Fallen Order Star Wars game.
The attention to canon and detail also makes a lot of sense and aligns with Respawn's promises to pay close attention to the Star Wars legacy while making Fallen Order.
"We'll be making a third-person action/adventure game set in the Star Wars universe. We promise to pay respect to the Star Wars legacy at all times, a fact that will be constantly reinforced and honored as a central game design tenet," Respawn said in 2016.
"Fans should expect the exemplary level of quality first established at Respawn with Titanfall, a game that epitomizes our studio's dedication to slick, larger-than-life action and fun, groundbreaking mechanics."
Jedi: Fallen Order is slated to release sometime in 2019.
Related Tags