Visceral's new Star Wars game to capture the magic of the films
Visceral Games will adapt the magical formula of the original Star Wars trilogy as a brand new and unique game.
Published Jul 16, 2016 5:54 PM CDT
|
Updated Tue, Nov 3 2020 11:59 AM CST
6 minute read time
At the Star Wars Celebration in Europe, Visceral Games' Amy Hennig revealed some more tidbits about the studio's upcoming Star Wars action game set for 2018, including the studio's process in adapting the magic of the old films into their new game.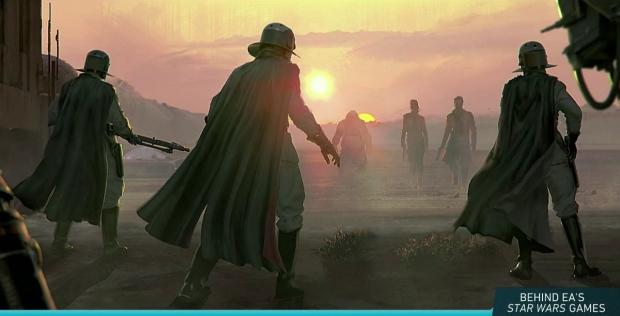 Amy Hennig has made it clear that Visceral Games' new action-based Star Wars game will have its own unique storyline. In fact, everything about the game will be brand new, but it'll still be deep-rooted and authentic to the existing Star Wars universe. Visceral's new creative director (Hennig) delivered a meaty speech on her methods to ensuring the game not only lives up to the films, but also delivers completely fresh gameplay.
Hennig starts off by telling us this game will be completely unique and new: "We're writing an original Star Wars story, with new characters, new locations, new tech, new creatures...you name it." Although everything will be new, the game still has to fit into the established motifs and themes of the franchise, so Visceral has to work very very closely with the loremasters at Lucasarts...but they've been digging deep into the font of knowledge the team has to offer. "Our game is a long ways out, we don't have a name yet, but we've been working hard on it and digging in with our partners at Lucasfilm. It's critical to have this collaborative relationship with our partners at Lucasfilm. All of it has to sit authentically alongside the stuff people know now."
Remember Visceral's awesome concept art? Hennig says that there's tons of little clues to dissect from the artwork, and that she wants gamers and fans to actively speculate on what they represent. For example, we think you'll play as a bounty hunter in the new game. "We're only allowed to show a small amount of images, but we did breadcrumb a lot of clues in there. So I could invite people to scrutinize them, speculated on what's in there--we've snuck some stuff in there."
Now let's dive into Amy Hennig's process, and how she's working with Visceral games to bottle the magic of the Star Wars films in game form.
"The endgoal with our game is players really feel like they played a Star Wars film."
Hennig has had a celebrated career, working alongside Naughty Dog with the Uncharted series, and her peers are quite impressed with how passionate she is about the new Star Wars game. In fact, they go so far to say that Amy "leaves no leaf unturned," and she's always trying to deconstruct the original films and find that magical element to adapt into the new game.
Everyone's extremely confident in Hennig's abilities, and after seeing her panel speech, I have to say I am too. As creative director, Hennig serves the vital role of pulling all the pieces together and guiding the team. Nothing's set in stone so far, but the team is starting to put those foundations in place that will ultimately serve as the game's skeleton. To do so, Amy has been working hand-in-hand with Lucasfilm's games department, who serve as the kind of gatekeeper for everything Star Wars.
"We've been working with Amy a year or so now, and it's been a great relationship. We have facilitate a lot of that work that Amy's team does with Doug (art director) and the story writer. We've had many, many meetings to talk about what it means to be Star Wars," said Matt Fillbrandt, the executive producer for Lucasfilm's games team.
"We've seen some of the methodology that Amy brings to the table...and really, there's no leaf unturned...looking at the Star Wars films, the pace of the stories...it's really impressive to watch her look at this stuff and how she breaks things down. She's really serious about wanting to bring that authentic experience."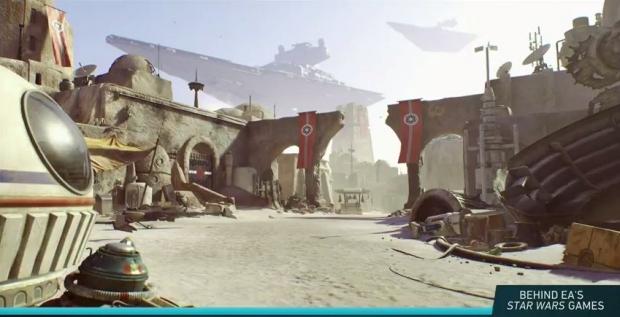 Hennig went on to unravel her dynamic, multi-faceted process for making games--she's using the same process she used for Uncharted for the new Star Wars game.
"The process I've been using [for this new Star Wars game] is really similar to what I did for Uncharted, to be honest. If you're trying to reconstruct a classic action-adventure experience, you need to deconstruct the films so you know how to reconstruct them in an interactive context as gameplay.
"The endgoal with [our Star Wars game] is players really feel like they played a Star Wars film. So I've applied the [Uncharted process] to this project."
"So what does that mean exactly? That means getting the structure right--this means you have to understand where the act breaks fall, where all the obstacles and reversals fall, all the set pieces...what are all the component parts that make up a Star Wars story."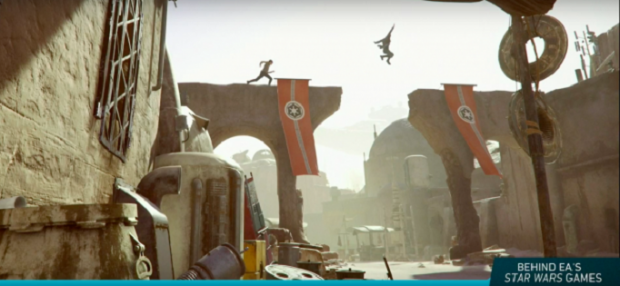 Hennig, and the entire team at Visceral, are keen in understanding what makes Star Wars such an incredibly engaging experience. How does it transcend the cultural, age, and language barriers? What makes the series different from all other films? Instead of coming up a new formula, she's looking to the legendary magic of the old original trilogy for inspiration.
And to do that, she and her team at Visceral have to actively deconstruct the classic Star Wars formula so they can reconstruct it in game form.
"The process also means getting the tone right. It's something my writing partner Todd calls breezy urgency...that idea that there's a kind of swashbuckling charm to the thing, there's humor and buoyancy, but at the same time there's stakes and jeopardy."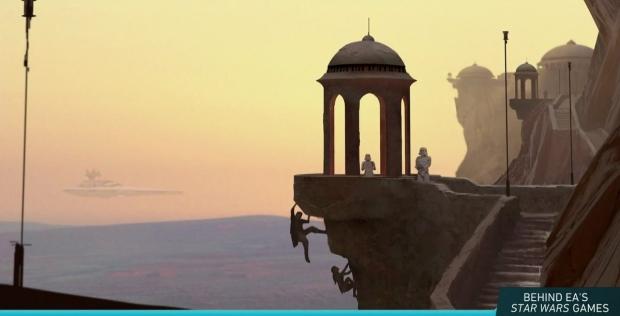 "It's not a lone wolf story...that's not Star Wars"
One of the main areas where Star Wars shines is its characters. The characters are an ensemble, meaning they interact in a dynamic fashion with one another, weaving multiple stories but also coming together. We have all of these different stories being woven together, with all the co-protagonists playing their part.
For instance, the original Star Wars trilogy isn't just Luke's story; it's a story about the Empire, about the Ewoks, about Han and Leia and the Rebellion. It's this dynamic inter-weaving story-arc that breathes life into the characters.
Hennig says that Visceral's new Star Wars game will continue this tradition of an ensemble cast. Don't expect any lone wolf stories with the new game.
"What I was really eager to discover when analyzing the films was what distinguished Star Wars films from other movies. The first thing that jumped out was these are always ensemble stories. And that's actually kind of unusual; in Star Wars, characters are co-protagonists.
"So when you think about the original trilogy--or even the films we're continuing now--it's as much Leia's and Han's and Vader's story as it is Luke's. Think about Rebels and even Rogue One--the same thing is happening. So the same thing is true with our game.
"Part of our deconstruction is how do we enable that not only just in our story and honor it, but do it in gameplay as well. It's not about a lone wolf story...that's not Star Wars. Your characters have to be a co-ordinated ensemble acting in the moment and in parallel."
"Think about the Death Star; they only escape because everyone does their part in parallel. If you think about these stories, they're always underdogs, they're always outnumbered and outgunned, so they have to be smarter than their enemies, think on their feet, and have to work together.
"So the challenge for us then is how do we enable that in gameplay."
Hennig finished off by promising that the studio will have something to show off next year, likely at the Star Wars Celebration in Orlando, Florida.
Visceral Games' new Star Wars game will be action-based, and is coming in 2018. Check below to see the full panel of all current Star Wars games projects and to listen to Amy Hennig talk about Visceral's project (her speech is towards the end).
Related Tags