Visceral's Star Wars title may get recycled into online game
Visceral's cancelled linear singleplayer game is apparently getting morphed into a live-service powered online Star Wars game (surprise!)

Published Sat, Mar 24 2018 2:06 PM CDT
|
Updated Tue, Nov 3 2020 11:52 AM CST
EA's Vancouver-based studio is hiring for an "open world Star Wars game," and it's probably Visceral's killed project. But a new job listing strongly suggests the game will have online-based elements, which points towards live services, engagement, and monetization strategies that EA is well known for.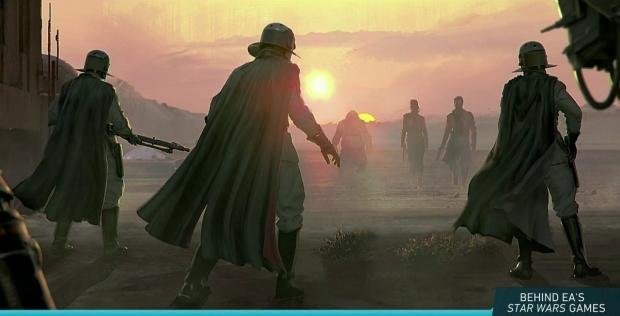 One of the most disappointing things that EA has done recently was a two-fer: killing off Visceral Games, and then cancelling its ambitious-sounding Star Wars game only to have another studio recycle it. Everything I reported about the Visceral game made it sound pretty good, but EA wasn't convinced: the linear singleplayer action game just didn't mesh well with player feedback (and of course it probably didn't have a live services element that'd make the publisher tons of recurring cashflow).
EA's Patrick Soderlund explained the situation but let potential development issues off the table "Throughout the development process, we have been testing the game concept with players, listening to the feedback about what and how they want to play, and closely tracking fundamental shifts in the marketplace. It has become clear that to deliver an experience that players will want to come back to and enjoy for a long time to come, we needed to pivot the design."
Now that Visceral was closed down, EA passed the dev responsibility to EA Vancouver, who would get help from EA's Worldwide Studios branches. After all EA probably spent a good chunk investing into the game and Disney too--remember EA and Disney signed a multi-year agreement for Star Wars games. "A development team from across EA Worldwide Studios will take over development of this game, led by a team from EA Vancouver that has already been working on the project," Soderlund said in the previous blog post.
Read Also: Why EA closed Visceral and recycled its Star Wars game
So long story short, EA Vancouver's new job listing for a lead online engineer strongly suggests that Visceral's "Ragtag" is being morphed into an online-based experience (or at least a game with online multiplayer elements of some sort) that will be monetized accordingly.
EA makes billions a year from monetizing player engagement, and before now it wasn't hard to predict whatever Visceral's game turned out to be would have microtransactions/online components/live services, etc. After all the publisher has said that unit sales aren't as important as live services. Taking a quick gander at any of its recent quarterly results I'd have to agree.
But this listing only services as an underlining point in the games industry's current penchant for online games, and EA's strong focus on titles that can be played for years to come.
After the big Battlefront 2 microtransaction fiasco I'm sure EA will be very, very careful this time around. After all Disney is watching and I'm sure they can't be happy about the results.
Related Tags