Battlefront II microtransactions affect multiplayer
As we predicted, Star Wars: Battlefront II will be monetized with loot-based microtransactions that directly affect multiplayer gameplay.
Published
6 minute read time
As I predicted earlier this month, EA will monetized Star Wars: Battlefront II with a card-based microtransaction system in the form of blind loot crates, not unlike Halo 5's REQ packs.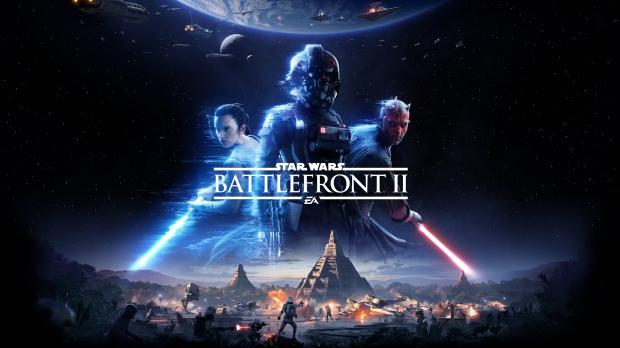 If you've read our previous coverage then you have a good idea how this monetization system works. YouTuber Battlefront Updates reveals that Battlefront II features loot cases which contain 5 Star Cards of random quality which are denoted by color (White = Common, Green = Uncommon, Rare = Blue, Epic = Purple, Legendary = Orange).
These loot crates can be purchased with real money, meaning gamers will effectively be able to pay for the chance of earning powerful loot--not unlike Halo 5.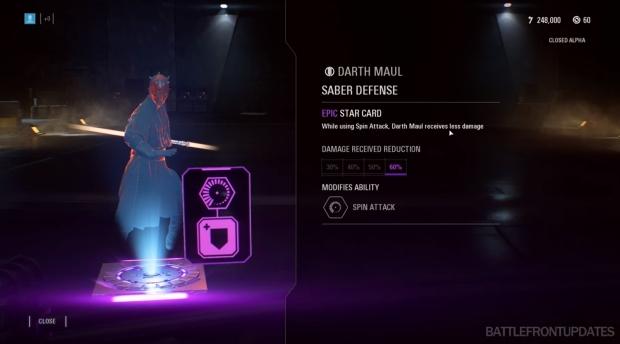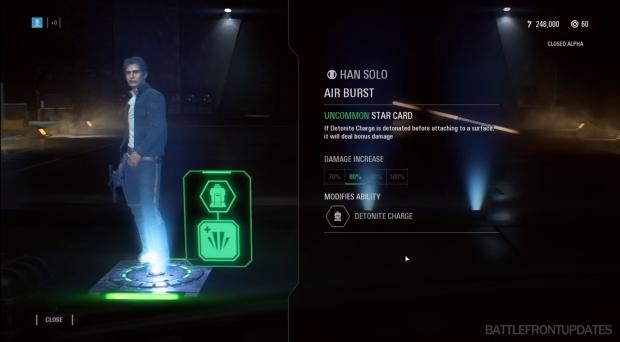 Star Cards typically include randomized ability buffs for classes and heroes, ie boosting the efficacy of certain abilities like reducing damage taken during Darth Maul's Spin Attack or boosting the fire rate of Boba Fett's Rocket Barrage or reducing cooldown timers as well as adding combat-enhancing bonuses like extra score per attack. As you'd imagine, the better effects are added by higher-tier cards like Epic and Legendary class Star Cards.
Legendary cards can also add bonus passive effects to specific classes, including extra damage reduction and the like.
EA has thought out this monetization path very well, and the mTX potential is inherently bound within the core framework of the game's progression. Like Halo 5: Guardians' REQ system, Battlefront II will grant players a daily loot pack (likely common) every day they log in. This is to keep engagement and MAUs up by creating a sense of reward. Like Halo 5's REQs, Battlefront II loot crates can be purchased with credits that are earned freely after every battle. The crates can also include credits and crafting parts, too.
As you'd expect, the loot crates are tiered in Common, Uncommon, and Rare, with appropriately adjusted credit costs.
As of the alpha test, players can earn around 700 Credits per game which is enough for a single Common Loot Crate. Rare Loot Crates cost 2000 Credits, and would take on average 3 games to unlock. Credits can also be awarded in loot crates, ensuring a self-sustaining economy.
Bear in mind these values are likely to change in the final version, and should only be viewed as a basis for comparison.
Star Cards - the core of customization
Star Cards are the root of this game and will give players a considerable edge in battle. As with other online-based games of this nature, Battlefront II will typically reward players who devote more time into the game more than beginners by allowing veterans to accrue more credits, and by extension, more Star Cards.
Every basic class can have four Star Cards equipped at once, but Heroes like Darth Maul, Han Solo, Rey, Boba Fett and Luke Skywalker can only have three cards equipped.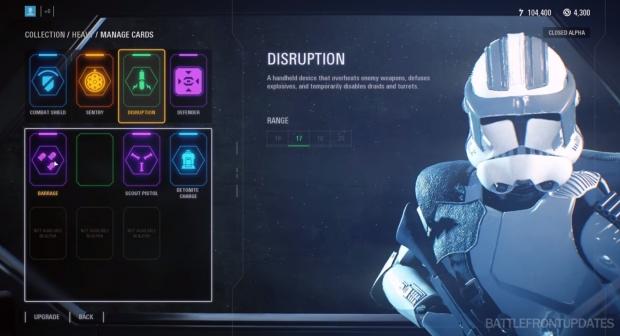 Star Cards not only add buffs to existing abilities, but unlock new abilities as well. Players can mix and match different cards to equip different combat abilities to any class. This allows players to customize their character for different battles and increases synergy with other players.
Typically the only way to get certain Star Cards is by luck, but EA has added in a direct path that rewards players for grinding.
Battlefront II players can upgrade existing Star Cards with crafting parts, which are earned from loot crates. Each random Star Card opened has a chance to turn into crafting parts, as well as credits or different abilities. Thankfully, EA has ensured that all duplicate Star Cards of all rarities will automatically be converted into crafting parts.
The biggest question here is how much real money can players expect to spend on extra credits. That wasn't revealed in the video, and EA may not reveal the pricing scheme before the game is released this November.
I'd like to know if players will buy a premium currency that's separate from the free credits system, or if EA will charge us for lumped credits that add into our previous pool of earned cash. I'm guessing it'll be a premium-based currency.
EA and DICE want Battlefront II to be a long-lasting endeavor with a huge tail of revenues. Thanks to microtransactions and a completely free updates and additional content, the publisher will marry engagement with the kinds of successful revenue streams that've made it billions in cash last year.
"There's a lot of stuff for you to unlock and customize and that's our main way of making sure people can play this game for a long time," DICE's Dennis Brannvall said during a Q&A session at the Star Wars Celebration.
"We have a very long tail to our game. We are very passionate about supporting it post-launch. [...] We want players to play for a long time so there will be a lot of cool stuff for you to unlock."
EA has confirmed that all new Battlefront II content will be 100% free, including new maps, heroes, items and more, all of which will be funded by in-game microtransactions.
We'll be sure to update you once we hear more about Battlefront II's microtransactions, but we've already uncovered quite a bit.
Star Wars: Battlefront II releases November 17, 2017 on PS4, Xbox One and PC.
Check below for a huge listing of everything we know about the game so far:
Battlefront 2 details
All post-launch content is free, including new maps, heroes, weapons and more

Likely to have microtransactions to fund free DLC content

Will have free "seasons" based in new Star Wars films, first season will be The Last Jedi themed

Full singleplayer campaign that bridges Return of the Jedi and The Force Awakens, play as Imperial special forces commander Iden Versio

New heroes from across all three eras: Darth Maul, Yoda, Luke Skywalker, Kylo Ren and Rey confirmed

Maps from all three eras: prequel, original trilogy, expanded universe - Theed, Takodana, Hoth, Endor, Kamino, Mos Eisley, Yavin-4 and Starkiller Base confirmed

20 vs 20 multiplayer mode

Galactic space battles

Offline 2-player split-screen co-op

Customizable characters and heroes

No season pass, but may have microtransactions

EA Access and Origin Access subscribers get 8-day early access trial starting Nov 9

Releases Nov 17, 2017 on PS4, Xbox One and PC
Battlefront 2 coverage
Related Tags