Rise of the Tomb Raider 4K showdown: PS4 Pro vs PC
How does Sony's PS4 Pro size up against dedicated desktop video cards in 4K? Not very well, as you'd expect.

Published Thu, Sep 15 2016 12:15 PM CDT
|
Updated Tue, Nov 3 2020 11:58 AM CST
Just how much of a difference is there between upscaled 4K and native 4K resolution? As Digital Foundry illustrates in the video below, it's like the night and day difference between 30FPS and 60FPS.
On a whim, Eurogamer decided to compare what Rise of the Tomb Raider looks like in 4K on Sony's new PS4 Pro versus a 4K-ready PC running the game at Very High settings. For comparison's sake, the PS4 Pro runs Rise of the Tomb Raider in upscaled 4K 30FPS, whereas the test PC leverages an unspecified discrete video card capable of hitting native 4K resolution at Very High settings with Very High textures.
"But the two most glaring differences come down to key limitations found in the PlayStation 4 Pro hardware itself - the fact that its GPU isn't capable of handling native 3840x2160 UHD resolution, along with the lack of a meaningful amount of additional memory. Developers have access to a number of upscaling strategies for PS4 Pro titles running in the 4K mode, and while Crystal Dynamics wouldn't be drawn on the technique used for this game, what's clear is that the overall presentation is somewhat soft, far more so than the Sony first-party titles we saw that are confirmed to be using the checkerboard upscaling."
Read Also: Tomb Raider hits 4K 30FPS and 1080p 60FPS on PS4 Pro
This comparison needs some context to explain why the PS4 Pro's performance is dialed back--mainly due to specific hardware choices.
The PS4 Pro utilizes a highly customized and scaled form of AMD's Polaris GPU architecture, and the console's GPU sits a little below the Radeon RX 470 with 4.2TFLOPs of performance power. The Polaris GPU series isn't optimized for demanding 4K gaming, and is meant to be a low-cost mid-grade GPU for 1080p 60FPS gaming and make VR more accessible. As such, the PS4 Pro upscales original PS4 games to 4K visuals, with very few of them hitting native resolution.
So even if desktop-grade RX 470s can hit up to 4K 41FPS in the first Tomb Raider game, the console-grade GPUs will always be scaled back. So we can't compare desktop video cards to console GPUs; it just doesn't work.
Rise of the Tomb Raider is capped at 4K 30FPS on the PS4 Pro, and Crystal Dynamics/Nixxes use the Checkerboard Rendering technique to upscale the original PS4 game's visuals to 4K. As the PS4 matches the Xbox One's "High" texture quality preset for base PS4 games (which are usually capped at 30FPS or utilize dynamic resolution scaling to balance resolution and FPS dips for increased performance), the PS4 Pro's 4K upscaled fidelity will have specific features like ambient lighting, field of view, shadows and reflections dialed back.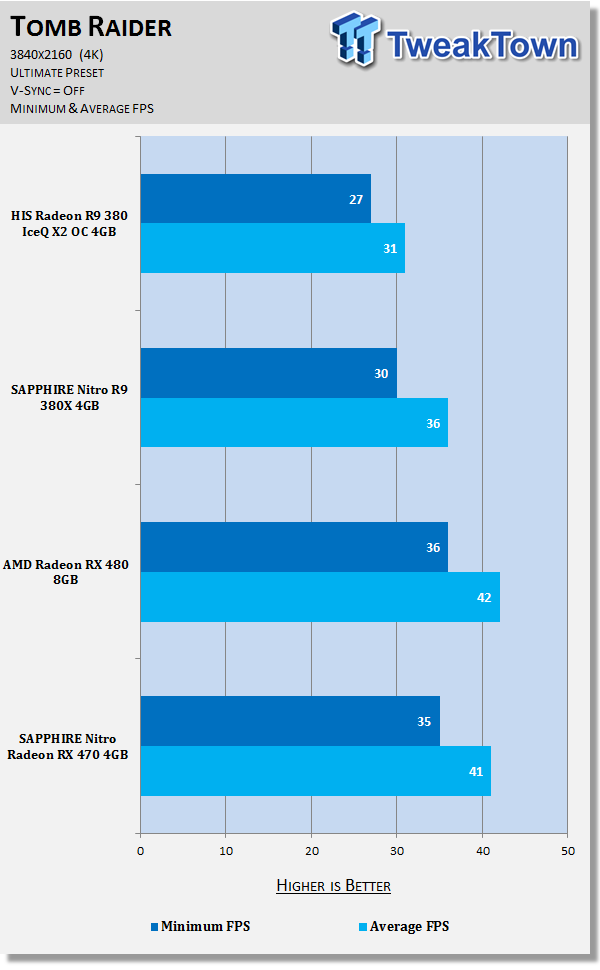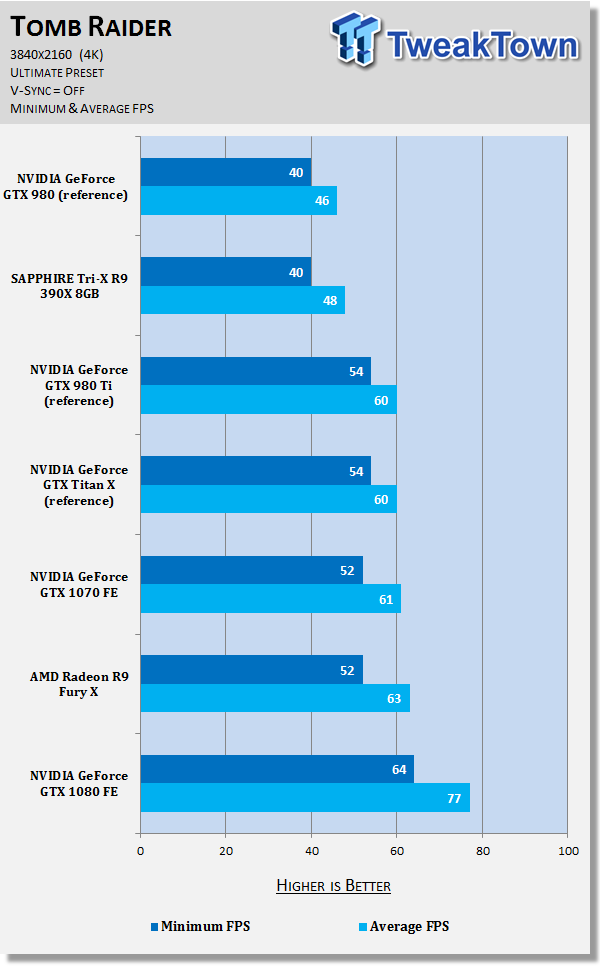 It's only in 1080p does the PS4 Pro really shine in terms of performance, and Rise of the Tomb Raider will have two different modes in 1080p: a higher frame rate mode that can hit up to 60FPS (but is more like 45FPS+) and a Enhanced Visuals mode that locks 1080p 30FPS but revs up the different effects that've been scaled back by the PS4's default High texture settings mode. So in Enhanced Mode you'll see more environmental effects like greater lighting, deeper field of view, better shadows, etc.
There's also the issue of possible bottlenecking thanks to the PS4 Pro's older 8-core Jaguar CPU, which is the same CPU used in the original PS4. While it's true that the PS4 Pro has an overclocked Jaguar CPU, it's not the natural Summit Ridge "Zen" CPU counterpart that AMD is pairing with its new Polaris GPU tech in its next-generation APUs. So the Jaguar CPU, even overclocked, is likely holding the console back.
Also there's the simple fact that the PS4 Pro only costs $399. Now you could go out and grab a Radeon RX 470 for about $199 and get semi-playable 4K gaming performance out of it, but for the majority of games you'll have to dial back settings quite a bit. To get Very High visuals in 4K in newer games like Rise of the Tomb Raider, you'll really need more powerful and more expensive video cards like an NVIDIA GeForce GTX 1070, which runs about $399--which is the same price as the PS4 Pro console itself.
So with all of these things taken into account, it's easy to see why the PS4 Pro can't compare to PC when it comes to 4K gaming. One platform uses upscaled gaming, and the other can leverage higher-end, dedicated GPU hardware for native 4K gaming.
And to think Sony said it made the PS4 Pro so gamers wouldn't move to PC.
Sony's new PlayStation 4 Pro console launches on November 10, 2016 for $399.
Check below for more about the PS4 Pro, including specifications and more coverage:
PS4 Pro: What we know so far:
Double GPU power over existing PS4 models (roughly 2x AMD Radeon HD 7850)

AMD Polaris GPU support

16nm FinFET APU likely

CPU with boosted clock rate

Higher memory bandwidth

No 4K UHD Blu-ray player

Launches November 10 for $399

4K resolution upscaling

HDR support

Higher frame rates, improved in-game performance across the board

Plays all existing PS4 games, but not every PS4 game will leverage the new hardware for improved performance

1TB hard drive
Read more about Sony's PS4 Pro:
Related Tags