Computex 2016 - AMD's Computex press conference saw Team Read announce its new roadmap built on Polaris FinFET technology, culminating in the new $199 VR-ready Radeon RX 480, the 7th generation APU line, and a beefy update on Zen.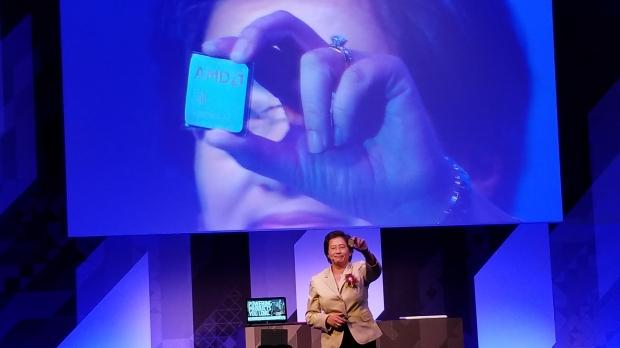 It's been a bit since AMD's last Zen update, but the next-gen Summit Ridge processor was revealed on stage by Dr. Lisa Su, along with a host of new specifications and details on Zen's different configurations. "We are in the early stages, but the product looks really really good. Zen is delivering 40% more IPC than our previous generations," said AMD President and CEO Dr. Lisa Su. "This product is 8 cores, 16 threads, it is FinFET technology, and it is integrated as part of our new AM4 desktop platform. Zen is a new high-performance CPU that scales across multiple market segments, and we're working very hard on our server version of Zen, which is also going very well."
Dr. Su also discussed Zen's integrated future across multiple platforms, including high-performance APUs and embedded markets: "As we bring the high-performance CPU to life, we're also going to integrate Zen with our high-performance graphics in our next-generation APUs. So after Bristol Ridge, you will see integrated APUs with Zen and our GPU architectures. And you'll also see Zen across a number of embedded markets. The power of Zen's grounds-up design allows us to scale it across performance segments as well as low-power markets."
AMD expects to send Zen samples to priority customers in the next few weeks, with wider sampling targeted in Q3 2016.
"You will see much more from us in the coming months as we move towards launch," Dr. Su concluded.