Gears of War 4 has tons of PC graphics settings
Gears of War 4 gives PC gamers tons of control over video settings, allowing them to spec out the experience to their tastes.

Published Fri, Aug 19 2016 2:16 PM CDT
|
Updated Tue, Nov 3 2020 11:58 AM CST
Gamescom 2016 - Just as the developers promised, the Windows 10 PC version of Gears of War 4 has a staggering amount of video options
Microsoft is keen on pulling in more gamers over to Windows 10 PC gaming, and to do that Redmond will have to cater to enthusiast gamers' expectations. This means unlocked frame rates, 4K support, FreeSync and G-Sync compatibility, CrossFire and SLI support, and tons of tweakable video settings. So far Gears of War 4 has ticked all these boxes, and PC gamers will be able to tweak and adjust nearly every aspect of the game to their personal specifications.
Gears of War 4 rocks a pretty huge array of graphics options that are separated into two main tiers: Video Basic and Video Advanced settings.
The Video Basic settings show display modes, resolution sliders, FOV sliders, a V-Sync toggle, a ton of different texture detail settings for characters, vehicles, effects, lighting, and the world-based environments. There's also adjustments for shadow quality, post-processing, ambient occlusion intensity, anti-aliasing, light shaft quality, light scattering quality, lens flares, bloom, motion blur.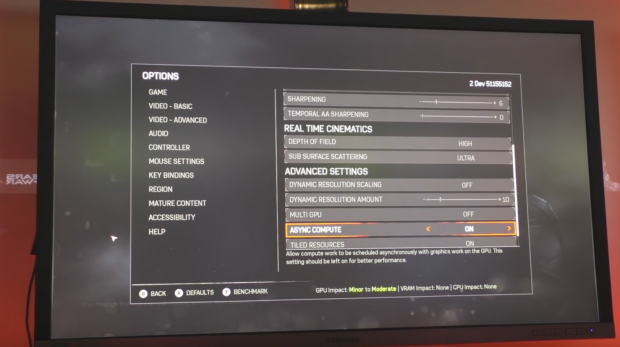 The advanced settings are much more in-depth and allow PC gamers to turn off dynamic resolution scaling , asynchronous compute, and multi-GPU support right in the menu, showing just how far Windows 10 UWP has come from the technical disaster that was Quantum Break.
A few weeks ago The Coalition's Rod Ferguson confirmed that Gears of War 4 was sitting at 28 different settings at the time, but it looks like they've added a few more just to be safe. It's great to see Microsoft's first-party studios going the extra mile to give PC gamers more control over their experience, and it'll be awesome to experiment with these settings in our Tweak Guides.
Gears of War 4 launches on October 11, 2016 on Windows 10 PCs and Xbox One as a cross-platform Play Anywhere game (if you buy a digital Xbox One version of the game, you get a free copy of the Windows 10 PC version).
Related Tags