Gears of War 4 has unlocked frame rate on PC
Gears of War 4 has a ton of PC-specific features, including 4K textures, unlocked frame rates, ultra-wide support and more.

Published Sun, Jul 24 2016 9:45 PM CDT
|
Updated Tue, Nov 3 2020 11:59 AM CST
With Gears of War 4, Microsoft's first-party studio The Coalition has made an effort to fix the Windows Store's awkward PC gaming support, enabling features like unlocked frame rates, tighter GPU implementation, ultra-wide support, 4K textures, and more.
"Our focus on PC is to deliver a highly optimized, customizable experience first and foremost," The Coalition's technical director Mike Rayner told Eurogamer. "Support for v-sync tearing has recently come to UWP and we will be able to offer proper unlocked frame-rate support that gamers expect on day one. With Unreal Engine 4 and our own custom modifications, we can take much better advantage of multiple CPU cores, alleviating the game from being CPU-bound and allowing more room for the GPU to shine with enhanced visual quality or higher framerates. Single-player will not be locked to 30fps on PC."
Rayner also says that Gears of War 4 on PC will have 4K resolution textures and sports 28 different tweakable settings that affect in-game graphics and performance, each with its own explicit explanation of how it affects the GPU/CPU and VRAM to optimized gameplay. So the game should play nicely with video cards across the entire spectrum like enthusiast-grade video cards like NVIDIA's new GeForce GTX 1080, AMD's mid-grade Radeon RX 480, or older Maxwell-based GTX 970s.
Gears of War 4 also rocks ultra-wide support, a full in-game benchmarking mode, fully customizable keyboard/mouse control mapping, and "far more comprehensive video settings."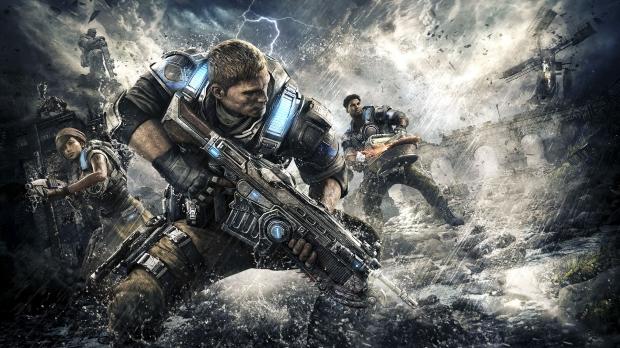 Interestingly enough, Rayner also says that Gears of War on PC will utilize tweaked dynamic resolution scaling found in the console version. The buffed dynamic resolution scaler works in tandem with the game's super-sampling to enable "crisp" 4K textures while maintaining an adequate frame rate.
"You can super-sample, let's say up to 4K, and then enable dynamic scaling and set the maximum amount of scaling you want to allow so you can maintain a very crisp image with scaling kicking in where needed and only to the amount you consider acceptable."
It sounds like Gears of War 4 is a huge leap in the right direction for the Windows Store, and might finally legitimize it as a bona-fide PC gaming platform. Microsoft has made efforts to fix the Windows Store by enabling FreeSync, G-Sync and unlocked frame rates in exclusive UWP-powered Windows Store games, but the platform has still failed to gain traction.
It'll take more than Gears of War 4 to win PC gamers over, but Microsoft is certainly on the right path. Sure they'll grab consumers with the new cross-buy Play Anywhere initiative, and that might be enough--it all depends on if Redmond wants to win over enthusiast PC gamers or not.
Gears of War 4 releases on October 11, 2016 on Xbox One and Windows 10 PCs, and is a Play Anywhere title (if you buy a digital Xbox One version of the game, you get a free PC version).
Reddit user Mortro has an excellent breakdown of Gears of War 4's PC particulars:
Xbox Play Anywhere, digital purchases cross-playable between Windows 10/Xbox 1.

Support for v-sync tearing has recently come to UWP, we will offer unlocked frame-rate.

We sit at 28 settings, we want to add more for people to really have full control.

Much better use of multiple CPU cores leading to better use of the GPU.

Single-player will not be locked to 30fps on PC!

Dynamic resolution support, any resolution will be supported with a sensible dynamic field of view - including ultra-wide, usable with super-sampling.

Increased texture resolution (up to 4K resolution for select texture groups).

A benchmark mode.

Full keyboard/mouse input remapping (including cover/run and roll split).

Far more comprehensive video settings.
Related Tags