You might play as a bounty hunter in Visceral's new Star Wars game
Dead Space devs at Visceral Games show off their new Star Wars adventure, teasing a bounty hunter player character.

Published Sun, Jun 12 2016 8:13 PM CDT
|
Updated Tue, Nov 3 2020 11:59 AM CST
E3 2016 - Dead Space devs at Visceral Games have been working on a new Star Wars adventure for some time now, and we finally get a look at the fruits of their labor.
Based on the newly revealed footage, Visceral's new Star Wars game may be told through the eyes of an Imperial agent. The clip shows us a brief look at what appears to be an Empire-occupied Tattooine, with Galactic Empire flags emblazoned upon the sandwalls and a huge Star Destroyer looming in the distance. A few Tie fighters fly overhead, fully signifying this is enemy-controlled territory.
But what if you're a Rebel spy posing as an Imperial agent, or maybe an outlaw? The new concept art (see below) gives a very outlaw bounty-hunter type of feel, so I'm thinking you're a hired gun that gets thrown into an interstellar battle between the Rebel Alliance and Galactic Empire. We didn't get any hint of Jedi or Sith powers, so this could definitely be one of those unique Star Wars avenues for sure.
Visceral's new action-based Star Wars game is coming in 2018, and will feature an "original, authentic narrative in the Star Wars universe." Like almost all of EA's new Star Wars IPs, Visceral's game will be action-based and utilize DICE's Frostbite engine for impressive visuals and dynamic environments. For updates on the rest of the new Star Wars games, including Respawn's third-person adventure and Battlefront 2, check out our handy timeline.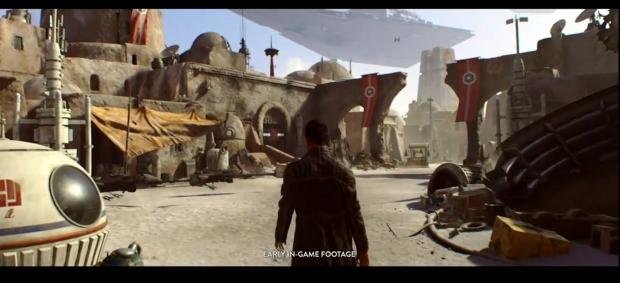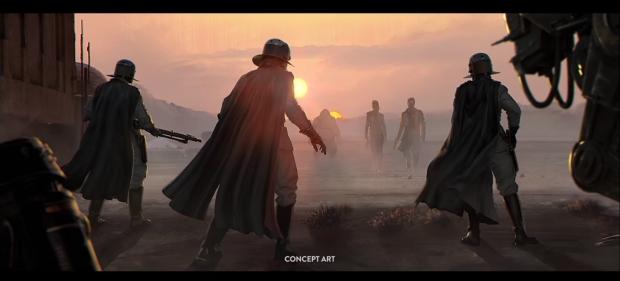 Related Tags