AVADirect announces the new AVA Sixense VR Desktop PC
AVADirect's new AVA Sixense VR Desktop PC is built prepared for Sixense's upcoming STEM system, and VR gaming.

Published Wed, Apr 22 2015 9:52 PM CDT
|
Updated Tue, Nov 3 2020 12:08 PM CST
AVADirect has been on top of custom PCs for a while, but with the Omni VR desktop announced last month, the custom PC maker is adding to that with the new Sixense VR desktop.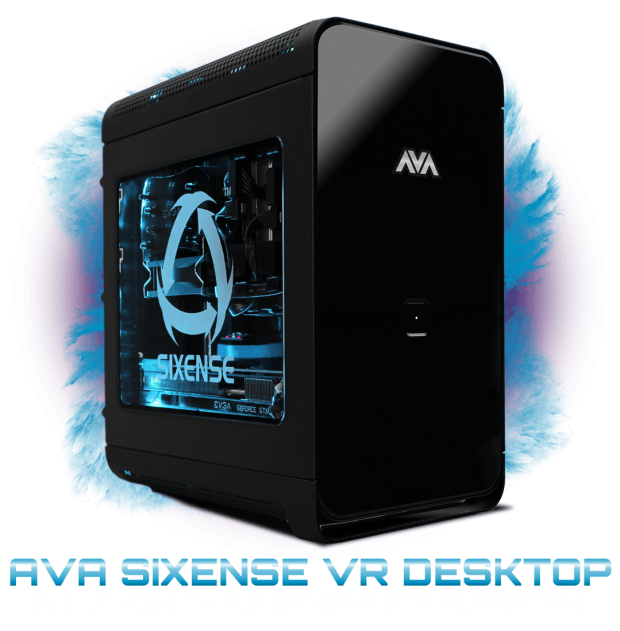 The new Sixense VR desktop is a custom PC that has seen the company partner up with Sixense, so that their PC is ready for the STEM system when it launches. We had a play with Sixense's STEM system back at CES 2015 and thought it was revolutionary, but now AVADirect has taken it a step further with a custom PC ready for the STEM.
AVADirect has deployed an EVGA GeForce GTX 980 SuperClocked VGA card, with the option to upgrade to the GeForce GTX Titan X to handle everything you throw at it. This has ensured gamers that they can run games at 1080p at 75FPS minimum. The stock system rocks a Core i5-4460, 8GB of RAM, a 1TB mechanical HDD, and Windows 7 Home Premium 64-bit. The AVA Sixense VR Ultimate Desktop cranks it up to the Core i7-4790 processor, 16GB of RAM, a 500GB 850 EVO SSD from Samsung, and Windows 7 Professional. Both systems are housed in EVGA's Hadron Air Black Mini Tower, with a Sixense etched side panel.
The AVA Sixense VR Desktop starts at $1800, while the Sixense VR Ultimate Desktop starts at $2300. The Sixense STEM system isn't included, and isn't ready until later this year.
Related Tags