AVADirect announce Omni VR desktop, for all things VR gaming
AVADirect pioneers the VR system with its new Omni VR desktop, ready to go for VR gaming and the Virtuix Omni.

Published Wed, Mar 4 2015 3:31 PM CST
|
Updated Tue, Nov 3 2020 12:09 PM CST
GDC 2015 - With all of the news of VR headsets and games, one can get lost in the reality of it all when it comes to purchasing a new PC that is ready for all things VR. This is where AVADirect's new Omni VR desktop comes into play.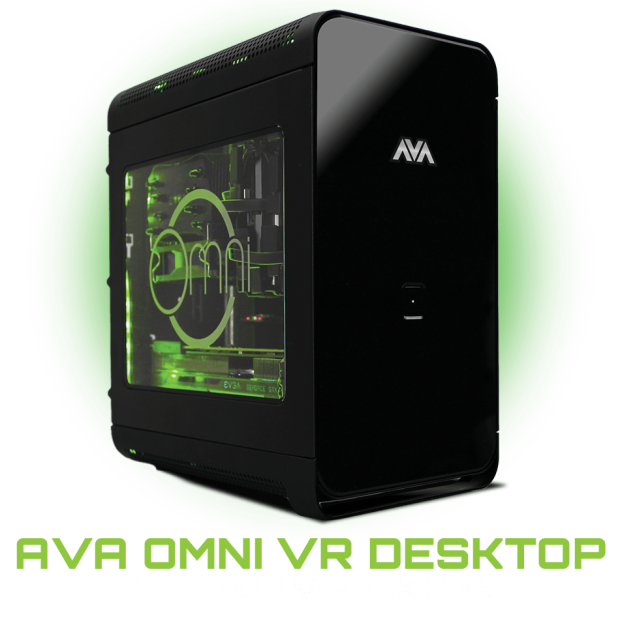 AVADirect has announced the new Omni VR desktop, which is built from the ground up for the full virtual reality gaming experience. For those in the know, the Virtuix Omni is a VR treadmill that has you more in the game than ever before, with an AVA Omni VR Desktop Series PC powering it all. Thanks to AVADirect's "standard testing analyses" you can ensure that this system will meet any requirements you have for the virtual, and real worlds.
The new AVA Omni VR Desktop has been "engineered and designed specifically for the Virtuix Omni Gaming Platform", but that doesn't mean it's not one of the best systems you can buy for VR gaming. AVADirect has specifically chosen parts in the system that ensures you can play games at 1080p at a minimum of 75FPS thanks to the inclusion of an EVGA GeForce GTX 960 SuperSC ACX2.0+ video card.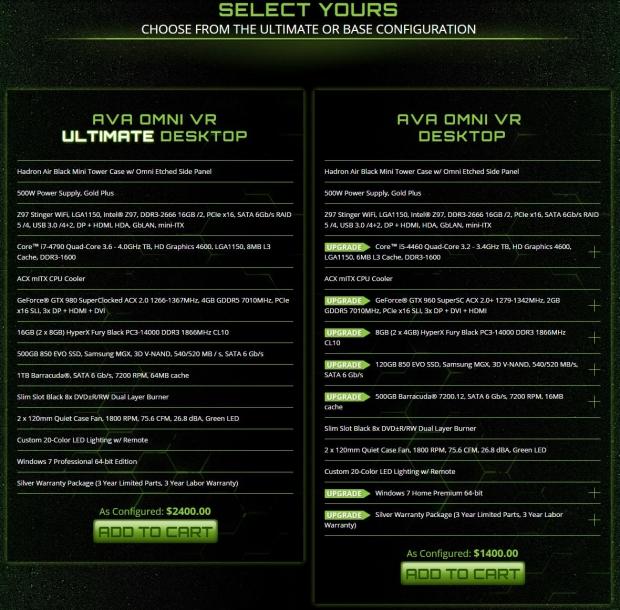 The entire system can be configured to your liking, with the AVA Omni VR Desktop housed in the beautiful EVGA Hadron Air Black Mini Tower Case, which has an Omni etched side panel. Inside, we have a 500W PSU which will handle most configurations, and the EVGA Z97 Stinger Wi-Fi motherboard mixed with the Intel Core i5-4460 quad-core CPU which can be upgraded to the Core i7-4790. We have 8GB of RAM (upgradeable to 16GB) and the aforementioned GeForce GTX 960 from EVGA, which can be bumped up to the much more powerful EVGA GeForce GTX 980 SuperClocked ACX 2.0.
To be honest, I'm super impressed with what AVADirect has done here. They haven't just slapped together a PC with a video card that is capable of 1080p at 75FPS minimum, they have specifically chosen each part to match the other. Everything is mixed together in a green-and-black color scheme just like the Virtuix Omni, and NVIDIA hardware. On top of that, you're getting a stress-tested system that ensures ultimate stability, with a price that will not break that VR presence.
The AVA Omni VR Desktop starts at $1400 with the Core i5 processor and GeForce GTX 960, while it scales right up to $2400 with the Core i7 processor and GeForce GTX 980. The new AVA Omni VR Desktop systems are available right now, with the Virtuix Omni itself to be made available later in the year.
Related Tags