Intel Arc desktop GPU is so bad, it could be CANCELLED altogether
Intel Arc Alchemist desktop GPUs could be cancelled, they're that shit: explains the 'marketing' that Intel is pushing right now.
Published Jul 28, 2022 9:59 PM CDT
|
Updated Sun, Aug 21 2022 7:37 PM CDT
3 minutes & 41 seconds read time
I don't think you could be in the dark about how much of a shit show the Intel Arc GPU has been so far, but I've been pretty damn critical of it... it deserves no defense, until Intel has proven itself in the GPU market, and it looks like they might not even get a chance.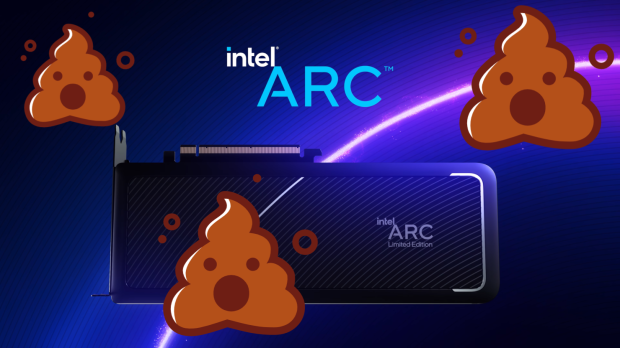 In his latest video, Tom at Moore's Law is Dead says that Intel's new Arc Alchemist desktop GPUs could actually end up being cancelled and that they "may end up a waste of sand". I guess being a waste of sand for Intel is better than AIB partners telling NVIDIA to "pound sand" as it seems sand is in the headlines a lot when it comes to GPU rumors lately.
Tom said: "Intel may cancel Arc before Battlemage is even launched".
Battlemage is the upcoming Intel DG3 GPU, which was meant to be a high-end GPU offering that should've been something solid for 2023. But so far, it has been a disaster of a launch for Intel and its Arc desktop GPUs with real reviewers calling it like it is: "like playing drunk in a minefield". Because that sounds like fun.
Alchemist is "full of issues that would basically hamstring any attempt to compete higher than what they're going for anyways". Tom adds: "this outcome isn't entirely surprising, if you've paid attention to the negative disclaimers" with a big list of what his sources have told him... check this laundry list of a shit show out:
Intel was considering buying Nuvia, but that idea has since been scrapped. They were grasping at straws for some PR

Intel is a shit show inside. The Xe marketing was Raja's idea, and it was way too early

Chris Hook took Raja's Xe marketing idea to new levels of stupidity

Even if they make a good product, they won't know how to market it

Intel's Marketing Team has almost no understanding of how computers work. These guys aren't just lacking an engineering background, they lack rudimentary knowledge of what they are selling

Gen 12 is obviously a much needed uplift, but it's only good in comparison to what's on the market now (3 year old Vega GPUs). It'll get blown out of the water again by RDNA chips

Also I've heard multiple times that Gen 13 was getting questionable results in simulations

Intel should have some impressive integrated graphics for the time being, and they could enter the low-end discrete market next year with decent GPUs

I doubt Intel can ever compete in the high-end with AMD and NVIDIA, and even the midrange is unlikely
Related Tags