Chinese astronauts take first spacewalk outside of new space station
Chinese astronauts have taken the first space walk outside of their newly launched space station, marking a historical moment.

Published Mon, Jul 5 2021 2:32 AM CDT
|
Updated Mon, Aug 2 2021 7:11 PM CDT
China has made its mark in the nation's space history as two astronauts conducted the first spacewalk outside of the new space station.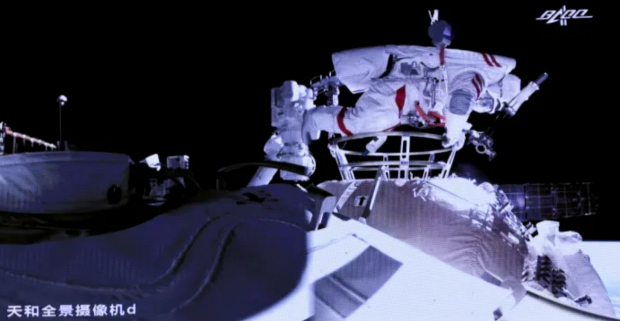 The two Chinese astronauts are Liu Boming and Tang Hongbo, and on Sunday, they both took a "walk" outside of China's new orbital station to set up cameras and other essential equipment. The astronauts used a 50-foot-long robotic arm to orientate the equipment into place, and from the video that was shown by Chinese state TV, we can see that the third astronaut, Nie Haisheng, stayed inside to mind the station.
Liu and Tang were outside of the new station for 7 hours, and in total, the astronauts plan on staying aboard the new station for a total of three months. China launched the first module of the new station on April 29. Following the first module launch was a second launch with the Shenzhou capsule. The capsule arrived on June 17, and inside was all three astronauts, food, and fuel. For more information on China's ambitious plans for space exploration, check out this link here.
Important Space News:
James Webb Space Telescope, Hubble's successor locks in launch date
Hubble shows off the Red, White and Blue in a phenomenal image
Here are videos of a black hole swallowing a neutron star
Smallest and most massive white dwarf ever seen was just found
Scientific evidence shows that Mars once supported life
Phenomenal Hubble images show why NASA is fighting to keep it alive
Virgin Orbit plans on turning 'any airport into a spaceport'
Related Tags