Death Stranding will make baby sounds come out of your PS4 controller
BB would like to have a word with you.

Published Mon, Sep 30 2019 1:35 PM CDT
|
Updated Tue, Nov 3 2020 11:47 AM CST
Norman Reedus' funky fetus friend will use DualShock 4 controller speakers to make spooky contact as you play.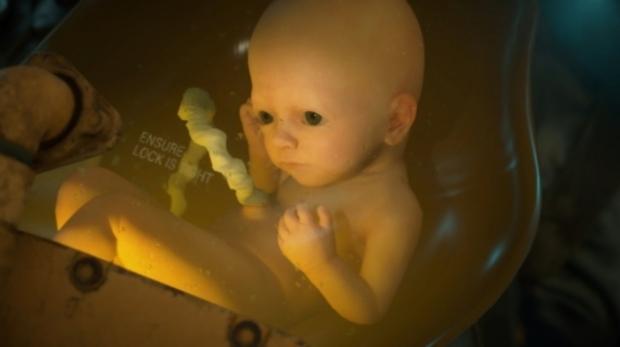 As if Death Stranding couldn't get any weirder, the game will transmit baby sounds through your DualShock 4. Hideo Kojima confirmed BB (aka Bridge Baby, aka Norman Reedus' funky fetus) will routinely communicate with you as you play, providing valuable live feedback and fueling gameplay in a rather disconcerting way.
A huge portion of the game revolves around maintaining your tank baby and keeping it stress-free. That means paying close attention to what kinds of sounds it's making and checking up on your BB's health. Not only does BB help you spot terrifying Beached Things, it acts as a kind of battery to power vital life support tech as you explore the world.
And as you explore, progress, and bind the supernaturally-broken world back together, you build a bond with your BB. It's not a pet, but more of a companion that you have to connect with and take care of. You're not it's parent--not really--but a kind of partner. Still though there's an implicit level of trust and your BB is pretty innocent and helpless. It can also be pretty dangerous; Kojima says when the baby is stressed, unpredictable things can happen.
It's worth noting BB will communicate through all DualShock 4 controllers, not just the one included in the Death Stranding special edition PS4.
I was actually wondering about how Kojima would tap the DualShock 4's speakers. Death Stranding is uniquely innovative in some of the strangest ways--it lets you make ammo out of your waste, the in-game world changes if you pee on it, and you can share a ton of stuff with others in a persistent world--so it's only natural Kojima makes things as unnervingly creative as possible.
Death Stranding releases on November 8, 2019 exclusively on PlayStation 4.
Related Tags