Gamescom 2019 - Peeing is a big part of Death Stranding. I didn't think I'd ever type that, but there it is. At Gamescom 2019's Opening Night Live, Hideo Kojima managed to make his new game even weirder.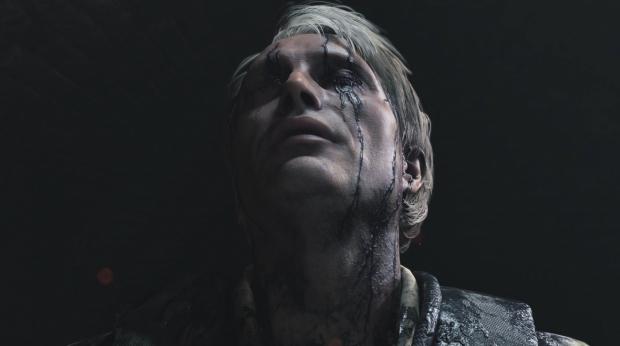 We know a lot about Death Stranding now. It's an open-world game with a bizarre storyline about a plane of shadow monsters that intermingle with the real-world, and has a distinct emphasis on connecting gamers. But it's also about changing the world. One of the ways you'll be able to do this is by peeing everywhere you go.
And if enough people pee in the same spot, something good will happen. No, really.
A new Death Stranding gameplay trailer displays how peeing affects the world. Everything you do will likely ripple throughout the game's huge open-ended United Cities of America map, but peeing specifically will make things grow and change. The footage showed Sam peeing on the ground and a mushroom popped up soon after--and it's even possible you could eat the mushroom for sustenance.
Talk about symbiosis!
Urinating is a command action in the game, complete with a tangible effect that's actually pretty crucial. "Be considerate and relieve yourself away from other people and their property," reads the command, which tells you to press L2 to unzip and R2 to "let loose." The game even measures how much pee you have left to expel.
The idea seems to be the more pee you save up, the more potent you streams are, and maybe the more mushrooms or other freaky plants you'll be able to grow.
It gets weirder though. Kojima says your pee could be used as a weapon.
"Yes, it could be used as a weapon," Kojima explained on stage at the event. "But also be one of the keys that you'll find out about later."
Kojima also says that if everyone does it in the same spot throughout the game, something good will happen, hinting at a more shared-world interactive singleplayer focus rather than live multiplayer with others.
"You saw the mushroom growing, so if everyone does it in the same spot, something good will happen later on. Of course that's not the main part of the game, okay? The main part is to connect the world together."
Another important piece of info from Kojima: no, you can't see Sam's package while he's draining the lizard.
Death Stranding releases November 8, 2019 on PS4.