Gamescom 2019 - Death Stranding's cryptic Bridge Babies get decoded in a new character story trailer.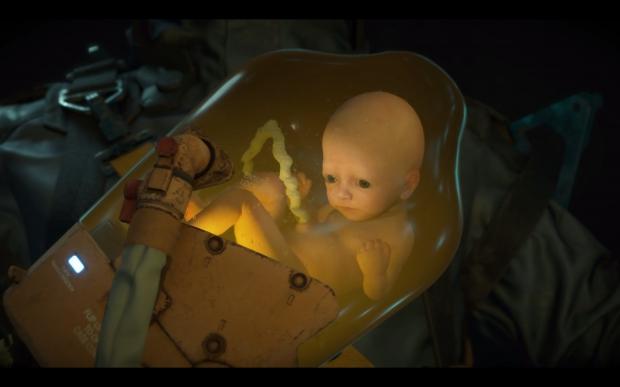 Today Hideo Kojima brought lots of Death Stranding tidbits and footage to Gamescom, including magical pee and more backstory on the game's mysterious fetus baby-tanks. The so-called Bridge Babies are essential to the game's plot, and are essentially the keys to the doorway between the living and dead worlds.
The BB's, or Bridge Babies, are kind of like batteries. They power Sam's sensors to detect the shadowy BT monsters, and like batteries, they have to be recharged...in their mother's womb. Every BB has a "still-mother" that's brain dead, and the BB's periodically have to be returned to their mother's womb in the United Cities of America's capital citadel. The pods are a simulation of the still-mother's womb, but they're not perfect, and Sam has to frequently sync the pod to the Chiral Network (the main framework that ties players to the world).
Yes, the still-mother's womb is literally connected to a network. That's pretty wicked.
Throughout the game you'll maintain a symbiotic bond with the BB throughout the game. This includes reducing its stress levels--yes, your BB can get too stressed out and drastically negatively affect gameplay--through maintenance like soothing the BB if something spooky happens or you take too much damage.
You literally have to move the DualShock 4 and shake it to soothe the BB, making Death Stranding into a mini parenting simulator at times.
"You should remember that BBs are just equipment. Try not to get attached," Death Stranding's Deadman says in the trailer, played by Guillermo Del Toro. "Each one has been removed from its still-mother's womb, a process that renders them unpredictable and prone to failure. No BB on record has remained in service for over a year."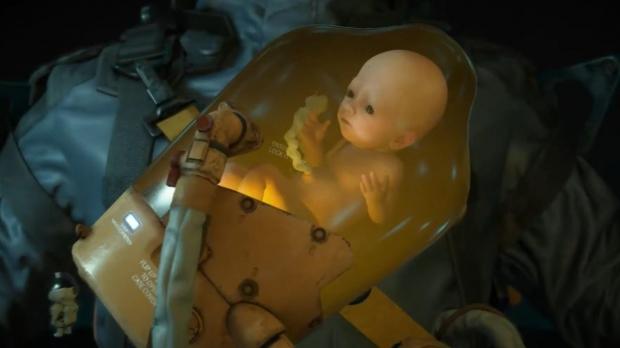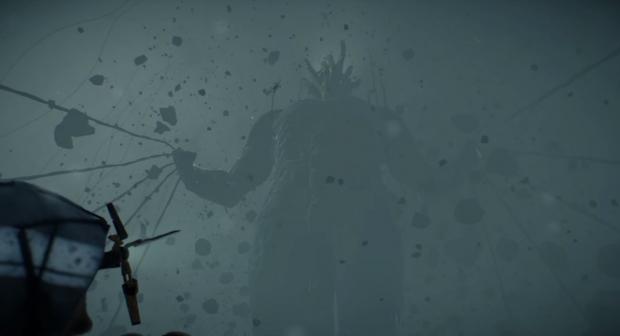 A BB baby-battery (left) and a BT monster (right)
BTs and BBs
BT's - Beached Things stuck on the Death Stranding, or the land of the dead
BB's - Bridge Babies that allow gamers to connect to both the living and dead worlds
So how does this affect gameplay? Your BB will stop being effective if you don't sync it or take care of it. This means your BT detection will be off and you'll fail more likely than not. A de-synced BB is more unpredictable and dangerous and prone to failure...but something tells me Sam Porter Bridges' BB is special.
"You saw what the BB was about, and you saw that Sam always had this baby in his pod, and wondering what it was about. It's kind of another sad story Sam has with the BB, because the BB is connected to the world of the dead, and that allows the connection BB and Sam to enable Sam to see the BTs," Kojima said during the Opening Night Live showcase in Cologne, Germany.
"So you will kind of have this journey with the baby together with Sam, and you will have an attachment and a connection. That will be part of the gameplay."
Sadly the trailer hasn't yet been uploaded, so we have to stick with this Opening Night Live event footage.
Kojima had this to say about Death Stranding at the event:
"You play as Sam, and you have to connect the fractured people and cities from East to West. And there are some obstacles in the way like BTs or terrorists to stop you. Along the way you'll find people living alone like you saw Geoff, we call them preppers, they are actually kind of hiding so some preppers don't really have to do with the main storyline, so you might want to find these preppers along the way and if you get connected with them you might get benefits.
"When you start to connect like this in the game with preppers and others, you'll notice you're connected to the people worldwide."
Death Stranding is out on November 8, 2019 on Sony's PlayStation 4.