Death Stranding is built around teamwork and sharing with strangers
Symbiosis, mutualism, and kindness are all key to surviving in Death Stranding.

Published Sep 18, 2019 6:28 PM CDT
|
Updated Tue, Nov 3 2020 11:47 AM CST
Death Stranding's multiplayer features shared worlds and lets players leave gear, pinpoint areas of interest, and even build fortifications in the world.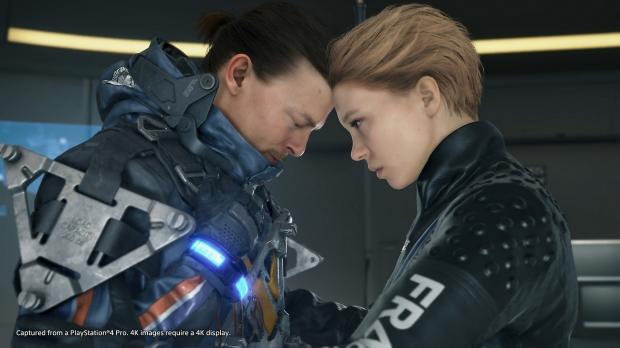 Death Stranding is built around one singular concept: to bring people together by building connections. Now we have a better understanding on how this will happen. The game features a different kind multiplayer, one that doesn't actually let you play with other people. But you still work together in other indirect co-operative and communal ways.
In the game's so-called Social Strand System, players can leave behind gear, boxes, and even motorcyles for others throughout the world, as well as build areas like bridges and fortify safe houses for the benefit of strangers. It's kind of like Minecraft in that way, but more thoughtful and beneficial to everyone involved.
In my mind, Death Stranding went from a narrative-driven singleplayer game to an online experience that should be played for years to come. And it still looks pretty unique.
In Death Stranding, you're not the Sam, just a Sam. There's lots of other Sams out there doing similar things and trying to survive. You're just one slice of a kind of parallel dimension that's also joined with the others, creating an environment everyone worldwide shares together.
The world is surprisingly interactive in this way. Death Stranding takes place in a fractured United States afflicted by a strange interdimesional cataclysm that accelerated time and summoned horrible monsters. To survive, players need to work together. Luckily the game makes a huge playground out of the continental United States that can be altered and changed in various ways, from peeing on the ground to building actual fortifications, safe houses, shelters, bridges, and more.
"It takes a while, but you can build a bridge by yourself or work together to build one with other players. The name of whoever made the greatest contribution will appear," Kojima said.
You can even builds safe houses from the ground up and directly contribute to their construction, even if you weren't the one who started building it. The best part is you can contribute to any player-made building or modification to make it even stronger for others.
"That building over there is under construction. It will become a private room, a safe house. You can leave supplies there to help out. You can level it up."
Players can store items in high-tech mailboxes throughout the world. You can put gear in them for others to freely take out, kind of like everyone's in the same guild and gets access to a universal shared stash.
Since boxes left out in the wild degrade over time, this is a good way to directly share with others. Some examples of shareable items include exo-skeleton legs, floating carriers, ammo, blood packs, and even guns.
"Lockers can contain both private and shared items. You can share things with other people here."
Along with peppering the world with random gifts, players can also leave little special signs for others to find.
Signs can mark specific locations like baths, enemy spawn zones, safe houses, or material spots. They can also affect the world; some signs give you a speed boost when you ride through them on a vehicle.
Players also get rewarded for helping others out. Death Stranding has a kind of built-in karma system where you can accumulate likes for your positive actions. You get a like if someone uses what you left behind, whether it be a ladder up a steep cliff face, a rope to rappel back down, or an actual vehicle. Instead of hoarding everything like you do in most games, you're incentivized to actually share things with people you've never met before.
It's exceptionally creative and makes the entire playable world into this kind of shared space that promotes symbiosis and mutualism.
"We're alone, but we're in this together with everyone else."
You don't actually see other players, but you see what they left behind. In some ways this is more powerful and mysterious. You're alone but you're never really alone. The influence of others is always around you, the ghosts of players past that pass on a certain kind of responsibility to you to keep paying it forward.
You can track the footprints and paths of other players, and recreate their journeys to uncover what they found.
"If you follow someone's footsteps it will uncover a path that will appear on your map."
"There are people over there with their own cargo. There are millions of people around the world doing the same thing. You can only get this far by connecting with those people and working together," Kojima says.
Players can also directly help you out in real-time when you're in the middle of a boss fight. If you call for help and someone's nearby, then can answer your call and give you helpful items like guns and HP packs.
"You're fighting alone, but you're not alone right? There's someone with you. That's the Strand," Kojima said.
There's this overarching sense of player community here, and a kind of goodwill to man. Everyone will look after each other and drop a bunch of things out of kindness or respect. After all, everyone is a Sam in Death Stranding, and Sams have to take care of each other.
Kojima promises that something good will happen if players follow each other's actions. For example, if everyone rests in one spot, it'll do something. If everyone pees in the same spot, not only do mushrooms appear, but Kojima cryptically says "something special will occur."
Honestly the game's Social Strand System merges singleplayer and multiplayer in the best ways. It's kind of like a shared singleplayer experience rather than full-on online multiplayer, making it more intimate and thoughtful than today's games.
I can't wait to try Death Stranding out to see if this system actually makes sense or not. From what I see, it looks pretty interesting and unique.
Death Stranding releases November 8, 2019 on PlayStation 4.
Related Tags