EA expects Jedi: Fallen Order to sell 6-8 million
EA thinks Respawn's new Star Wars game will be a big hit even if it can't be monetized.

Published May 8, 2019 11:06 AM CDT
|
Updated Tue, Nov 3 2020 11:48 AM CST
EA has big confidence in Jedi: Fallen Order's yearly sales performance, and projects some hefty earnings from the game.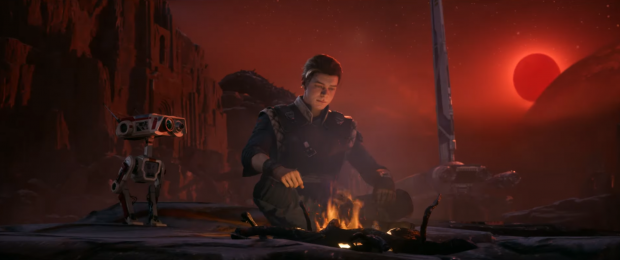 Jedi: Fallen Order has been in development since 2014, and everything we've seen and heard about it sounds fantastic. It's an ambitious singleplayer-only adventure through the heart of Star Wars magic, which is a huge departure from EA's typical focus on billion-dollar live services. Respawn's new game is a "Jedi power fantasy" with a strong emphasis on characters and third-person action combat. In many ways it looks to be the saving grace to the tumultuous line of EA Star Wars games that saw two major titles cancelled.
Even though Jedi: Fallen Order can't be monetized over time like Battlefront II via microtransactions, EA is quite enthusiastic about the game's performance. The publisher is eager to capture the growing resurgence of singleplayer-only games. In its FY2019 earnings report, EA predicts robust sales for Respawn's massive Star Wars game. "Star Wars Jedi Fallen Order we are modeling in the sales range of 6 million to 8 million," EA Chief Financial Officer Blake Jorgensen said in an earnings call.
EA will also release a bunch of new games in the fiscal year ending March 2020, including a new Need For Speed, a new FIFA and Madden and two other sports games, and a fresh Plants vs. Zombies title. Jorgensen outlined the projections for these games, too:
"The new Need for Speed title we expect to sell around 4 million units, in line with past performance of the franchise, and the upcoming Plants vs. Zombies shooter to sell in the low single-digit millions."
At its core, Jedi: Fallen Order looks to be a true return to form and could bring balance to the disrupted timeline of Star Wars games. It has a lot of similarities with Uncharted thanks to its strong focus on planet and environment exploration, adventure across multiple paths, and discovery of ancient relics. The game's "meaningful combat system" may also take queues from The Force Unleashed.
EA says Respawn's new Jedi story will deliver "cinematically charged lightsaber and Force combat" set in a "galaxy-spanning adventure."
Jedi: Fallen Order releases November 15, 2019 on PS4, Xbox One, and PC. Check below for more information:
A galaxy-spanning adventure awaits in Star Wars Jedi: Fallen Order™, a new third-person action-adventure title from Respawn Entertainment. This narratively driven, single-player game puts you in the role of a Jedi Padawan who narrowly escaped the purge of Order 66 following the events of Episode 3: Revenge of the Sith. On a quest to rebuild the Jedi Order, you must pick up the pieces of your shattered past to complete your training, develop new powerful Force abilities and master the art of the iconic lightsaber - all while staying one step ahead of the Empire and its deadly Inquisitors.

While mastering your abilities, players will engage in cinematically charged lightsaber and Force combat designed to deliver the kind of intense Star Wars lightsaber battles as seen in the films. Players will need to approach enemies strategically, sizing up strengths and weaknesses while cleverly utilizing your Jedi training to overcome your opponents and solve the mysteries that lay in your path.

Star Wars fans will recognize iconic locations, weapons, gear and enemies while also meeting a roster of fresh characters, locations, creatures, droids and adversaries new to Star Wars. As part of this authentic Star Wars story, fans will delve into a galaxy recently seized by the Empire. As a Jedi hero-turned-fugitive, players will need to fight for survival while exploring the mysteries of a long-extinct civilization all in an effort to rebuild the remnants of the Jedi Order as the Empire seeks to erase the Jedi completely.

KEY FEATURES

Cinematic, Immersive Combat - Jedi: Fallen Order delivers the fantasy of becoming a Jedi through its innovative lightsaber combat system-striking, parrying, dodging-partnered with a suite of powerful Force abilities you'll need to leverage to overcome obstacles that stand in your way. This combat system is intuitive but takes training and practice to fully master its nuances as you gain new powers and abilities along your adventure.
A New Jedi Story Begins - As a former Padawan on the run from the Empire, you must complete your training before Imperial Inquisitors discover your plan to revive the Jedi Order. Aided by a former Jedi Knight, a cantankerous pilot and a fearless droid, you must escape the evil machinations of the Empire in a story-driven adventure. Explore and overcome a wide range of challenges focused on combat, exploration and puzzle-solving.
The Galaxy Awaits - Ancient forests, windswept rock faces and haunted jungles are all unique biomes you'll explore in Jedi: Fallen Order, with the freedom to decide when and where you go next. As you unlock new powers and abilities, opportunities open up to re-traverse maps in new ways; leveraging the Force to augment the way you explore. Move quickly, however, as the Empire is actively hunting your every step in their effort to exterminate all remnants of the Jedi Order.
Related Tags