Apex Legends sees titanic growth with 10 million players
Respawn's new surprise shooter is the next big battle royale sensation.

Published Feb 7, 2019 4:27 PM CST
|
Updated Tue, Nov 3 2020 11:49 AM CST
Apex Legends is a roaring success that shows no signs of slowing down and EA is very, very happy.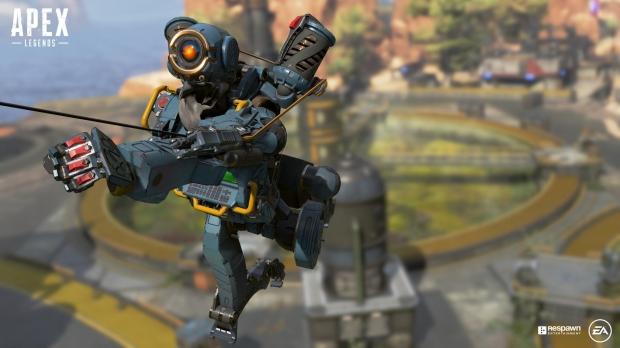 It's not often that free-to-play shooter gains millions of players out of the gate. Respawn's new 60-player battle royale shooter has done just that, and EA confirms Apex Legends just passed 10 million players in just three days time. Just two days ago Apex Legends broke 1 million players, so powerful word-of-mouth and advertising campaigns helped spike playercount.
The BR juggernaut is also retaining players and passed 1 million concurrent users across all platforms. EA has to be very happy about this success, especially since the more people playing service games raises the chance for recurring monetization (Apex Legends is monetized with optional cosmetics and a Battle Pass system).
Coupled with its smooth, streamlined gunplay, unique Overwatch-like characters, and multi-faceted mechanics including an amazing ping system, Apex Legends' free-to-play accessibility and silky FPS chaos is attracting enthusiast streamers and gamers alike.
The latest Twitch Rivals match-up should trigger even more growth for the game. Big Twitch streamers like Dr. Disrespect, Shroud, and Myth are set to duke it out in Respawn's new free-to-play titan.
This news comes at a good time for EA. The publisher just had a bad quarter and missed its Fiscal Q3'19 earnings by as much as $116 million. EA said it's excited about Apex Legends' growth and earnings, but it's too early to make any hard forecasts or reveal any figures. The battle royale game will undoubtedly have a positive effect on EA's fourth quarter earnings.
Respawn's Vince Zampella had this to say about the numbers:
"In 72 hours, over 10 million players have jumped into Apex Legends and we've breached 1 million concurrent players!

"This has been a truly incredible journey. We tested and tweaked. We argued and agreed. We got to a point where we felt some magic. We knew it would be risky to take the franchise in this direction, to go free to play, and do a surprise launch. But we fell in love with Apex Legends and wanted, needed, other people to play it too.

"We hoped you'd love it as much as us, but never in our wildest dreams could we have expected the outpouring of support and positivity we've seen. From all of us at Respawn, thank you for giving us and Apex Legends a chance. Thank you for joining us on this journey. This is just the beginning! We have so much more in store for you this year."
Related Tags