Respawn's big new free-to-play battle royale game launched today and it's already an engagement monster.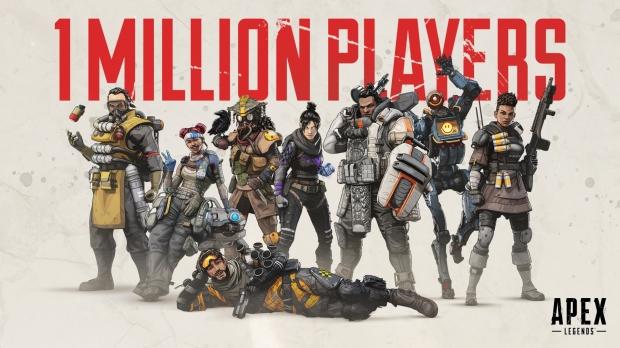 Apex Legends, the new 60-player battle royale shooter with Overwatch-like heroes, has amassed a massive 1 million unique players in just 8 hours. Respawn studio head Vince Zampella confirmed the news on Twitter: "I'm so overwhelmed right now. Apex Legends broke a million unique players in under 8 hours. Thank you so much for showing up and being part of this with Respawn you are amazing!!"
These are huge launch numbers for any F2P game and EA is likely quite happy about all the positive buzz floating around Apex Legends. Respawn's free-to-play gambit has paid off, and is actually built on the remnants Titanfall 3, which is no longer in development. The FPS has all the trademarks of a Titanfall game: slick action, fluid combat, and explosive visuals all wrapped around iconic characters with unique abilities.
Successfully monetizing this strong engagement is essential to the game's long-term success. Luckily Apex Legends will have cosmetic-only monetization in the form of emotes, weapon skins, voice clips and banners. It'll also use Fortnite-style Battle Passes to unlock specific cosmetics during seasonal events.
Gamers seem pretty happy about the experience so far, and I expect they'll be more willing to spend money on Apex Packs as Respawn continues tweaking and adding more flavor to the game.
EA has been refreshingly transparent regarding cosmetics. The publisher actually revealed drop rates and confirmed duplicates won't be featured in the boxes. Apex Packs have randomized lootbox rewards, but they're cosmetic-only in nature and don't actually affect the game.
Also Apex Legends is totally free-to-play on PS4 and doesn't require PlayStation Plus. This was an extremely smart move on Sony's and EA's part as the PS4's massive 90 million+ install base can now jump right into the game.
Apex Legends is now available on PS4, Xbox One and PC.
Check below for map screenshots and more details about Apex Legends.
Conquer with character in Apex Legends, a free-to-play* Battle Royale shooter where legendary characters with powerful abilities team up to battle for fame & fortune on the fringes of the Frontier. Master an ever-growing roster of diverse Legends, deep tactical squad play and bold new innovations that level up the Battle Royale experience-all within a rugged world where anything goes. Welcome to the next evolution of Battle Royale.

A Roster of Legendary Characters

-Master a growing roster of powerful Legends, each with their own unique personality, strengths and abilities that are easy to pick up but challenging to truly master.

Build Your Crew

-Choose your Legend and combine their unique skills together with other players to form the ultimate crew.

Strategic Battle Royale

-Use your abilities-and your wits-to make strategic calls on-the-fly, adapting your crew's strengths to meet new challenges as the match evolves.

Genre-Evolving Innovation

-Experience a brand-new array of innovative features that level up the Battle Royale genre, including Respawn Beacons, Smart Comms, Intelligent Inventory and an all-new way to drop into the action with Jumpmaster deployment.

Sweet, Sweet Loot

-Drop in and loot up with a host of powerful weapons, diverse attachments and useful armor to protect you in battle. After the fight, collect a wealth of cosmetic options for personalizing your character and weapons, and unlock new ways to show off during the match.