Disney happy with EA's Star Wars games
Disney won't make its own games any time soon, and it's happy with EA's plans.
Published
4 minute read time
Following the cancellation of two major Star Wars games--Visceral's ambitious Project Ragtag and, more recently, EA Vancouver's open-world Project Orca--, gamers demanded Disney yank the exclusive ten-year Star Wars license from EA. But Disney says their relationship with the publisher is healthy, and licensing opportunities like these will continue.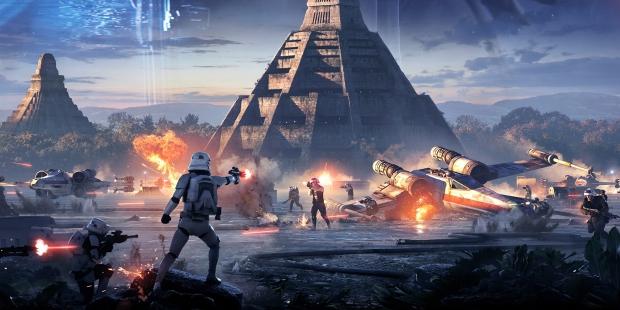 In its Q1'19 earnings report, Disney CEO Bob Iger says the company has no plans to resurrect studios like LucasArts to make its own games. The only way to play games based on IPs like Star Wars will be through licensing deals with publishers like EA.
"We're obviously mindful of the size of that business. But over the years, as you know, we've tried our hand in self-publishing. We've bought companies. We've sold companies. We've bought developers. We've closed developers," Iger said in Disney's Q1 earnings call. "And we found over the years that we haven't been particularly good at the self-publishing side, but we've been great at the licensing side, which obviously doesn't require that much allocation of capital. And since we're allocating capital in other directions, even though we certainly have the ability to allocate more capital, we've just decided that the best place for us to be in that space is licensing and not publishing."
Iger's words are accurate. The truth is Star Wars games are very hard to make and come with a lot of bureaucratic hoops that complicate development. Disney inherited the long-running "Star Wars curse" that led to many projects falling apart in mid to late development phases long before the company bought the franchise from George Lucas (Star Wars 1313 is a major example, and the game actually morphed into Visceral's Project Ragtag before the latter was cancelled).
The Disney CEO says the company's relationship with EA is healthy, despite massive controversy with Battlefront II and industry-wide scrutiny over the publisher's cancelled Star Wars games.
EA canned two prominent releases over the past three years, disrupting the original Star Wars game timeline. The lack of Star Wars games also adversely affected Disney's licensing cash for the quarter: "Lower income from licensing activities was driven by a decrease in revenue from products based on Star Wars and Cars and higher third-party royalty expense."
Iger said this about Disney's licensing partners:
"We've had good relationships with some of those we're licensing to, notably EA and the relationship on the Star Wars properties. And we're probably going to continue - we're going to continue to stay in that side of the business and put our capital elsewhere," Iger said in the call.
"We're good at making movies and television shows and theme park attractions and cruise ships and the like, and we've just never managed to demonstrate much scale on the publishing side of games."
Original concept footage from Visceral's cancelled Star Wars game, Project Ragtag.
Read more: Visceral's cancelled Star Wars game was basically 'Star Wars Uncharted'
It's also very likely that Disney oversaw key development and executive decisions made with projects like Ragtag and Orca. Lucasfilm, a company notorious for over-complicating things for developers, works alongside publishers like EA when Star Wars games are being made. According to Jason Schreier's Blood Sweat and Pixels book, creative and design decisions must be run by Lucasfilm. This process is often meticulous, arduous and tiresome, and leads to whole segments of games being scrapped or denied.
So ultimately Disney probably signed off on the cancellations. EA can't be solely blamed for Star Wars cancellations simply because it doesn't wholly-own the IP itself.
Disney is absolutely the biggest gatekeeper when it comes to its wholly-owned IPs like Star Wars, but the reality is these games are made harder to make by a clandestine bureaucratic ladder that holds things back.
Another reality is that publishers might not even want the Star Wars license once EA is finished. The IP seems to have a very real curse on it, and I'm wondering what other major publisher would want to touch an exclusive Star Wars contract after the Battlefront II hoopla. Maybe Activision-Blizzard?
Respawn's new third-person action game Jedi: Fallen Order may bring balance to the Star Wars game universe when it releases this fall.
Related Tags